Editor's Note: Dustin Hayes of Orange Beach, Alabama, is a master inshore fisherman. He guides families and individuals surf fishing and night fishing under dock lights in the back bays. During the daytime, he takes them fishing on the grass flats and artificial reefs. Hayes knows how to catch inshore fish near and on beaches, and his tactics will work for you.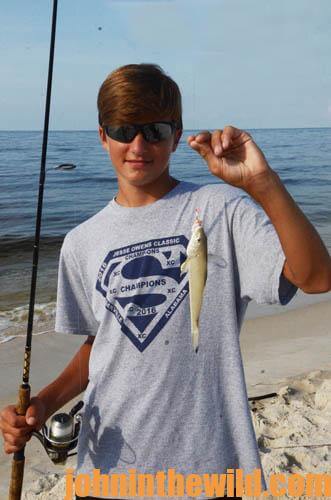 You can catch plenty of fish every day at the beach within 10 yards of the shore. Conner Hudson of Birmingham, Ala., was getting frustrated, because the fish had quit biting. Hayes rigged up an ultralight rod with a crappie jig, 6-8-pound-test line and Fishbites (http://fishbites.com) – a Kevlar type substance impregnated with a fish lure. "This is what I call my 5-yard surf fishing trip," Hayes said. "Conner, don't cast more than 5-10 yards from where the water recedes from the beach and hang on." For the next 30 to 45 minutes, Hudson reeled in whiting and throw-back pompano on every cast. "We'll often catch keeper-size speckled trout, redfish and keeper pompano too using this tactic," Hayes explained.
When most people surf fish, they believe the farther out you cast and the deeper you get your baits, the more fish you'll catch. But the truth is that the sand fleas, ghost shrimp, little crabs and small minnows that many of the fish feed on will be in ankle-deep to knee-deep water near the beach. Surf fishing is much like bass fishing in that when the fishing gets tough, you downsize your lures and your line, and you'll start catching fish. Let's face it. For most people catching is the reason they go fishing. By using crappie jigs and Fishbites and casting out no more than 5-10 yards from shore, you can catch hard-fighting, good-eating fish almost every day you go, regardless of where you fish on the beach.
Earlier in the summer when the big pompano are running, or in the early spring and late fall when the bull reds move in, they'll come in to extremely-shallow water to feed also. "I like to put a small piece of fresh dead shrimp behind the Fishbites just to give the jig a little more smell and entice the fish close to shore to take the bait," Hayes explains. "Besides whiting and pompano, we'll often catch a flounder in the shallow water. The good news is you can use your ultralight bass-fishing tackle, crappie-fishing rods and reels, crappie jigheads with Fishbites and fresh dead shrimp on your hook and catch fish all day long in the surf."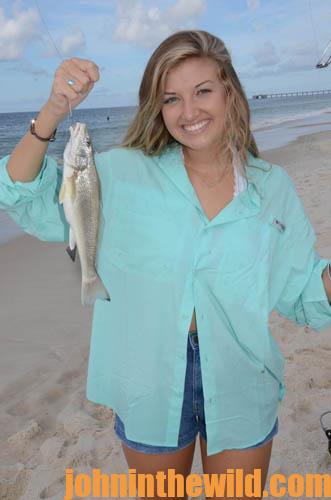 If you're staying at a condo, a beach house or a motel, you can walk out to the beach and just start fishing. Fresh whiting are delicious to eat and fun to catch, and pompano is one of the finest eating fish that swims. "Here on Alabama's Gulf of Mexico coast, we've caught pompano that weigh 3-4 pounds on these little jigs, and redfish that weigh up to 20 pounds," Hayes reports. "The real secret to catching big fish on light tackle is to set your drag at about 1/3 of the breaking strength of the line. Then let the bend of the rod and the drag wear the fish down. If a big redfish takes your bait and starts running down the beach, if your reel is giving up a lot of line, and if the fish doesn't slow down, just walk down the beach with the fish, taking up line at the same time. You may be surprised at the size of fish that will eat the crappie jig that you can land with lightweight tackle."
The Fishbites come in a plastic bag and almost feel like Play-Doh. Fishbites are available in flavors like sand flea and shrimp. You just cut a little piece off the sheet and can fish it with shrimp or without shrimp. Another good thing about the Fishbites is they remain on the hook for a long time. You should be able to catch 3-20 fish or more on one small piece of Fishbites before you have to change bait. Fishbites cost between $6 and $8 a bag, and you can fish every day all day or a week or more on one bag of Fishbites. So, you really don't need a lot of fishing tackle when you use this easy technique to fish what Hayes has named 10-yard charters.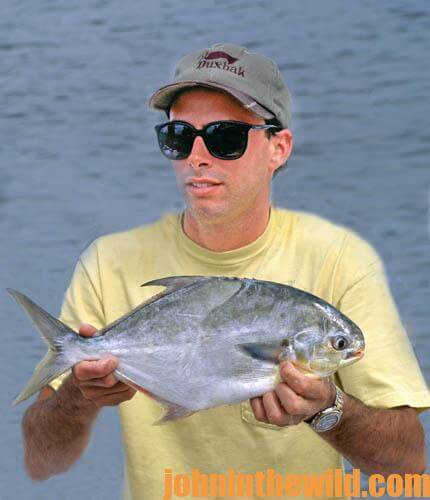 To see how, where and with what Dustin Hayes fishes, check out his video, "Surf Fishing Rigs – What Are They:" https://www.youtube.com/watch?v=_FUtUhLG_4s. If you'd like to go on a surf-fishing trip with him, call at 251-981-3811 or his mobile at 678-897-0167. You can check out his Facebook page and see what his clients are catching at https://www.facebook.com/Shorethingfishing.
To learn more about saltwater fishing, check out John E. Phillips' Kindle eBooks and some print books at http://johninthewild.com/books/#gulf.
Tomorrow: How to Rig for Surf Fishing with Dustin Hayes and a Favorite Pompano Recipe
EXPLORE MORE: you'll love these stories from John too