Editor's Note: Captain Colton DeBlieux owns Liquid Force Inshore Charters (https://fishingbooker.com/charters/view/4466) in Orange Beach Alabama. As a youngster, he learned that during the summer months when the weather was hot, water skiers, jet skiers and fishing boats all were very active during the daylight hours. He discovered that he could find and catch more fish, especially speckled trout, redfish and flounder, by dock fishing at night, especially during the hot months of summer and early fall. DeBlieux has a Facebook page at https://www.facebook.com/liquidforceinshorecharters, and his phone number is 251-233-5731.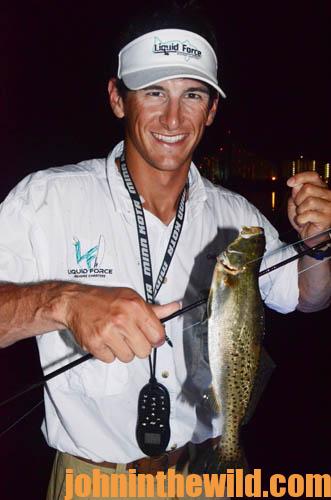 The best time to fish at night around the dock lights is just before, during and after the full moon.  The days before and after a full moon always have been when my parties and I have caught the most fish. Old River and the Bayou St. John's area in Orange Beach are very-good places to catch speckled trout and redfish.
We fish lights that are attached to the dock and above the water, especially the underwater Green Monster fishing lights (www.thegreenmonsterfishinglight.com) out in front of many docks. These lights typically hold speckled trout, redfish and an occasional flounder. The best time to fish these lights is when a current's running, either on an outgoing tide or an incoming tide.
We keep our tackle simple when we're night fishing and we use spinning tackle with braided line, because the docks have pilings that hold the dock in place. These pilings collect barnacles that can cut monofilament line. I use a Uni Knot to attach 12-18-inches of 20-30 pound-test fluorocarbon leader to the braided line, and we use a #4 Kahle hook (https://www.eagleclaw.com/).
When we decide on a light we want to fish, we stay about 30-40 feet away from the light and approach the light as quietly as possible. You don't want to slam the livewell lid or the cooler lid down or make any noise that will spook the fish you're trying to catch. When we approach a light, we hope to see a lot of bait swimming around and through the light – perhaps shrimp jumping and baitfish. You often can hear or see trout smacking the top of the water as they attack the bait.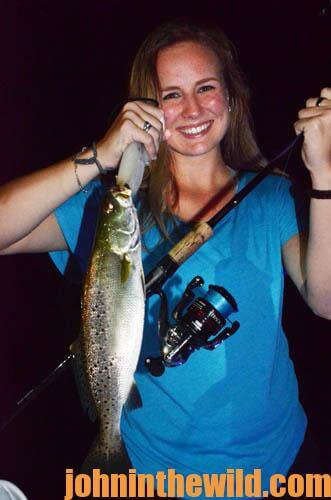 We bait with live shrimp and put a small split shot about 8-12 inches above the shrimp to help the shrimp sink slowly. If the current is running pretty strong, you want to cast to the upcurrent dark side of the light. Then let the current pull your live shrimp that's hooked through the horn from the shadows into the light and back into the shadows after it passes through the light. I never want to stay more than 30 minutes at a light if we're not catching fish. If we catch a speckled trout on the first cast, I know that trout are holding on that light, and we'll fish it until the fish stop biting.
To learn more about saltwater fishing, check out John E. Phillips' Kindle eBooks and some print books at http://johninthewild.com/books/#gulf.
Tomorrow: What, Where, When and How Colton DeBlieux Catches Fish at Night and in the Daytime