Editor's Note: Captain Mike Wilson is a retired contractor from Silverhill, Alabama, who is living his dream. Captain Mike is like many other working people who retire and decide that retirement means leaving the job they've done most of their lives to start another business doing what they've always wanted to do. Captain Wilson is moving to the Fort Morgan Peninsula in Gulf Shores on Alabama's Gulf Coast where he's been operating inshore charters for back-bay species. He enjoys taking families on shrimping trips and introducing them to sea birds and other wildlife.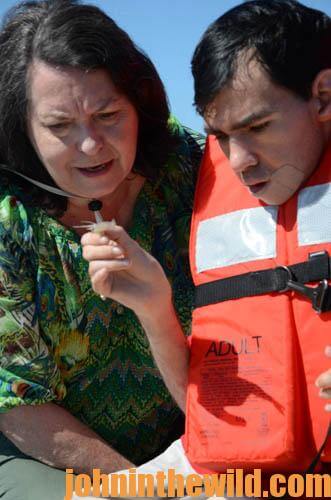 I took a 7-year-old autistic child, Eric, and his father on a shrimping-and-fishing trip. When Eric first got in the boat, we had no eye contact, and he made few audible sounds and seemed withdrawn. By the end of the shrimping-and-fishing trip, he had a smile on his face and said a few words as he was engaged and enjoying being on the water. After the trip, Eric's father called and texted me saying, "Eric has been talking almost nonstop for three days. He's never talked this much in his entire life." I'm so excited that I have opportunities to take special-needs children and adults shrimping and fishing and help them enjoy bright-blue skies and the abundant wildlife on the coast.
Often when I empty the tail bag of the shrimp net on the plywood picking table I've built with legs that sit in the cup holders on the lid of my 100-quart cooler and the side of the boat, my clients get to see seagulls and pelicans diving into the water to eat the bycatch that we push off the picking table. Bottlenose dolphins will come up less than 6 to 10 feet from the boat to find easy meals of the small fish caught in the net and discarded. So, besides having shrimp to take home to cook or freeze, our shrimping charters enjoy a show of wildlife, fish and birds.
From this experience, I've learned that many children and adults enjoy being out on the water shrimping, seeing all the critters that are caught in a shrimp net, finding the shrimp that are poured out on the sorting table, picking out the big shrimp to go into an ice chest to take home and putting the smaller shrimp in my livewell to be used for fishing later. I realized that shrimping was a great family activity that a family with children could participate in while at the coast and catch shrimp to take home and eat. So, this year I'm offering shrimping trips and combo trips where the family can go on an early-morning shrimping trip and then fish with many of the shrimp they've caught. Or, Mom and Dad can take the children back to where they're staying and go fishing. I adapt my shrimping and/or fishing trips to meet any family's needs.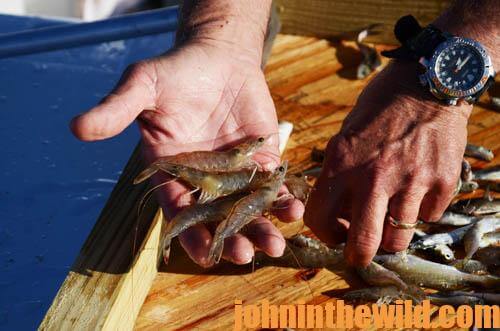 Check out Captain Mike Wilson's Bama Slam Inshore Adventures at. https://www.facebook.com/bamaslam.inshore or call, 251-747-6941.
"My Shrimp Net" – https://youtu.be/qoUoEbnsMJU
You may have eaten Coconut Shrimp at various restaurants, but nothing's more delicious than this recipe.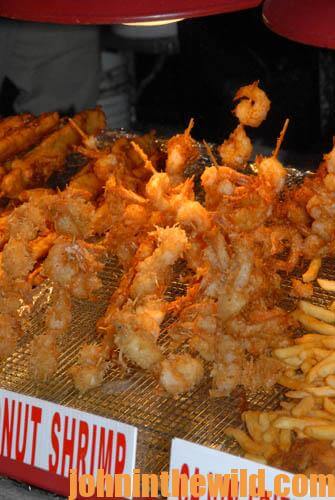 Bama's Best Ever Coconut Shrimp
Our family has made numerous coconut shrimp recipes through the years, but this version is so tasty, yet simple.
Ingredients:
1/3-cup unsweetened shredded coconut
1/4-cup Panko crumbs
1/2-pound medium to large fresh, wild shrimp, peeled, tails left on if preferred
1 teaspoon curry powder
2 eggs, beaten
Coconut oil or regular canola oil
Thai sweet chili sauce
Preparation:
On a plate, mix coconut and Panko crumbs. In a bowl, toss shrimp, curry powder and 1/2-teaspoon salt. Dip shrimp in egg, then coconut mixture, pressing to adhere. In a large skillet, heat 1/2-inch coconut or canola oil over medium-high heat. Cook shrimp until golden, and cooked through, 2 to 3 minutes per side. Serve with chili sauce. Yield: 4 servings.
You'll enjoy John E. Phillips' book, "The Best Wild Game and Seafood Cookbook Ever," available at http://amzn.to/WkbLRg, in Kindle and print.
Tomorrow: Why You May Need a Mongoose Shrimping Net