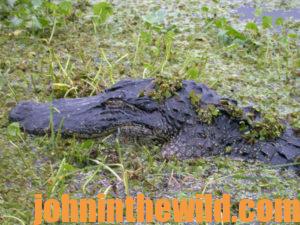 Editor's note: Mark Land has been bowfishing since he was old enough to hold a bow. For 20 years, he worked for Muzzy and competed in bowfishing tournaments all over the nation.
The biggest critter I've ever taken with my bowfishing equipment was a 12-1/2 foot, 739-pound alligator I shot in south Georgia during an early Georgia alligator season. I happened to draw a tag for one of my favorite fishing spots where I'd always seen alligators – Lake Eufaula on the Alabama/Georgia border. I knew where some monster alligators were in Lake Eufaula, because I'd had a problem with them before when I'd been bowfishing down there. Many nights I had big alligators trying to crawl into the back of my boat to get all the fish I had shot that night that were laying in the bottom of my boat. So, I kind of had a vendetta to get those alligators. I wanted to harvest at least one of them, so they would quit bothering me when I was bowfishing.
I scouted Lake Eufaula for 2 weeks prior to the alligator hunt, and I found two really-big alligators. A friend of mine from LaGrange, Georgia, also had drawn one of those first alligator tags.  So, I told him,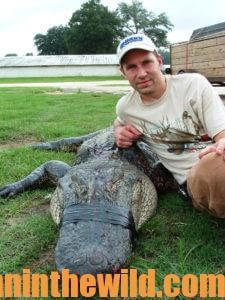 "I've found two big gators. Why don't we hunt together and get both of them?" I also had my friend from Chipley, Florida, Tate Morrell – my alligator hunting guru who operates Backwoods Gator Hunts and is a Florida state licensed nuisance alligator trapper – go with us. He had a lot of experience in hunting and taking alligators. We dubbed him, The Gator Whisperer. Tate could call a big alligator from the bank all the way to the boat by making the sound of a baby alligator. I'd seen him do it many times and I've been with him when he once called an alligator right up against the boat. The gator hit the boat and threw spray all over us.
The alligators we were going to hunting at Lake Eufaula were in a very-isolated area, and I hoped none of the other alligator hunters had discovered it yet. We spotted the first alligator that my buddy was going to take right away. We chased him for about 30 minutes. At first that gator wasn't where I thought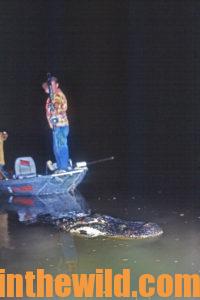 he would be. We went past him and had to turn around when the gator stood up and jumped in the water. We shot that gator and put it in the boat. He was 11' 4" long, and weighed more than 500 pounds. It took all the strength that the three of us had to get him in the boat.
Next we went to hunt my alligator. When we reached the back of the slough, we spotted my alligator 200-yards away. Every time we tried to move in on my gator, he would submerge. Then we'd need 30 to 40 minutes to find him again. So, we spent 2 or 3 hours trying to get close enough to that big gator to shoot him. On our fifth attempt, the gator started swimming toward the mouth of the slough. I turned the trolling motor on high, and we just chased after him. He was swimming in front of the boat as fast as he could swim and was staying ahead of us with the trolling motor running wide open. I guess he finally got tired of us chasing him, so he decided to stop and see what we were. When he stopped, he started to turn sideways. I was already at full draw, and my arrow hit him right behind the shoulder.
I was shooting my Hoyt Gamemaster (www.hoyt.com) recurve bow using 53-pounds draw weight, and I was using the Muzzy (www.feradyne.com) Gator Getter Point on a fiberglass shaft with 350-pound test BCY line (www.bcyfibers.com). I had to shoot him at an extreme range to where I could effectively take the alligator with my bow. The reel only held 20 yards of line, and the gator was at about 15 yards when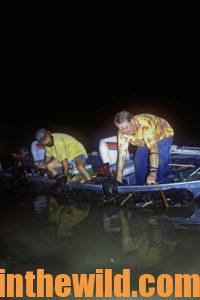 I shot him. As soon as my arrow touched that gator, he took off. I just had enough time to throw my buoy out that was attached to the line. As I picked up my float, it was snatched out of my hand by that ole big gator. When the float hit the water, it skipped on the surface two or three times and then vanished. The next time we saw the float it appeared out in the middle of the river, and the water depth there was 32-feet deep.
Once I picked up the float, it wasn't moving, indicating that the alligator wasn't swimming. I could feel the alligator on the end of the line, but he wasn't moving. I was pulling so hard on the line that I could hear the line going ding – ding – ding. I was actually holding the line right on top of the alligator with a little bit of current coming through Lake Eufaula. I didn't know what to do, because I realized that an alligator could remain on the bottom for 30 or 45 minutes before he had to come up for air. So, for 40 minutes nothing happened. The gator didn't move. I didn't know if the line was tangled up in a treetop, maybe the gator had broken off, or perhaps he was still down there. I couldn't feel anything but the line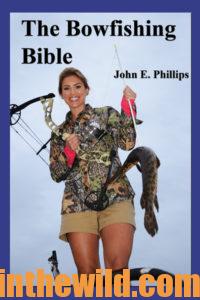 being tight – real tight.
"Then all of a sudden, the line started shooting forward out in front of the boat. When that gator came straight up from the bottom and went airborne with half his body out of the water, we jumped and ran to the back of the boat. Within 10 or 15 minutes of the gator making that big jump out in front of the boat, we had him alongside of the boat. I knew we were hunting a big gator, but I had no idea that this alligator was that huge. He weighed 739 pounds, based on its dimensions of the body and the length of the gator. We knew no scales were available that would weigh this size alligator. He taped out at 12' 6".
We couldn't believe how massive this gator was. He had a 72-inch girth around his belly, 48 inches around his neck and 42 inches around the base of his tail. I'd seen a lot of really-big alligators, and I'd seen many very-long alligators, but I've never seen an alligator this huge before in my life. Tate Morrell, who had seen hundreds and hundreds of alligators in his lifetime, told me, "I've never seen an alligator this big."
To learn more about bowfishing, check out John E. Phillips' book, "The Bowfishing Bible," available in Kindle and print versions, at – http://amzn.to/22zX7Zz.
Tomorrow: How Mark Land Bowfished and Took a Huge Alligator
EXPLORE MORE: you'll love these stories from John too