John's Note: This past weekend in early April I went to the Crappie Masters Alabama Championship (http://www.crappiemasters.com," www.crappiemasters.com) on the Alabama River near Montgomery. My goal was to find new and better ways to catch crappie. Here's the information I gleaned from this tournament and these crappie pros. Whitey Outlaw, from Saint Matthews, South Carolina, has won the Alabama State Championship for 2 consecutive years and has won numerous tournaments on Santee Cooper Lake. He fished his first crappie tournament when only 15 years old and still loves to fish for crappie at least 5 days per week all year long.
"I love to fish cypress trees, stumps, logs, man-made stake beds and brush piles in the water," Outlaw says.
"By using my 30-horsepower motor on a War Eagle flat bottomed boat, I can fish two or three times as many places than other anglers using a trolling motor. That outboard motor gets me from spot to spot quicker than a trolling motor. I don't think the sound of the outboard motor spooks the crappie at all. Most of the time I'll fish 10-pound-test line on a jig pole all year. If you're fishing a tight line (just a jig tied onto the end of the line), when that crappie takes the bait, you have to be able to pull it away from the cover and into the boat. I know that 10-pound-test line with a medium-heavy jig pole will allow me to pull a 2-1/2-pound crappie from underneath and around the cover and straight into the boat without having to use a dip net."
As I've mentioned before, Outlaw doesn't just catch crappie when fishing a 1/16-ounce jig on his jig pole.
"The biggest bass I've ever caught crappie fishing weighed 13-/12-pounds."
Outlaw explains, "The fish came up and jumped. Then, I used my paddle to paddle my boat about a city block before I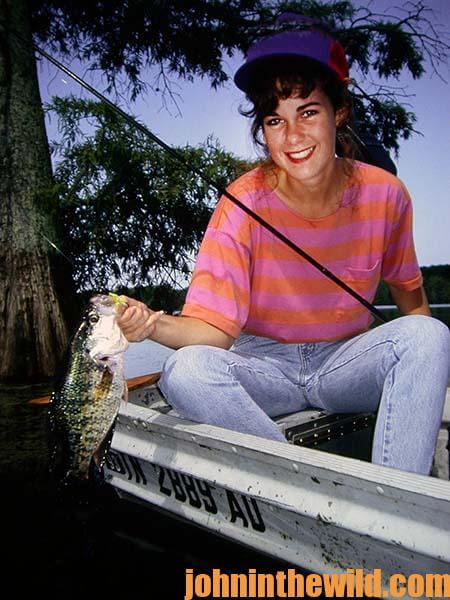 could slow it down and get it in the boat." Outlaw's never fished with a bass lure in his life, and he has seven or eight bass mounted on his wall that weigh from 9 to 13 pounds. All these trophy bass have been caught on a 1/16-ounce jig, 10 pound-test line and a medium to heavy crappie pole. According to Outlaw, "I also catch big shellcrackers (redear sunfish) fishing shallow water in my flat bottomed boat with a 1/16-ounce jig.
"I put out a lot of brush piles on my home lake – Santee Cooper. I like to use hickory, oak and holly limbs from small trees to make brush piles for crappie. These types of trees tend to have limbs that are really thick. I've found that holly is one of the best trees I can sink to attract crappie. Putting those holly trees out is a real pain, because the leaves have stickers on them. On Santee Copper, if I put out brush on Tuesday, I can catch crappie on them on Wednesday and Thursday. Crappie will come to those brush shelters, because they're looking for shade.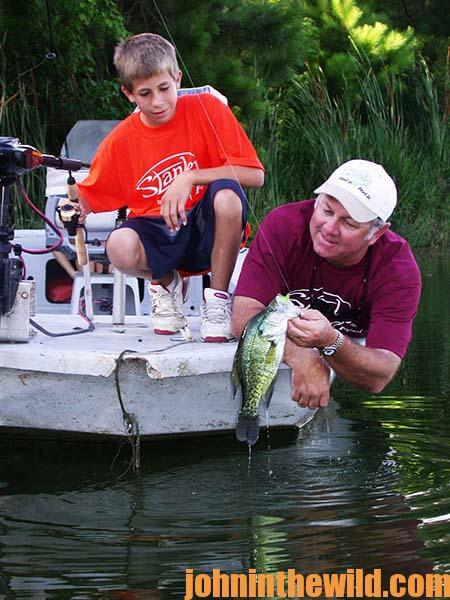 I like to put brush on underwater flats and on the edges where the flats drop off into the creek or river channels. I sink the brush piles in about 12- to 16-foot-deep water about 1/2-mile away from each other. Most of the time, the crappie will be holding 1- to 2-feet above the brush. As long as I'm swimming that jig right above the brush, I usually can catch crappie. If you know your brush is in 12 foot of water, and the brush sticks up about 3 or 4 feet above the bottom, then you can adjust your jig, so it'll swim right above the brush, not in the brush. Although I do spider rig, I really enjoy fishing with a single pole, 10-pound test line and a crappie jig."
For more crappie fishing tips, get John E. Phillips' Kindle eBooks "Crappie: How to Catch Them Fall & Winter," "Crappie: How to Catch Them Spring and Summer," "Catch Cold Water Crappie Now," and "Reelfoot Lake: How to Fish for Crappie, Bass, Bluegills and Catfish & Hunt for Ducks." Click here to get these books.
Share this page with a friend!
About the Author
John Phillips, winner of the 2012 Homer Circle Fishing Award for outstanding fishing writer by the American Sportfishing Association (ASA) and the Professional Outdoor Media Association (POMA), the 2008 Crossbow Communicator of the year and the 2007 Legendary Communicator chosen for induction into the National Fresh Water Hall of Fame, is a freelance writer (over 6,000 magazine articles for about 100 magazines and several thousand newspaper columns published), magazine editor, photographer for print media as well as industry catalogues (over 25,000 photos published), lecturer, outdoor consultant, marketing consultant, book author and daily internet content provider with an overview of the outdoors. Click here for more information and a list of all the books available from John E. Phillips.