John's Note: Fifty-year-old Mark Clemens from Baltimore, Maryland, who's been hunting deer for 38 years, is a nuisance deer hunter. He's on the cutting edge of changes that are being made in deer hunting across the nation. If you live in a gated community or anywhere that you're seeing deer around your house, you need to realize that right now there are as few deer on your property as there ever will be, unless some type of control measures are instituted to keep deer numbers in check. In a healthy deer population, does will produce from one to three fawns per year with two being the average. In communities that don't allow for the hunting of these nuisance deer, you easily can see why deer herds in suburbia are drastically increasing. The same is true for rural farms and ranches, especially where agriculture is being produced. Deer love agriculture, especially soybeans, corn, watermelons and other crops. Clemens is one of the new breed of hunters who's tasked with the responsibility of keeping deer herds at a manageable level. Clemens also enjoys taking wounded vets hunting and introducing youngsters to the sport.
I was hunting in Prince George's County, Maryland, with a group of hunters that the community of Accokeek had asked to come there to harvest surplus deer. The community is close to Piscataway National Park. The residents of Accokeek didn't permit deer hunting, nor was deer hunting permitted in the national park. Accokeek was surrounded by water and was primarily a retirement community.
I generally hunt for the Howard County Parks and Recreation Department to remove nuisance deer in their parks and recreation areas. One of the hunters who hunts for Howard County Parks and Recreation asked some of the other nuisance hunters for Howard County and me to come to Accokeek to help remove the nuisance deer where he lives and help him and his neighbors remove a large number of deer from their community. The hunters that remove the nuisance deer are hand-picked, must follow all Maryland game laws and hunt with shotguns only in tree stands at least 12 feet off the ground. They must wear safety harnesses, life lines and hunter orange when hunting. Some of the stands are only 100 yards from a home. The stand I hunted in Accokeek was 300 yards from a residence.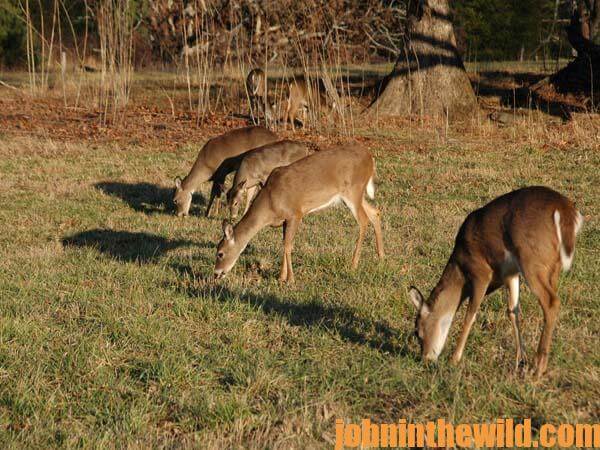 The Accokeek hunt has been conducted for the past 3 years. But across the state of Maryland, 3,000+ deer have been removed in the past years of community hunts with only a limited number of hunting days each year. Before the Accokeek hunt, the hunters (14) go to the property to be hunted, identify tree stand sites and number these sites. All the numbers are put into a hat, and on the morning of the hunt, before daylight, each hunter reaches into the hat and pulls out a number, and then he knows which tree stand he'll hunt from that day. I drew stand site 43.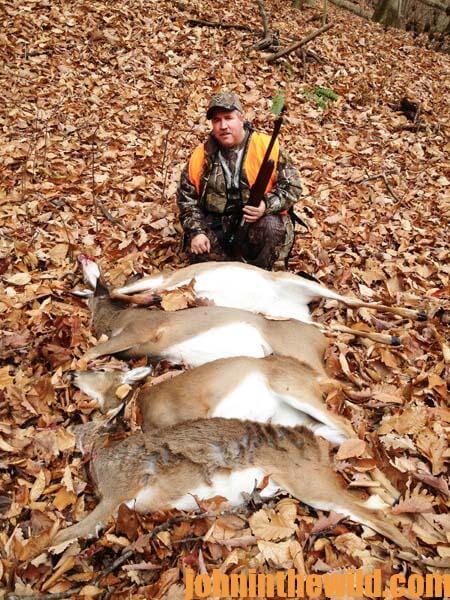 I shoot a 2-3/4 inch 12 gauge Remington 870 Wingmaster loaded with a deer slug, and I use a scope on my shotgun. I don't think you need a 3-inch Magnum shooting slugs to harvest deer. I can drop deer dead in their tracks at 50 yards with my gun. In Maryland, we can have five slug shells in an automatic shotgun. My daughter hunts with a 20 gauge with 2-3/4 inch shells, and she's taken deer out to 70 yards with that 20 gauge.
To get John E. Phillips' Kindle eBooks and print books on hunting deer, "How to Hunt and Take Big Buck Deer on Small Properties," (John's latest book), "How to Hunt Deer Up Close: With Bows, Rifles, Muzzleloaders and Crossbows," "PhD Whitetails: How to Hunt and Take the Smartest Deer on Any Property," "How to Take Monster Bucks," and "How to Hunt Deer Like a Pro," or to prepare venison, "Deer & Fixings," click here.
Next: How a Maryland Nuisance Deer Hunt Yields a Big Buck