Editor's Note: With turkey-hunting season still occurring in parts of the nation, and for those who've finished their spring turkey seasons but are examining what's happened during these seasons, this week we're covering some ideas for hunting late-season hard-to-take turkeys and learning about sometimes missing a tough-to-take tom. We all hate to admit that happens, but it does. Turkey hunting for me is about building memories, and the tougher the gobbler is to take, the stronger the memory I'll have after I finally harvest him. Also, by taking a legendary bird, I may open-up that same area of the woods to a large group of turkeys that will gobble next season, since the boss gobbler will be gone.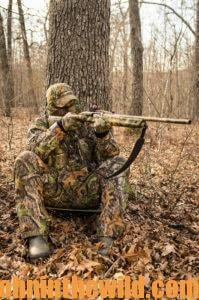 I'd been invited to a turkey hunt at White Oak Plantation near Tuskegee, Alabama, to hunt with Jerry Peterson, the president of Woods Wise Call Company. "I'm bringing the guns, and we'll be hunting with a new sighting system called a holographic sighting system," Peterson told me over the phone. "These sights appear in a small window mounted on top of the shotgun. You can see the turkey and the sight through that little window. This is the latest and greatest new sighting system to come to the turkey-hunting market. You're going to love it."
When I arrived at White Oak that night, the other writers invited to that hunt already had been out turkey hunting that day. A writer from Alaska, I'll call him Ed to protect the guilty, never previously had hunted turkeys. On his first hunt, he'd missed a big gobbler at about 25 yards. Another writer I'll call Bob, sat down beside Ed at the supper table, and I sat across the table from these two journalists.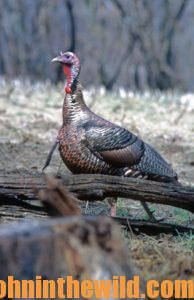 "I can't believe you missed that gobbler," Bob told Ed. He really got on Ed about missing his turkey. I tried to intervene and explain that I'd missed quite a few turkeys in my hunting career, and that Ed shouldn't feel bad about missing his first turkey. Bob continued his rant, making Ed feel bad about missing his turkey.
The next morning, we got up before daylight. I went out with Peterson and his film crew to photograph a turkey hunt. The guns had been sighted-in the morning before I got to camp, and when we located a gobbler and started setting-up, Peterson said, "John, all you have to do is push that button on the right side of the holographic (holo) scope, the sight will come on, and you'll be able to see the turkey or the red dot or circle that you can use to aim at the turkey's head." The morning was quiet and still, and we set-up just on the side of an old logging road we thought the turkey might walk to come to me. Then, the cameraman sitting with Peterson behind me would be able to get plenty of footage of the gobbler coming in before I shot him. When I spotted the longbeard about 60-yards away, walking straight down the logging road, I thought to myself, "This plan has really come together. I'm going to let that bird get within 20 yards before I shoot him." Behind me I heard Peterson whisper, "Get ready John, everything is working perfectly." As the tom continued to stroll toward me, I saw his long, thick beard almost dragging the ground.
Every time he took a step, it looked like he kicked that beard in front of him, so he could put his foot down on the ground. Finally, when the bird was about 30 yards from me, I got settled-in to make my shot. I pushed the button on the side of the holo scope, and to my surprise, nothing happened. I pushed it again, and the sight still didn't appear in the window of the holo scope. I pushed it again and again, as the bird kept closing the distance. Finally, I realized that this new holographic scope sight wasn't working. I got lower on the shotgun to see under the scope and possibly spot the bead on my shotgun, but I couldn't see it. When the gobbler was at 15 yards, I made my best guess at where to aim and squeezed the trigger. The gobbler took about four quick steps, became airborne and flew away.
"What happened?" Peterson asked with a big smile on his face. "I can't believe you missed a turkey that close." Like a dog that just had been scolded about a mistake tucked his tail under his rump and dropped his gaze to the ground, I answered, "I don't know. But the holographic scope didn't work, and I couldn't see the bead on my shotgun. So, I made my best guess on where to shoot, and I just missed him."
Well, you can imagine the amount of ribbing and kidding I received when we arrived back at camp. When Bob returned to camp, he'd also missed a gobbler, so naturally, I ribbed him just as hard as he'd scolded Ed the night before. "You're not going to believe this I'm sure," Bob said, "But that is the first turkey I've ever missed in my life." I grinned and said, "No, I can't believe that, because if that's the truth, you haven't been turkey hunting very long or very much, or else you'll lie about something else." Then I felt like Bob had been scolded enough to make up for the tongue lashing he'd given Ed the night before, I backed off and smiled. However, at lunch that day, Peterson felt he had to tell everyone at camp, including the cooks, how I'd missed my turkey. "I couldn't believe that everything was going perfectly, the turkey came in, we had perfectly good footage, and all John had to do was shoot the turkey, but he didn't. I never will forget how surprised I was after the shot when the turkey ran a little way and then took to the air. I believe a blind man could have killed that turkey he was so close to John. But we did get some good footage of how to miss a gobbler."
The next morning, we all went out to turkey hunt again. I took my Remington 1100 that I'd shot for many years with a No. 5 shot turkey loads, produced by Winchester
(https://winchester.com/Products/Ammunition/Shotshell) that was as reliable as any shotshell I'd ever fired at a longbeard. That morning I bagged my gobbler, Ed bagged his gobbler, Bob bagged his gobbler, and Peterson missed. I really enjoyed hearing the tale Peterson told about why he'd missed. He went through the same embarrassment and took the same tongue lashing that all of us had after we'd missed our gobblers.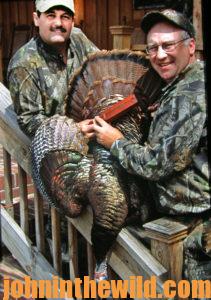 I've been fortunate enough to hunt with some great turkey callers, guides and other outdoor writers who have spent decades hunting turkeys. One thing I've noticed about seasoned turkey hunters when they get together to talk about the birds they've hunted and taken, usually they talk more about the gobblers they've missed. I've discovered that the birds that aren't taken produce a much-stronger and more-vivid memory in the mind of a hunter than the gobblers they've brought back to camp on their shoulders.
One truism in turkey hunting is regardless of how much you've spent on guns, sights, ammo, calls, binoculars, and camouflage, you will miss turkeys at some time. You also know that when you return to camp, there will be some degree of kidding with the men and women you've hunted with that's associated with the turkey you've missed. However, there will always be a redeemer in the group who says, "Don't worry John. We've all missed turkeys. These guys just won't admit to that." I believe the longer you hunt turkeys, the more turkeys you've taken, and the more turkeys you've missed, you will remember and often tell the tales of the gobblers that got away.
To learn more about turkey hunting, check out John E. Phillips's latest Audible book, "PhD Gobblers: How to Hunt the Smartest Turkeys in the World, Revised Edition" at https://www.amazon.com/PhD-Gobblers-Smartest-Turkeys-World-ebook/dp/B083V83RLG, and available in Kindle, print and Audible. You may have to cut and paste this link into your browser. (When you click on this book, notice on the left where Amazon says you can read 10% of this book for free and hear 10% for free). To learn about other turkey books by John E. Phillips, go to www.amazon.com/author/johnephillips.
Tomorrow: The Worst Turkey Hunt Ever