Editor's Note: With turkey-hunting season still occurring in parts of the nation and for those who've finished their spring turkey seasons but are examining what happened during their seasons, we're covering some ideas for hunting late-season hard-to-take turkeys and learning about missing a tough-to-take tom sometimes. We all hate to admit that happens, but it does. Turkey hunting for me is about building memories, and the tougher the gobbler is to take, the stronger the memory I'll have after I finally harvest him. Also, by taking a legendary bird, I may open-up that same area of the woods to a large group of turkeys that will gobble next season, since the boss gobbler will be gone.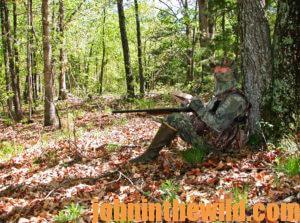 I just had finished writing "Outdoor Life's Complete Turkey Hunting" book that I'd interviewed most of the well-known turkey hunters in the U.S. at that time and put their tips and tactics in the book, along with a couple of chapters I'd authored myself. Fairly young into the sport, I was feeling good about my turkey-hunting prowess. This hunt was the first of many where I was invited to hunt with Brad Harris, who was at the time the PR Director for Lohman's Calls. Before the hunt, I'd asked Harris if I could come to his home state of Missouri and go scouting turkeys the day before turkey season arrived that year. Harris said, "Sure, we'll go out and see how-many turkeys we can locate to make sure we find one you can take."
I arrived at the turkey camp the afternoon before the season was to open. Leaving our guns at camp, Harris and I went to a ridgetop to listen for turkeys where we planned to hunt. I heard a turkey gobble, and I smiled at Harris. Then three more turkeys called. As we stood on that ridgetop listening, I heard a chorus of toms all gobbling at the same time. On the next ridgetop, I heard another chorus of gobblers talking. From the third ridgetop, yet another group of birds gobbled.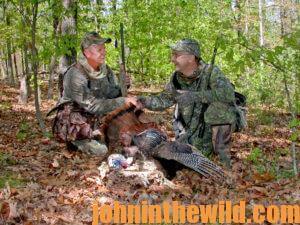 Harris asked me if I wanted to go and try to locate some turkeys. "You've got to be kidding," I said as I began to laugh. "There's got to be 5,000 turkeys right here, I don't think we can go anywhere else and find more. I can't wait to get back to this spot in the morning."
The next morning, we were up early, and before light, we had three longbeards gobbling out in front of us. "Pick your tree," Harris whispered, "Those birds will be here in a little while." I picked a massive oak to sit up against and wait for the gobblers to walk within range. Before long, I spotted three longbeards coming through the open woods and walking right toward Harris and me. The first two longbeards appeared to be 2-3-year-old gobblers, but had long beards, crimson heads crowned with white, and some blue mottling around their eyes. The gobbler in the back of the parade was a much-larger strutting bird. He definitely was the dominant gobbler and the oldest of the three birds. Naturally, since I just had completed writing "Outdoor Life's Complete Turkey Hunting," I decided to wait and take the big turkey. The gobblers continued to close the distance they were from Harris and me. The two younger gobblers separated themselves from the big strutting tom. Once the big gobbler dropped his strut and craned his neck up to look for the hen (Harris) that had been calling to him, I fired. In two heartbeats, all three birds took to the air. I'd missed completely missed. I didn't know why – but I missed.
After the birds disappeared into the big timber, Harris came over and asked, "What happened?" "I don't really know," I answered. "I was sure I was on the turkey when I squeezed the trigger. I feel terrible." Harris smiled and said, "Don't worry about it John, we'll get another one before the season goes out at 12:00 noon."
We walked for about an hour, finally heard a turkey gobble from a bottom, and moved out from the ridgetop to the side of the mountain. I found a bush to set-up in front of to break-up my silhouette. Harris was above me on the side of the mountain calling. An old road meandered down from the mountain, and I was sitting about 15 yards from the road with Harris about 20 yards from me calling. As the turkey continued to answer Harris, we thought he'd come up the road, and I'd have a clear shot.
The tom kept gobbling as Harris called. I'd decided in my mind that I wouldn't miss this turkey. I barely could see that white top on the gobbler's head, bobbing up and down as he came walking up the road. Once I could see his thick beard, I settled into my shotgun and readied for the shot. When I finally saw the end of the turkey's beard, I aimed for the gobbler's wattles and squeezed the trigger. This tom then took to the air and flew off, totally unharmed. Once more I felt lower than a snake's belly. Harris came walking over to where I sat. Neither of us could believe I'd missed a second turkey. "Well, what are we going to do now?" I asked Harris. With a frown he answered, "I'm going to take a nap and try to forget this morning. Then we'll hunt again."
Harris walked to a tree in the shade and went to sleep. I tried as hard as I could to get some shut-eye, but I continued to replay the two misses from this morning and couldn't understand what had happened. Finally, Harris woke up and said, "Let's go find another bird for you to miss." I really felt low. All the ego I had brought to this hunt after writing the definitive "Outdoor Life's Turkey Hunting," book was now gone. As I walked behind Harris, I thought about crawling into a hole. I'd never felt that bad or that dejected or had my ego beaten-up as badly as I did after missing the second bird of the morning. Everything I thought I was, those two turkeys proved that I wasn't. Everything I thought I knew about turkey hunting had gone down the drain after the second turkey flew off that mountain.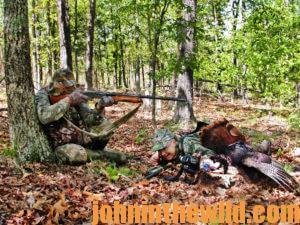 Later in the morning, we got down into a hardwood bottom and found a gobbling bird. Harris sat down to the right of me, since we expected the bird to come from my left. Harris was about 30- yards away from me with his back up against a tree, and he couldn't see me. In less than 10 minutes, I saw a longbeard coming. I knew I didn't want to let that turkey get past me, but I also realized I didn't want to take a shot and miss. When the turkey was within 15 yards, I closed my eyes and let him walk past me. I made the decision that I would lie to Harris and tell him I didn't see the turkey, rather than risking the chance of missing the third turkey I had had the opportunity to take. When I could no longer see the tom, I looked toward where Harris was calling, and in a half a heartbeat, I saw the gobbler walking away from Harris and coming straight back toward me. "Please, Lord, let me kill this turkey. I'll put more money in the offering plate, I'll try and do better than I have in the past, I'll do more of what the Good Book tells me to do, but please don't let me miss this turkey."
The gobbler walked back on the same path past me. I got my cheek tight against my stock, got low on my gun, looked straight into the scope, put those crosshairs exactly on those wattles when the turkey stopped, and a blessing came from Heaven when the turkey toppled over at the report of my shotgun.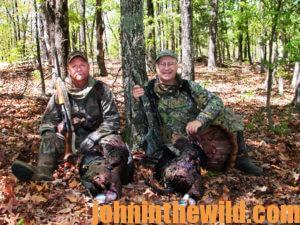 I don't know who was the most relieved – me or Harris. I was so excited I nearly started crying, and Harris had the biggest grin on his face I'd ever seen. We hurried and got the gobbler to the checking station before noon.
That hunt was probably one of the worst and best turkey hunts in which I'd ever participated. I may have missed a few turkeys since that hunt, but never again have I missed two in one day. The good thing about turkey hunting is that no matter how great of a turkey hunter you think you are, those gobblers can humble you. Then you must get your mind under control, especially after you miss two toms in one morning.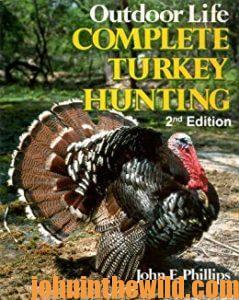 To learn more about turkey hunting, check out John E. Phillips's book, "Outdoor Life's Complete Turkey Hunting," at https://www.amazon.com/gp/product/B00IXXJWOQ/ref=dbs_a_def_rwt_hsch_vapi_taft_p2_i10 and available in Kindle and print. You may have to cut and paste this link into your browser. (When you click on this book, notice on the left where Amazon says you can read 10% of this book for free). To learn more about other turkey books by John E. Phillips, go to www.amazon.com/author/johnephillips.