Editor's Note: "Why in the world would you spend $60 on one bass lure," I asked my friend Mike Carter of Cedar Bluff, Alabama, who primarily guides on Guntersville Lake – one of the nation's top big-bass lakes. "You know if you lose that lure, you'll have just thrown $60 down the gutter." Carter answered, "I did lose the first $60 lure I bought on the first day I fished it." When I asked if Mike bought another of those $60 bass lures, he said, "I've bought several dozens of these lures after I lost the first one." So, I set-out to learn how a bass lure would be worth spending $60 on it. To learn more, visit Mike Carter's Facebook page at https://www.facebook.com/and his website at https://mikecartersguideservice.com/. Here's what I learned.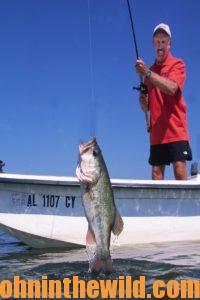 John E. Phillips: Mike, how are you fishing that Bull Shad to make big bass bite?
Mike Carter: I use a medium to fast retrieve, so that the Bull Shad will stay just under the surface. There are two Bull Shads that I use. The Bull Shad, for me, catches more bass than the Shad Wakebait does (http://www.bullshad.com/). Another difference in these two versions of the same bait is we may catch more bass on the Bull Shad, but we tend to catch the bigger bass on the Bull Shad Wakebait that comes in several different lengths. But I prefer the 6-inch length for both the Bull Shad and the Bull Shad Wakebait. These come in a wide variety of colors also, but the two colors that I prefer are the gizzard shad or the bone.
Phillips: Mike, if you fish either one of those Bull Shad for 6-8 hours on Guntersville Lake, how many bass do you expect to catch?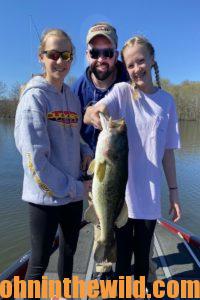 Carter: Usually we can catch from 5-20 bass during that time. But the big reason we fish the Bull Shad is because if that lure lands anywhere close to where a big bass is holding, that bass will annihilate the Bull Shad. And even if we're fishing the Bull Shad and not the Bull Shad Wakebait, we'll catch a number of quality bass with that lure.
Phillips: Okay, Mike, we know that the Bull Shad will catch big bass on Guntersville Lake, but does it also catch smaller bass?
Carter: That always surprises me and my customers, because we'll catch some bass that are 1 to 1-1/2-pounds. When we bring one to the boat, we always wonder what those little bass are thinking when they hit that big lure that's almost as big as they are? So, you'll catch some smaller bass with that lure, but I've found it to be predominantly a big-bass lure.
Phillips: What's the biggest bass that you've had landed in your boat on the Bull Shad?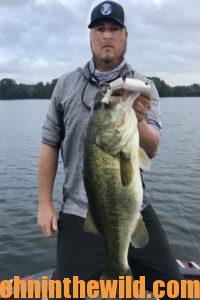 Carter: An 8-pound, 15-ounce bass.
Phillips: What are the best months for fishing the Bull Shad?
Carter: We start fishing it in May at Guntersville and fish it through October and into part of November.
Phillips: What kind of structure seems to be the most-productive for fishing this lure?
Carter: Scattered grass, in water depths of 4-8 feet from the bottom. As long as grass growing on the bottom is 1-2 feet below the surface, I can catch bass with the Bull Shad. If grass grows on the surface, I can't fish the Bull Shad through it.
To learn more about catching bass, check out John E. Phillips' book, "Bass Pros: Season by Season Tactics," at https://www.amazon.com/ available in Kindle version, and https://www.amazon.com/ for Audible and print versions. (On right side of the Audible page for this book and below the offer for free Audible trial, you can click on Buy the Audible with one click). You may have to copy and paste this click into your browser. (When you click on this book, notice on the left where Amazon says you can read and hear 10% of the book for free).
Tomorrow: What Differences Are There in the $60 Bull Shad and the Bull Shad Wakebait Bass Lures?