Editor's Note: Ernie Calandrelli of Youngstown, New York, has been hunting deer with a bow for 48 years and served as the longtime Director for Quaker Boy Calls (www.quakerboy.com). He's hunted 37 states, primarily with 14 or 15 of those states for deer. Today Calandrelli hunts Kansas, Georgia, New York, Missouri and Illinois. Most bowhunters choose one to five hunting sites, learn all they can about those areas and the deer that live there and hunt those same places for years. But Calandrelli hunts many different states with his bow. To learn more, visit https://www.facebook.com/ernie.calandrelli.
I'm often asked "Why do you travel from New York to Kansas, Illinois, Missouri and Georgia to bowhunt?" Well, these states consistently produce good-sized bucks and have quality soil and habitat and plenty of food. Then the bucks living in those states can grow big antlers and have heavy body weights. This old saying is true, "You can't take a big buck if you're not hunting where big bucks live."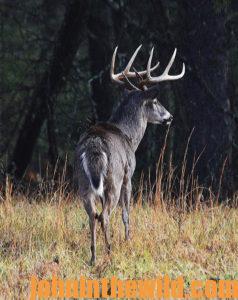 Years ago, Missouri wasn't known as a big white-tailed buck state. But in the last 10 or 15 years, Missouri has started kicking-out some really-fine quality bucks. Since Kansas has opened-up its deer hunting to nonresidents, in my opinion, it's probably the best big-buck producing state in the nation. Another state that I hunt sometimes is Iowa. When I first started hunting there, I just hoped to see a deer – any deer. Sometimes, I'd hunt for 2- 3 days and not even see a deer. But now, southern Iowa is covered up with deer, and there are some true monster bucks there. As far back as I can remember, Illinois always has produced a high number of trophy-class bucks. If you want to take a big buck with a lot of head gear, these states traditionally produce those classes of bucks.
I like to hunt the State of Georgia, because it's an easy hunt for me. I have a good friend down there who has some really-good property with a large deer herd on it. I usually can go down to Georgia and take a buck that will score 130 or 140, which is a really-good buck from any state. I also stay in a very nice deer camp, and my friend has cut trails where I hunt. So, I have easy access to get to my tree stands without making any noise. The land also homes a number of pastures where I can see deer early in the morning and late in the afternoon. Then I'll begin to formulate a hunt plan for the buck I want to try and take. Another reason I like to hunt Georgia is that the weather is pleasant almost every time I hunt there. I normally hunt late November or the first of December in Georgia when there's plenty of snow where I live in New York. At that time, the rut is beginning to wind down in Georgia. There's a lot to be said for having a great camp to stay in, hunting with people you've known for years and feeling confident that you can take a nice buck every year you hunt there.
* Canning Venison
My son, Nick and I bowhunt with my friend whose farm has crop-depredation permits to reduce the deer population there. That's how we fill our freezers each year. We also can the rest of the venison we harvest.
After grinding venison and freezing it, we'll use it in a wide variety of stews, chili and burgers and cut the backstraps off to make venison steaks. I have a recipe I've used to can our venison in quart or pint jars for years.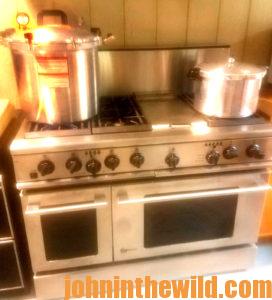 Here's How We:
* cube the good pieces of the venison, put those in Mason or Ball jars and generally include some beef broth in the jars (you don't have to do this).
* add 1/2-teaspoon of canning salt to pint jars and 1 teaspoon of canning salt to quart jars.
* use 15 pounds of pressure on a pressure canner with about 3 inches of water in the cooker.
* let the jars stay at 15 pounds for 1 hour, 15 minutes for pints and 1 hour, 30 minutes for quart jars.
* cool down the canner, lift off the lid once it has no pressure, and allow the jars to cool.
"Canning takes up no freezer space, and we can preserve our venison to eat for an extended time. By using this recipe we have some of the most-delicious deer meat you'll ever eat. I've used this canned venison through the years to make hot roast beef (venison) sandwiches, stews, shepherd's pies, Philly cheese steak sandwiches and of course chili. But there are hundreds of ways and recipes where you can substitute canned venison instead of using beef, pork or chicken.
Something we're famous for up here in New York is Beef on a Weck, which usually is thin-sliced roast beef cooked rare and put on a hard kimmelweck roll (you can find recipes for these rolls on the Internet) that's similar to a crusty Kaiser roll and sprinkled with caraway seeds and coarse salt. The bun gets a dip au jus and is spread with horseradish. But instead of using beef, we use the canned venison, and the sandwich is very delicious and flavorful.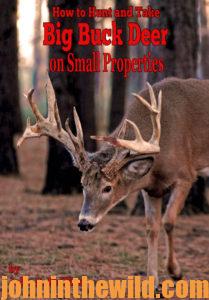 To learn more about hunting deer, check out John E. Phillips' book, "How to Hunt and Take Big Buck Deer on Small Properties," available in Kindle, print and Audible versions at (http://amzn.to/1vIcj4m). You may have to copy and paste this link into your browser. (When you click on this book, notice on the left where Amazon says you can read 10% of the book for free).
Tomorrow: Ernie Calandrelli Picks Kansas as His #1 Bowhunting Deer State