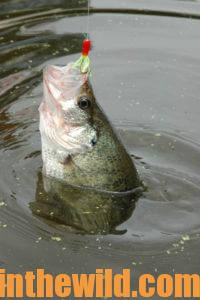 Editor's Note: On our recent trip to Lake Eufaula (see yesterday's post), J. Wayne Fears and I did a morning trip for crappie and a second morning trip for catfish. I had a friend ask me, "Is Tony Adams as good of a crappie fisherman as you say he is?" My friend later took a morning crappie trip with Tony, called me and said, "John, Tony Adams is the real deal! I understand why he can catch crappie in the summertime when most crappie guides won't even go out on the lake. He's constantly putting out crappie habitat and has places to fish, regardless of the wind and the weather. He's one of the best ever."
Tony Adams makes 5-gallon bucket crappie habitat filled with river bottom cane and then concrete. He puts these fish attractors out in groups of five to 10 buckets and may have four or five groups of 10 buckets each in the same general area. Then he easily can move from one fish attractor to the other and continuously catch crappie, without having to run all over the lake.
According to Adams, "I've got my buckets put out in the water depths where I know the crappie hold at different times of the year. I can catch crappie in the hot summer months, the cold winter months, as well as the spring and fall – often when most people aren't crappie fishing." When Adams takes a party out crappie fishing, especially in the summer months, he goes to the lake and checks the various fish attractors he has out on the lake the day before to make sure which structures are holding crappie, and which structures aren't before his clients arrive the next day.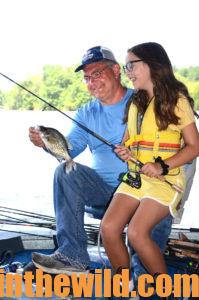 Crappie is one fish that I rarely if ever have to use the 7Up and ice technique (see Day 1) on to make the meat sweet, unless I catch them in woods' ponds cut off from the main river in the hot summer months. Adams usually can produce 50 – 90 crappie for three people in 4 hours on Lake Eufaula where he guides. And, at this time of the year, nothing's better than a fish fry with freshly-caught crappie, a glass of sweet tea, coleslaw, French fries and baked beans.
To contact Adams, you can call him at (334) 688-7505. To see what he's catching at this time of the year, go to Facebook.com/Tony.Adams.5477. A great to place to stay if you decide to fish Lake Eufaula is Lakepoint State Park https://www.alapark.com/parks/lakepoint-state-park. Contact Sone Kornegay at (334) 687-8011. You can learn more about this section of the country at https://alabamablackbeltadventures.org/.
Batter-Fried Crappie for a Big Group
Ingredients:
8 pounds of crappie fillets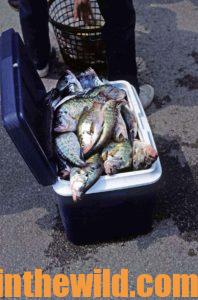 1-1/2-tablespoons lemon juice
2 tablespoons salt
1 quart flour
1/4-cup paprika
3 cans beer (we use non-alcoholic beer)
1/2-cup water
Oil for frying
Preparation: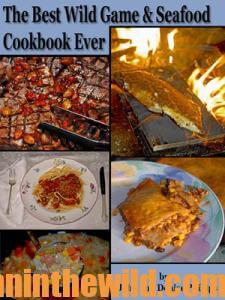 Cut fillets into serving-size portions. Sprinkle fish with lemon juice and 1/2-tablespoon of salt. Combine, and mix remaining salt and flour. Add beer and water to dry ingredients gradually; beat until batter is thin and smooth. Dip fish in batter; drain slightly; and fry in deep hot oil (350 degrees) for 3 to 4 minutes, or until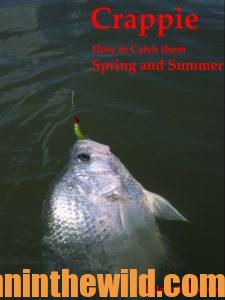 the fish is brown and flakes easily when tested with a fork. Drain on absorbent paper. Serves 25. (The frying of the fish will cause the alcohol to dissipate).
"The Best Wild Game and Seafood Cookbook Ever," available in Kindle and print at http://amzn.to/WkbLRg contains this recipe and many others for preparing crappie and other varieties offish.
To learn more about fishing for crappie, check out John E. Phillips' book, "Crappie: How to Catch Them Spring and Summer," available in Kindle, paperback and Audible versions at http://amzn.to/WGaJLT.