Editor's Note: Will Primos, the creator of Primos Hunting (www.primos.com) and well-known turkey and deer hunter has been hunting white-tailed deer for about six decades. He's made 100 videos on hunting and has produced about 500 TV show episodes – all named "The Truth."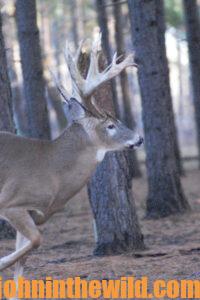 One of the most-profound things that I figured out as I began to try to take older-age-class bucks was that you absolutely had to have the wind in your favor from the time you left your vehicle, until you were sitting in your stand. If the wind isn't in your face when you approach your stand, it's like you're ringing a dinner bell, telling every animal in the woods, "Here I come; you'd better run." That one mistake of not keeping the wind in your favor when you go to your stand will be the major reason you don't see deer where you think you should have, especially with older-age-class bucks. This is especially true when you're bowhunting.
I've often been asked, "Why do you like to hunt with a bow?" The reason is that I like to be close to the animals. I like to be able to see their reactions when I call to them. My hunts are not so much about the harvesting of the animals, but more about seeing wildlife up close and personal.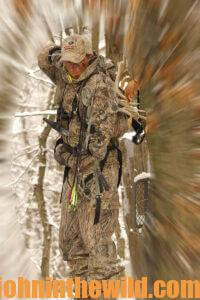 Another question I've been asked is, "How close is the closest you've ever had a deer that you've harvested?" My answer is, 5-yards away from the base of the tree where I was. If a whitetail is that close to you, you have to make an extremely-delicate and precisely-placed shot, if you're going to take that deer. One thing to remember is not to aim for the place you want the arrow to enter the deer, but aim where you want the arrow to exit the deer after it passes through it. I've found that focusing on where you want the arrow to exit will bring down more deer than focusing on where you want the arrow to enter the animal.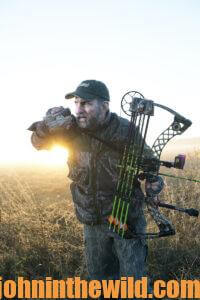 When I'm shooting a deer straight under me, I aim with my very-top pin. If you're using proper form correctly, you've got to bend at the waist first. If you bend from the waist, then everything stays perfect in your form, as though you're standing on the ground. My top pin is set at 20 yards. So, I'll shoot that top pin standing on the ground at 10 yards. I've learned that my top pin will be 2-1/2 to 3 inches low at 10 yards. You have to remember that your arrow's going to hit low, if you're using your top pin to aim. You have to aim high for the arrow to hit where you want it to hit, and that's if the deer doesn't move at the sound of the bow going off.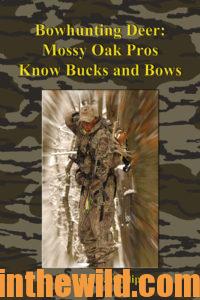 To learn more about hunting deer, check out John E. Phillips' brand-new Audible book, available August 2, 2022, and now in Kindle, print and Audible versions, "Bowhunting Deer: Mossy Oak Pros Know Bucks and Bows" at https://www.amazon.com/. Also see John's book, "Jim Crumley's Secrets of Bowhunting Deer" available in Kindle, print and Audible at http://amzn.to/XYTCEY. You may have to copy and paste these links into your browser. (When you click on the book, notice on the left where Amazon says you can read and hear 10% of these books for free). On the right side of the page for each book and below the offer for a free Audible trial, you can click on Buy the Audible book.
Tomorrow: Shoot Long at Deer with Will Primos