Editor's Note: At age 16, Preston Pittman of Lucedale, Mississippi, won his first turkey calling championship. When asked how this affected him, he says, "I was a small size growing up, had asthma and chronic nose bleeds and couldn't compete in most sports. I fell in love with God's greatest gift, the outdoors. When I won that first contest, it did something to me. I realized I was good at turkey calling." Today Pittman has won and placed in so many contests that remembering them all is hard, including – the World Turkey Calling Championship, the World Natural Voice Turkey Calling Contest, the World Two Man Team Turkey Calling Contest and numerous others. In 2008, he was inducted into the National Outdoor Hall of Fame. Pittman has hunted across the United States and was the first person to document a Double Grand Slam (two turkeys of each of the four major subspecies of the American wild turkey) in one year. He is on many pro staffs, such as Longleaf Camo (http://www.longleafcamo.com), Muzzy (http://www.muzzy.com), Scent Lok (http://www.scentlok.com) and MOJO Outdoors  (http://www.mojooutdoors.com). "I'm just a country boy producing a product (http://www.pittmangamecalls.com) that I believe in and know it works."
The day before our perfect hunt, Pittman and I hunted with Land Smathers, who lives, eats and breathes turkey hunting, and is a river hunter. "Many years ago when I lived in Livingston, Alabama, I'd hunt the rivers and creeks on the Tombigbee River," Smathers says. "The U.S. Army Corps of Engineers oversees quite a bit of public-hunting land along the Tenn-Tom Waterway in Alabama and Mississippi and throughout the nation. You can get a map of the lands that the Corps of Engineers owns in most states." Where we were hunting in Mississippi this last week, we had permits to hunt on Corps of Engineers' lands and on a WMA that bordered the Tombigbee River. Smathers had hunted these lands all his life. "I hunt turkeys on oxbows and creeks that have great crappie and bass fishing off the main river. We can crappie fish and listen for a turkey to gobble. If we hear a turkey, we can get out of the boat and go hunt him. If not, we can continue to fish.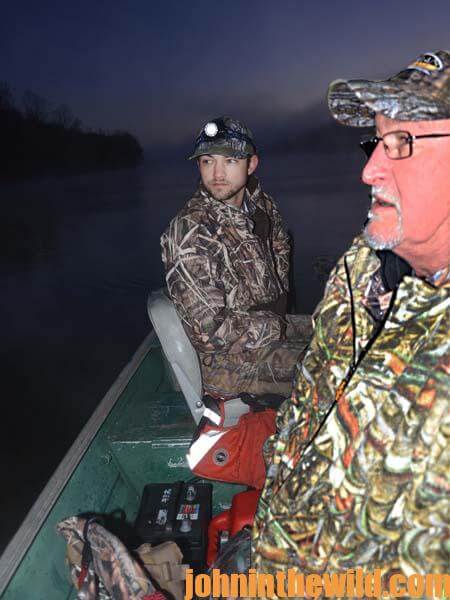 "When I was a little fellow, my mother and dad had a hunting and fishing camp close to Vancleave, Miss., at Red Creek Game Reserve and Management area," Pittman recalls. "Our camp was on Red Creek. I've always loved to hunt and fish. I could float down the creek using my little electric motor, and I had a 3.5 big gasoline motor that I could use to get back up the creek. I'd hoot like an owl, going down the creek, trying to get a turkey to gobble. When I'd reach a sandbar, I'd get out of the boat and start cutting and yelping, attempting to make a turkey gobble. If I heard a turkey gobble, I'd go to him. If I didn't hear a turkey gobble, I'd get back in the boat and start fishing with my bass rod – a Zebco 33, or I'd take my cane jig pole and jig to fish for crappie. Often, I'd come back home with a turkey, crappie and bass for the table.
"A boat is a productive way to cover a lot of ground, to listen for and hunt turkeys and fish for crappie and bass. You just have to be sure you have permission to hunt on the land where you hear a turkey gobble. So, I've found that hunting and fishing along the U.S. Army Corps of Engineers land and/or WMA land is the easiest way to find good turkey-hunting places and bass and crappie spots, without having to do much walking. I could hunt and fish at the same time. I also enjoyed seeing a lot of wildlife. Doing this kind of hunting, I'd often see deer standing on the bank, hogs swimming the creek, wood ducks flying in, hawks screaming, and/or squirrels dancing through the treetops."
The U.S. Army Corps of Engineers owns plenty of public lands on rivers, creeks and major reservoirs that you can hunt. Many WMAs are bordered by creeks and rivers, and you often can get WMA permits to hunt on them. These areas allow easy accessibility by boat, and you can get into regions to hunt where many other hunters don't hunt. Traveling by boat means you don't disturb the woods. So, if you're very quiet, you can see plenty of game, locate numbers of turkeys and hunt lands that receive very little turkey hunting pressure. In the South, the crappie are often spawning during turkey season.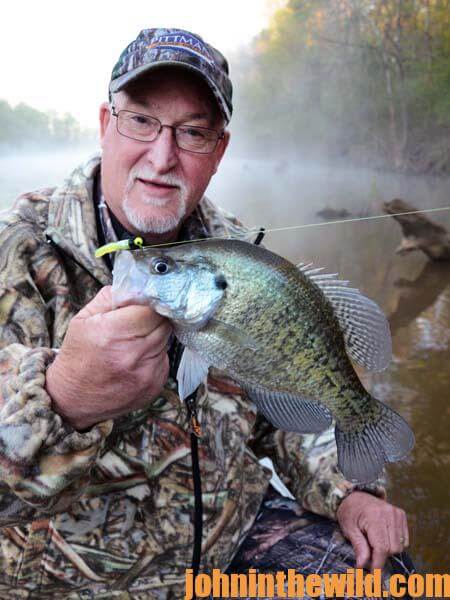 And, as Pittman emphasizes, "Another advantage that we have today that I didn't have back when I was younger is you can take your hand-held GPS receiver that has apps and maps that can show you property lines and pinpoint where you're standing or floating. If you can hear a turkey gobble, you can see the land that's between where you are, and where the turkey is gobbling. You also can see the waterways that go into Corps or WMA lands."
On this day before daylight in the fog, Smathers, Pittman and I started hunting the river, listening for turkeys. The turkeys didn't talk at all that morning until about 12:00 noon when we were on the way back to take our boat out of the water, eat some lunch and return to Pittman's hunting camp. We had had a great day of crappie fishing, and I'd hooked one of the biggest river bass that I'd hooked in a long time. The fish would have weighed 6 – 7-1/2 pounds. He took a crappie jig that I dropped into thick cover. However, I was fishing with 4-pound test line and an ultralight rod and reel. The bass headed straight for the boat, came up on top of the water, so we could see him, dove under the boat, returned to my side of the boat and jumped again. This time my line broke. However, the fishing was great, and the turkey hunting got better at noon.
You can learn more about Preston Pittman and how he hunts on his Facebook page at https://www.facebook.com/pittmangamecalls/?fref=ts and on his webpage at www.pittmangamecalls.com/
To see John E. Phillips' Kindle eBook, "How to Hunt Turkeys with World Champion Preston Pittman," click here at http://amzn.to/144Irn5.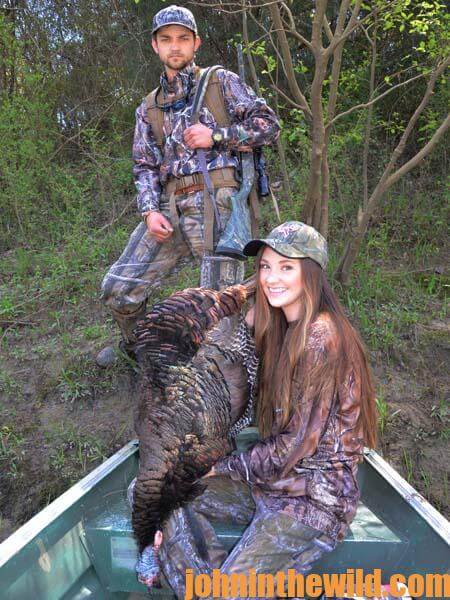 To learn more about turkey hunting from the masters, get these Kindle eBooks and print books by John E. Phillips, including: "The Turkey Hunter's Bible (available as an eBook or in paperback)," "PhD Gobblers: How to Hunt the Smartest Turkeys in the World," "Turkey Hunting Tactics," (also available in an audio book from  http://www.audible.com/pd/Self-Development/Turkey-Hunting-Tactics), "The 10 Sins of Turkey Hunting with Preston Pittman" and "Outdoor Life's Complete Turkey Hunting." Click here to get these books.
To get John's book, "The Turkey Gobbler Getter Manual," for free, go to www.johninthewild.com/free-books to download.
To learn much more about crappie fishing, get John E. Phillips' Kindle eBooks and some print books, "Crappie: How to Catch Them Fall & Winter," "Crappie: How to Catch Them Spring and Summer," "Catch Cold Water Crappie Now" and "Catch Crappie All Year: Fishing a Single Pole, Using No Boat and Farming Crappie." Click here to get these books.
To receive and download for free "The Crappie Catchers' Cookbook," by John and Denise Phillips that offers free recipes, go to http://johninthewild.com/free-books.
Next: Turkeys Still Can Surprise You
EXPLORE MORE: you'll love these stories from John too