John's Note: For the past 44 years, I've earned a living from working in the outdoors – first as a taxidermist for 10 years, then as a writer, a consultant, an Internet content provider and a book author. Thousands of ways exist to make a fulltime or a parttime living if your heart is in the outdoors, and your body is in a job that work at to provide food for your family. At Blue Bank Resort's Fins and Feathers Festival (www.bluebankresort.com or 877-258-3226) on Reelfoot Lake in northwestern Tennessee, in early October, 2015, I learned about making and selling waterfowl calls from Benny Marney of Hayes Calls (https://www.facebook.com/Hayes-Calls-143595105664866/ and www.hayescalls.com) and talked with Bernie Forte, who enjoys making Reelfoot style calls.
Benny Marney makes duck calls for Hayes Calls, located between Knoxville and Nashville, Tennessee, in Rockwood. "I've been making duck calls for 15 years. I try to make affordable goose and duck calls with different sounds that will bring in waterfowl for hunters. One of our most-famous calls is the Lil Bad Azz, a $50 call that sounds very ducky. Bob Hayes was the original founder of Hayes Calls, and that's who taught me my craft. I don't know of anyone who just sits and down and starts making duck calls. Like any other craft, we've all been taught by masters. Bob was one of those masters. Today our duck calls are sold in stores like Bass Pro Shops, Final Flight, Outfitters, Gander Mountain and others. I think to be a quality call maker, you must enjoy calling and hunting ducks. My favorite duck to hunt personally is the male mallard, commonly called a greenhead due to his fluorescent-green colored head.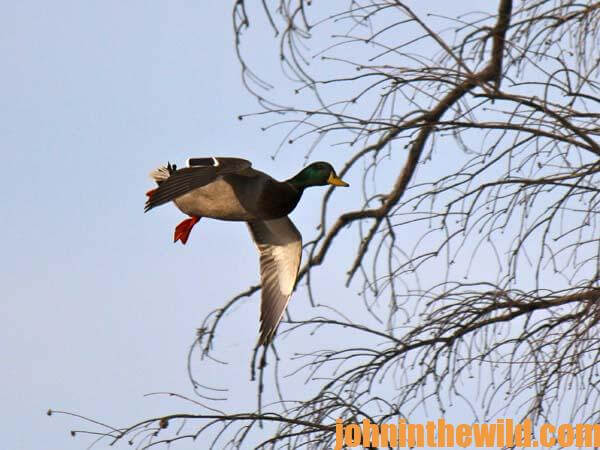 "I don't try to call down really-high ducks. You can blow your brains out attempting to get some ducks down. But most of the time, all you'll do is irritate the ducks and run out of air blowing. I call to the ducks that fly over that you can tell by their body language that they're looking for somewhere to light down and feed and/or rest. When the ducks are at 60-70 yards high, I don't blow a loud hail call. Instead I give them soft quacks. Everyone else seems to blow loudly, as though they're trying to blow the reeds out of their duck calls. But if you listen to ducks on the water, they'll just give low, quacking sounds when other ducks are flying overhead. I think the key to successful duck calling is to call differently from the other duck callers trying to get that same flight of ducks.
"Too, I don't like to give a high bawl call like many duck hunters do but prefer to give that soft, sweet quacking sound to make ducks turn and come to my blind. Even when I give a comeback call, I'll do a sweet, gentle call – not a blow-the-leaves-off-the tree comeback call. I don't like to blow a lot of calls at ducks in the air. My comeback call only will have two to three notes in it. When the ducks are coming to the blind, once again, I just give some soft quacks. But I do quack somewhat harder when the ducks are making their final approach to the blind. I don't know why louder quacking calms the ducks down and causes them to cup their wings to light, but I do know that type of calling works at that time."
To learn more about our calls, you can write hayescalls@bellsouth.net and view this video by clicking here: https://www.youtube.com/watch?v=mZQSm0XVw-g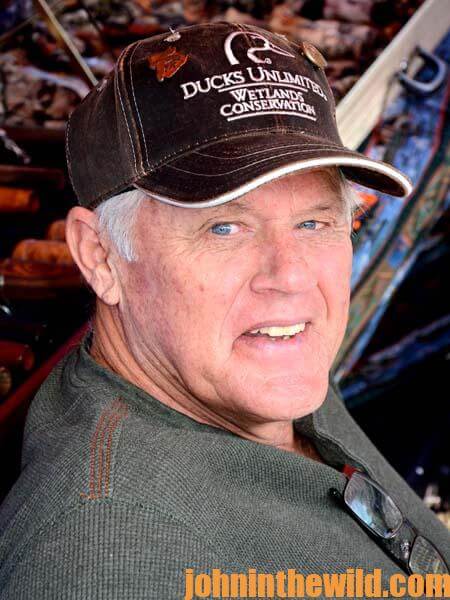 Bernie Forte's Reelfoot Style Duck Calls:
"I make Reelfoot style duck calls," Bernie Forte explains. "I live in Nashville, Tennessee, and I knew many of the old duck callers and call makers from Reelfoot Lake, like Johnny Marsh and others. They got me started making the Reelfoot style duck calls. "Something that makes the Reelfoot style duck calls different is that they have a unique style of making tone boards. The calls themselves are somewhat bigger than most duck calls. Reelfoot homes a lot of open water, and the Reelfoot call makers liked the bigger duck call to reach out and speak to the ducks at longer ranges, and that's what I make.
"I got into the duck call business by first starting to collect duck calls, like those made by Johnny Marsh because he was from Nashville where I lived. Marsh would come to Reelfoot Lake every year and remain there throughout the entire duck season – making and selling calls. I wanted to carry on the tradition of making his style of calls. Since many of the great hand-crafted duck call makers are no longer with us, I didn't want to see this art form die out.
"I primarily go to swap meets and waterfowl shows, set-up a booth and sell my calls there. I make these calls because I enjoy making duck calls. I've been making these calls for 15-20 years. Since I can't stand to make the same type of call day after day, I use various kinds of exotic woods, I put checkering on others of the calls, and I also have artwork on some of my calls. Every call I make is different from each other. Each one of my calls is custom-made as a one-of-a-kind call. I don't have a webpage because I don't build calls to sell lots of them. I do it for fun. But, if you're interested in my calls, you can contact me at 615-646-5572 about my 10 Calls Company." You also can view the video with Bernie Forte at https://www.youtube.com/watch?v=mZQSm0XVw-g.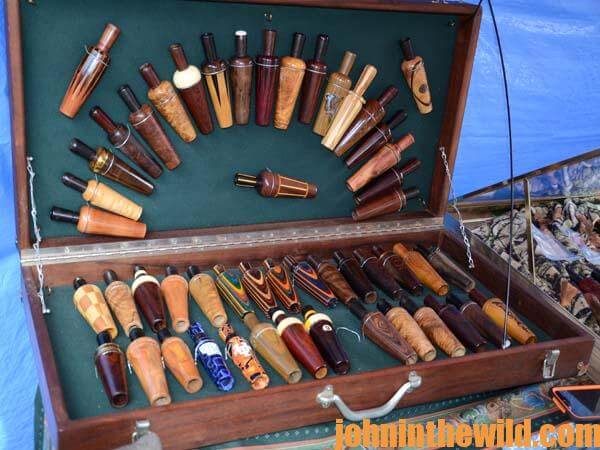 To learn more about the many facets of the outdoors, you can purchase John E. Phillips' eBooks and print books at http://www.amazon.com/John-E.-Phillips/e/B001HP7K6O/ref=sr_tc_2_0?qid=1445614446&sr=8-2-ent. You also can download free books on cooking crappie and catfish and making jerky besides some other titles at http://johninthewild.com/free-books.
Next: Collecting and Selling Waterfowl Calls with Scotty Hayes