How to Select and Buy Fish
A small amount of fish goes a long way. Plan to purchase 1/3-1/2-pound per person for main dishes or stretch the catch by using seafood in appetizers, soups, or side dishes.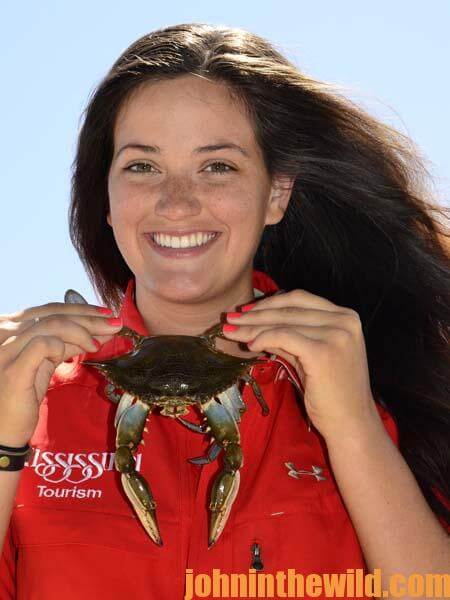 Fish is one of the most-perishable foods, because enzyme action within the fish and reborn bacteria cause it to spoil quickly, unless it is handled with the greatest care. Judge fresh steak and fillets on basis of flesh, skin and odor. The flesh of a fish should be firm, moist and elastic with no traces of browning or drying out. The skin should be iridescent with unfaded characteristic marking and colors of that species, scales firmly attached, and the eyes bright and clear and never sunken. No fish odors should be present if the fish is fresh.
When buying frozen fish, make sure the flesh is solidly frozen with no discoloration. A white, dry appearance around the edges indicates freezer burn. Also look for ice crystals formed around the inside of the package. Both these signs indicate a moisture loss from the fish flesh and may be the result of thawing and refreezing. The wrapping should be airtight with little or no air-space between the fish and the wrapping. Quality frozen fish should have little no odor.
Peppercorn Crappie or Catfish
This yummy dish is easy to prepare.
Ingredients for Creamy Peppercorn Dressing
1 tablespoon of seasoning mix of Tellicherry cracked black pepper, coarse salt, sugar, garlic, thyme and parsley (we order ours from www.penzeys.com)
2 tablespoons water
1/2-cup sour cream (yogurt can be used as a substitute for sour cream
1/2-cup mayonnaise (can use reduced fat mayonnaise, but we prefer Hellmann's reduced fat or regular))
Vinegar or water to thin
Preparation for Dressing:
Mix 1 tablespoon of seasoning mix with 2 tablespoons water. Let stand for 5 minutes, and then whisk by hand with 1/2-cup sour cream or substitute and 1/2-cup mayonnaise. Thin with a few tablespoons of vinegar or water.
Ingredients for Fish:
12-ounces freshwater fish fillets (crappie or catfish)
1 tablespoon flour
1 – 2 teaspoons creamy peppercorn dressing
1/3-cup olive oil
Preparation:
Rinse the fish fillets, and pat dry. In a wide bowl, combine the flour and creamy peppercorn dressing. Place the fish in the mixture, and coat well on both sides. Heat the olive oil over medium-high heat in a large skillet. When hot, add the fish. There's not much oil, so the fish may stick. Shake the pan a bit to prevent sticking. Cook until lightly browned, carefully flipping and cooking the other side – about 3 – 5 minutes per side. Yield: 2 servings
Grilled Snapper with Herbs
This heart-healthy, delicious recipe can be prepared with any kind of snapper.
Ingredients:
1 piece of snapper (1-1/2 – 2 pounds) cut into 4 equal pieces
1/2-teaspoon Hungarian-style sweet paprika
1/2-teaspoon thyme
1/2-teaspoon cracked rosemary
1/2-teaspoon Turkish oregano
1/2-teaspoon Herbes de Provence
1/2-teaspoon sea salt
Preparation:
Brush your grill grate or grill pan with olive oil, and heat to medium-high. Combine all of the spices and herbs in a bowl, and mix well. Sprinkle the mixture over the non-skin side of the snapper pieces. Place the fish on the grill, skin side up, and cook for 4 – 5 minutes, depending on the thickness of the fish fillets. Place a tented piece of foil over the fish while grilling. Gently flip the fish, and cook for an additional 4 – 5 minutes. Yield: 4 servings.
Sweet-and-Sour Glazed Grouper
You can use the many types of grouper available for the catching in this outstanding recipe. (Be sure to check the regulations where you're fishing for grouper).
Ingredients:
1/4-cup ketchup
2 tablespoons low-sodium soy sauce
1 tablespoon white distilled vinegar
Olive oil spray
3/4-pound grouper
Salt and freshly ground black pepper
2 medium tomatoes cut into 1-inch cubes (about 2 cups)
1 tablespoon capers, drained
Preparation:
Mix ketchup, soy sauce and vinegar together in a small bowl. Heat a large nonstick skillet over medium-high heat, and spray with olive oil spray. Add the grouper, and sauté 5 minutes; turn and sauté 3 minutes. Add salt and pepper to taste to the side of the fish. Remove to a plate. Add tomatoes and capers to the skillet, and sauté 2 minutes, stirring once or twice. Add the reserved sauce. Toss in a hot skillet to warm sauce, about 30 seconds. Spoon the vegetables and sauce over fish. Serve with Basmati Rice. Yield: 2 servings.
Basmati Rice
Ingredients:
1/2-cup white Basmati rice
1 tablespoon olive oil
Salt and freshly ground black pepper
Preparation:
Bring a large pot with 2 to 3 quarts of water to a boil. Add rice, and boil, uncovered, about 10 minutes. Test a grain. Rice should be cooked through, but not soft. Drain into a colander in the sink. Run hot water through rice, and stir with a fork. Mix in oil and salt and pepper to taste. Yield: 2 servings.
The Bright Star's Crab Cakes
One of the oldest and most well-known Birmingham-area restaurants near where we live in Vestavia, Alabama, is the Bright Star in Bessemer, Alabama. Their crab cakes are divine.
Ingredients:
1 cup panko bread crumbs
1/2-tablespoon mayonnaise (preferably Hellmann's)
1/2-teaspoon Worcestershire sauce
1 egg, beaten
1 pound wild crabmeat
1/2-red onion, diced
1/2-stalk green onions, diced
1/2-red pepper, diced
1 teaspoon Tabasco sauce
1 teaspoon Dijon mustard
Preparation:
In a large mixing bowl, combine all ingredients, and mix well. Use a 3-ounce ice cream scoop to portion; dust crab cakes with more panko breadcrumbs, and form crab cakes. The Bright Star cooks its crab cakes on a flat-top grill rather than a skillet as the mixture is very delicate and can fall apart easily. Cook crab cakes on an indoor grill brushed with olive oil over medium-low heat, until both sides are browned. Yield: 5 servings.
Coconut Fish
We enjoy this recipe that works equally well with freshwater fish or grouper, tripletail or speckled trout.
Ingredients for Fish:
8 small or 4 large white meat fillets
1 to 2 teaspoons fajita seasoning
1/2- to 1-cup panko breadcrumbs (depending on how large the fillets are)
2 eggs, beaten
1/2-cup hot chili oil (you can use regular oil, but the hot chili oil really is delicious, and the coconut sauce takes away some of the heat)
1/3- to 1/2-cup vegetable oil (enough to combine with the hot oil, so it comes at least 1/4 of the way up the fish in the pan)
Ingredients for Sauce:
2 tablespoons butter
1 leek, chopped (outer leaves and stem discarded)
1 tablespoon minced fresh garlic or 1/2 teaspoon minced garlic
1/2- to 1 cup pineapple juice
1/2-cup shredded coconut
1/4- to 1/2-teaspoon salt (optional, to taste)
1 cup Half & Half
Preparation:
Pat the fish dry, season, and roll the fish fillets in the panko crumbs, then in the egg and again in the panko crumbs. Heat the oil in a large frying pan. Add the fish, being careful not to crowd. Cook until nicely browned on both sides. Thin crappie fillets will take about 2 minutes per side, and speckled trout will require 3 to 4 minutes per side. Remove to a paper towel-lined plate to drain. For the sauce: Melt the butter in a pan over medium heat. Add the leek, and cook until soft. Add the garlic, and cook for 1 to 2 minutes. Add the pineapple juice, coconut and salt, if using. Reduce the heat, and add the Half & Half and cook until slightly reduced. Pour over the fish, and serve. Yield: 4 servings.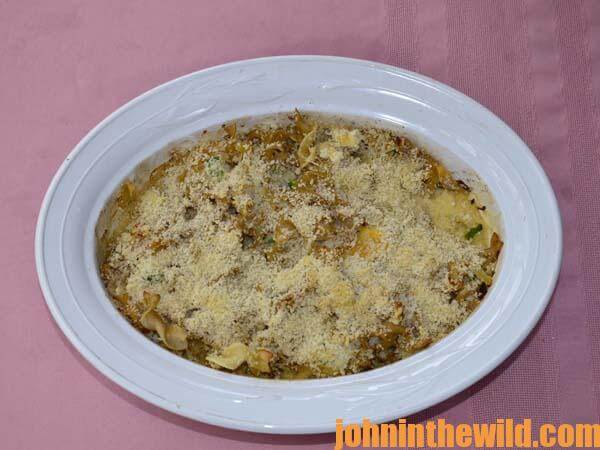 Fast Bake Crabmeat Casserole
To save time, after catching crabs at the coast, prepare this dish that can be used as a main dish with a salad and vegetables. It tastes best when prepared with the freshest crabmeat.
Ingredients:
1 cup milk
8 ounces Velveeta cheese, chopped into bits
1/2-cup butter, softened
1/2-onion chopped
1 bell pepper, chopped
1 jar (4 ounces) pimentos, drained
1-1/2-cups egg noodles, cooked
1/2-pound (8 ounces) fresh crabmeat
1/4-cup dry breadcrumbs
Preparation:
Preheat oven to 350 degrees. Combine all ingredients together in a bowl except for breadcrumbs. Transfer crab mixture to a greased 2-quart casserole dish. Sprinkle with breadcrumbs. Bake uncovered for 30 minutes. Yield: 4 – 6 servings as a main dish.
Seafood Salad Appetizers
We've always enjoyed catching blue crabs off piers in the coastal rivers on Alabama's Gulf Coast, about 4 hours from our home. You also can buy fresh crabmeat to use.
Ingredients:
1 pound fresh crabmeat, after sautéing for 3 minutes in 1 tablespoon butter
1 tablespoon butter
1/4-cup chopped scallions
1 cup chopped celery
2 tablespoons mayonnaise (we prefer Hellmann's mayonnaise)
2 tablespoons nonfat plain yogurt
1 cup grated low-fat Cheddar cheese
1/4-teaspoon paprika
1 tablespoon fresh lemon juice
Wheat crackers or toasted English muffins
Preparation:
Combine all of the ingredients except the crackers in a large bowl, and stir until blended. Cover with plastic wrap, and refrigerate for at least 2 hours, or overnight. To serve, divide the salad onto the crackers, and arrange on a platter. Yield: 10-12 servings as an appetizer.
Fried Crab Fingers
Crab fingers are a great appetizer and can be served to accompany other seafood dishes or vegetables. You soak the crab fingers in the wet mix first and then put the crab fingers in the dry mix before frying.
Ingredients for Wet Mix:
1 egg
2/3-cup of milk
1 teaspoon creole seasoning
1/2-teaspoon garlic powder
1/2-teaspoon onion powder
1/2-teaspoon hot sauce
1/2- teaspoon cayenne pepper
1 tablespoon corn flour or Fish Fry Mix
1 tablespoon corn starch
Salt and freshly-ground black or white pepper
Ingredients for Dry Mix:
1 cup corn flour or Fish Fry Mix
1/2-cup corn starch
2 tablespoons creole seasoning
1/2-te
1/2-teaspoon cayenne pepper
1 teaspoon lemon and pepper seasoning
(Don't hesitate to adjust any of this to your liking)
Preparation:
Prepare the crab claws by peeling away the shells. You'll only be using the pincer ends of the claws. Put the claws in the wet mix, stir, and marinade them for 30 or more minutes in the refrigerator. Put the claws in the dry mix, and let sit a minute or so, stirring it just a little. Use about 1-inch of peanut oil in a pan, depending on the depth of the pan, and heat to 350 degrees. Fry the claws until golden brown. Claws cook quickly. Yield: depends on amount of crab fingers.
You also can purchase these already prepared to fry at some seafood markets. Too, Pontchartrain Blue Crab, Inc. in Slidell, Louisiana, ships picked crab fingers fresh daily. Please contact 985-649-6645, email pbcinfo@pontchartrainbluecrab.com, or visit www.pontchartrainbluecrab.com.
Baked Stuffed Flounder in Cream Sauce
Our family always has loved to eat stuffed flounder, whether we've caught the fish on rods and reels, gigged them or bowfished for them. This recipe is very tasty.
Ingredients:
2 tablespoons unsalted butter
1 medium onion, chopped
1/2-teaspoon kosher salt, plus extra for seasoning fillets
1 clove garlic
1 package (10-ounces) frozen chopped spinach, thawed and squeezed dry
1 lemon, zested
1/4-teaspoon freshly-ground black pepper, plus extra for seasoning fillets
2 tablespoons chopped fresh parsley leaves
1 cup heavy cream
1/4-cup white wine (the alcohol will dissipate while cooking)
10 ounces grated cheddar cheese
1-1/2- to 2-pounds flounder fillets
3 cups leftover cooked brown rice
1/2-pound small cleaned fresh wild shrimp
Preparation:
Preheat the oven to 350 degrees. In a medium sauté pan over low heat, melt the butter, and add the onion and a pinch of salt until translucent. Add the garlic, and continue to cook for another minute. Add the spinach and lemon zest, and cook until just heated through. Season with the salt and pepper, add the parsley, and stir to combine. Remove from the heat, and keep warm. Place the heavy cream and wine into a saucepan over medium heat. Once the mixture begins to simmer, gradually add the cheese, and stir until melted. Set aside, and keep warm. If the fillets are large, cut in half. Season each fillet on both sides with salt and pepper. Divide the spinach mixture evenly among the fillets, and roll the fish around the mixture. Place the rice into a 2-1/2-quart casserole dish, and spread evenly. Place each roll on top of the rice, seam side down. Pour the cheese sauce over the top, and place casserole in the oven for 25 minutes at 350 degrees. Allow to cool for 5 minutes before serving. Yield: 4 to 6 servings.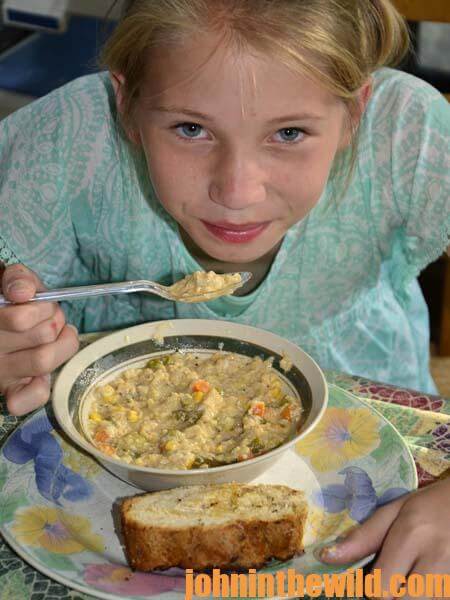 Grandkids' Favorite Fish Chowder
I've been making this recipe for more than 40 years and have found that even people who don't like chowder, enjoy the flavor of this dish. It never tastes fishy, is our grandchildren's favorite and is so easy to make ahead.
Ingredients:
1 pound fillets of catfish or crappie (fresh or frozen), cut into 1-inch pieces
1 cup cut green beans
1 cup shredded zucchini
1 cup thinly-sliced onion
1 cup sliced or grated carrots
1 cup thinly-sliced celery
1 cup thinly-sliced yellow squash
3 cups skim milk
2 cans (10-3/4-ounces) chicken broth or two pints
1 cup grated cheese
1/8-teaspoon pepper
1 tablespoon salt
8 ounces egg noodles
Preparation:
In large pot, combine vegetables, fish, milk and chicken broth. Cover, and bring to a boil. Lower heat, and simmer for 15 minutes. Stir in cheese and pepper. While vegetables are cooking, gradually add noodles and salt to rapidly-boiling water. Cook uncovered, stirring occasionally until tender. Drain in colander. Add noodles to vegetable mixture. Simmer about 5 minutes more or until thoroughly heated. I also like to put this dish after it's prepared in my crockpot on LOW or WARM to allow flavors to meld and to keep from burning it, if I make it early in the day and don't plan to serve it until supper. Yield: 10-12 servings.
These recipes are new and are not included in our book, "The Best Wild Game & Seafood Cookbook Ever: 350 Southern Recipes for Deer, Turkey, Fish, Seafood, Small Game and Birds," available at http://amzn.to/WkbLRg in Kindle eBook and in print.
Next: Delicious Shrimp, Rainbow Trout, Mackerel and Crappie Recipes
EXPLORE MORE: you'll love these stories from John too