Editor's Note: Thirty-year-old Dusty Myers of Oak Grove, Louisiana, carried a climbing tree stand and his rifle, while wading flooded timber and wearing hip waders for 3/4-mile on public land where no other hunters would go in late December, 2015.
"I'd been rifle hunting deer for 18 years, and I started hunting with a bow 2-years ago," Myers says. "In my wildest dreams, I never thought I'd take a buck like this on public lands." Myers was hunting for the first time on the 7,000-acre WMA in East Carroll Parish during a week-long gun hunt. Dusty's dad, Don Myers, had hunted there most of his life. Two weeks before, Dusty and his dad had scouted the property. "We generally hunt private land in West Carroll Parish, but I wanted to look at some new scenery," Dusty Myers explains.
During a scouting trip 2 weeks before the week-long hunt, Dusty Myers had found a couple of spots with good deer sign that he planned to hunt on opening day of the week-long gun hunt. The first two days Dusty didn't see a shooter buck and moved to the second spot he'd scouted for one day. "I saw a couple of small bucks, but the rule on this WMA was that to harvest a buck, the buck had to have at least 4-inch-long points on one side of his rack," Myers reports. "The two young bucks I saw didn't meet the requirement."
On the third day, Myers scouted by wearing his hip high waders and walking through the flooded timber for about 3/4-mile, where he found a ridge of dry land and oak trees dropping plenty of acorns. He also spotted deer tracks and signs of deer feeding but no scrapes. "I didn't see any signs that any other hunters had hunted this ridge," Myers explains. "Most of the hunting pressure was on the opposite side of the WMA from where I was hunting. I scouted in the morning, went back, put my stand up that afternoon and returned to the stand the next morning in the dark. As the morning brightened, I spotted a 6-point buck."
Myers caught movement in his peripheral vision and saw the buck had good antlers on one side, moving through thick cover. Myers realized that the antlers on the buck he'd spotted had way more than 4, 1-inch points on one side of his rack. This WMA homed numerous backwater sloughs and ridges, and Myers was on one near the oak trees. Although the ridge was fairly open, there was one patch of thick cover, where Myers had seen the buck's antlers. Myers said to himself, "If the left side of that deer's antlers is as big and as tall as the right side, then I know he's a good buck."
Myers turned, brought his rifle to his shoulder and looked for an opening along the buck's route to get a clear shot at the biggest buck he'd ever seen. "I finally spotted an opening about 60 yards from my climbing stand and put my crosshairs on the opening," Myers reports. "I planned to shoot when I saw the buck's front shoulder." Seconds later, Myers spotted the deer's front shoulder and squeezed the trigger, knowing he'd made a lethal shot by the way the buck came running out of the thicket. However, the big buck next made a circle and came right under Myers's tree stand, causing Myers to say to himself, "My lord, that's a monster."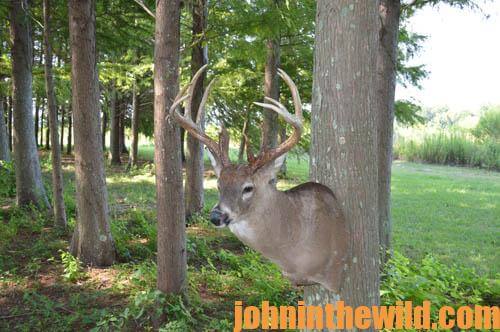 Myers didn't want the buck to get away, so with the buck at 12 yards, Myers fired a second shot from his Remington (https://www.remington.com) .30-06. The buck went down instantly.
"I immediately came out of my tree stand but had to sit down I was so shook up," Myers recalls. "Before I'd never taken anything bigger than a 122-inch 8 point. I felt certain this buck would score more than 150 inches. Unnerved, I went to the deer, sat down and rubbed his antlers. I never expected to see a deer this size on public land and initially had hoped just to see a 130-point buck. I'd never dreamed of a buck this big. Due to the weeklong gun hunt, I realized lots of other hunters would be in the woods. But it was the peak of the rut."
After Myers got himself together, he called his dad and told him, "I've got a 13 pointer, and I think he's bigger than your 177-inch 11 point." Myers explains that, the rule on this WMA is to take your gun back to your vehicle before you can take your 4-wheeler in to retrieve your deer. Myers met his dad back at the truck, they retrieved rope and the 4 wheeler and went back through the flooded timber. "We tied the rope onto the deer's antlers and dragged him out through the water, until we got to dry land where we could load him on the 4-wheeler," Myers recalls. "Adding that big deer to my weight and my dad's weight on the 4 wheeler hadn't seemed like a good idea. Dragging that huge buck through the water helped support him until we could get him to dry land and carry him the rest of the way to the truck."
Dusty Myers harvested this 171-3/8 buck in East Carroll Parish, Louisiana, on December 31, 2015. The Composite Buckmasters Score, including the inside spread, was 189-5/8.
To learn more about hunting deer with John E. Phillips' Amazon Kindle eBooks, print books and Audible books and Nook books, click here at  http://johninthewild.com/books/#deer. You can type in the name of the book and download it to your Kindle, and/or download a Kindle app for your iPad, SmartPhone or computer. For a free download on how to make jerky from venison to provide a protein-rich snack, choose "How to Prepare Venison Jerky: The Ultimate Snack Food" at johninthewild.com/free-books.
Tomorrow: Arkansas Ducks and a 172-Inch Buck Deer with Kristian and Luis Vargas
EXPLORE MORE: you'll love these stories from John too