When you use the links below to go to Amazon, notice on the left of the Audible option where Amazon says you can hear a sample that gives you 10% of these books for free! On the right side of the page for each book and below the offer for a free Audible trial, you can choose to Buy the Audible book.
Be sure to also check out John's Free Books as our gift to you!

Books By Topic
Category Shortcuts: View on Amazon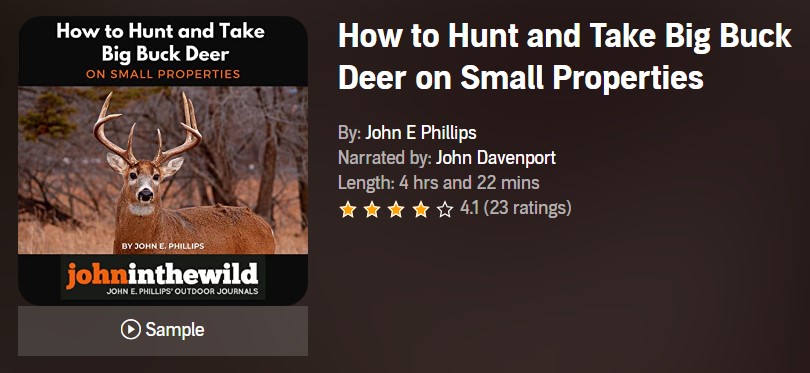 How to Hunt and Take Big Buck Deer on Small Properties
In this book, you'll hear from 14 hunters who either have gained permission or leased properties as small as six acres to as much as 250 acres, and how they consistently take older-age-class bucks off these little lands.
VERSIONS: AUDIBLE, KINDLE & PRINT
---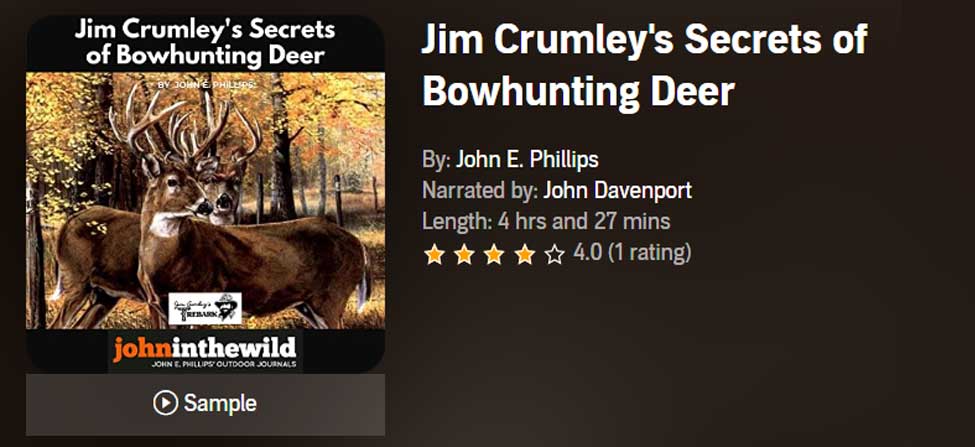 Jim Crumley's Secrets of Bowhunting Deer
Using a black magic marker and a gray work jumpsuit, Jim Crumley of Buchanan, Virginia, drastically changed the nature and purpose of hunting camouflage when he created the first sportsman's camouflage – Trebark. Crumley's love of bowhunting and his desire to be more invisible changed hunting clothing forever.
In this hunting guide, he shares the wisdom that he's learned throughout his lifetime about how to be a hunter, how to find a deer lease, how to scout for deer, and more.
Special features include how to:
Have a magic 60 acres to hunt
Decide the best equipment to use
Find deer year-round
Locate land to hunt
Know the best place to put your tree stand
Get bucks within bow range
VERSIONS: AUDIBLE, KINDLE & PRINT
---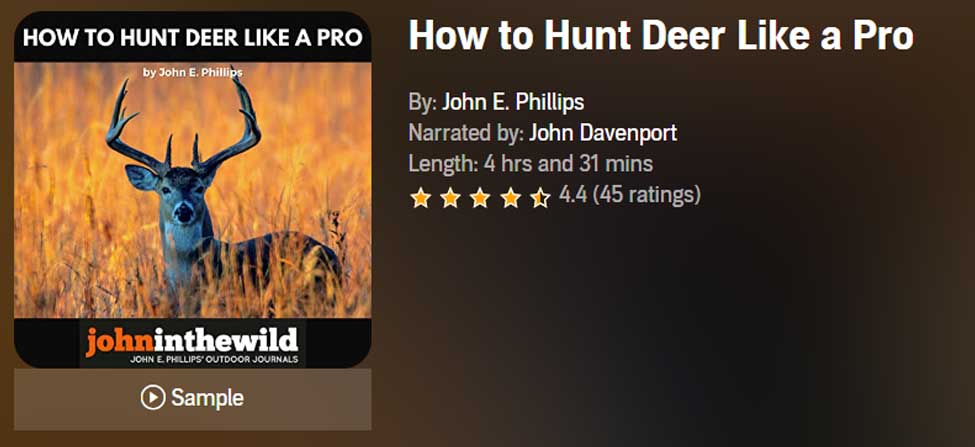 How to Hunt Deer Like a Pro
How do you know if the land you hunt has a trophy deer on it? Wildlife manager Bob Zaiglin, of Uvalde, Texas and Jim Crumley, the father of modern-day hunting camouflage, tells you how to find out. GPS can make finding and taking that trophy buck easier. This hunting guide will teach you how to hunt big bucks where no one else can find them, how to call deer, and how to become versatile as a deer hunter, so that if one deer tactic doesn't work, another one will.
In the chapter, "How to find Bucks at Scrape," Dr. Keith Causey, retired professor of Wildlife Science at Auburn University, describes the best way to hunt a scrape.
Brad Harrison of Neosho, Missouri, is a nationally-known videographer, professional deer hunter and master at calling deer. Another master is Will Primos of Primos Game Calls. These two experts will tell the best deer calls and when to use them in this book.
And for over 20 years, Bo Pitman, lodge manager of White Oak Plantation, has been studying deer movement patterns. He explains what types of conditions are best for predicting deer movement.
VERSIONS: AUDIBLE, KINDLE & PRINT
---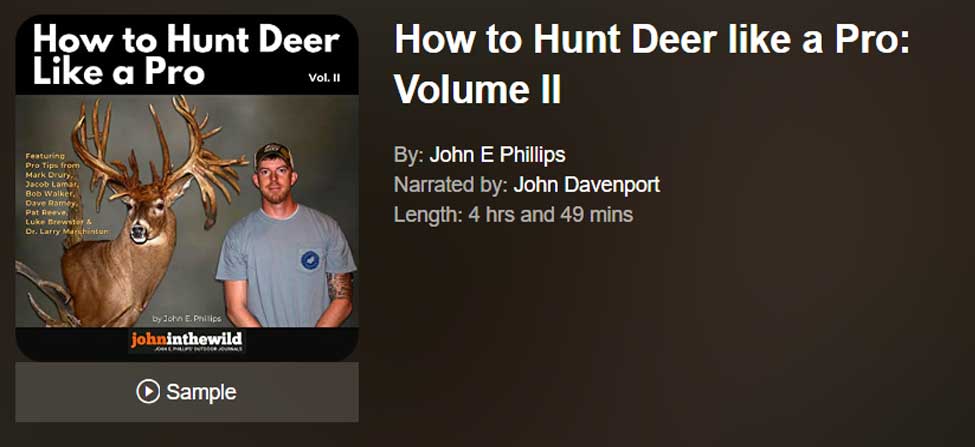 In Chapter 10, Jacob Lamar tells you his tactics for consistently taking older-age-class bucks on public lands in several states. Chapter 11, Bob Walker explains how to find places on public lands where you can hunt that 99 percent of the other hunters never have considered hunting. The Bonus Chapter with David Ramey tells you how, where, when and with what equipment to take big Kansas bucks on public lands by hunting in 100-degree weather when others won't hunt.
Chapter 13, Mark Drury, his family and his guests take mature bucks every season by having more small places to hunt rather than one large property. Drury explains the strategy of having satellite farms to hunt that only may be 50-150 acres each or less. Chapter 15, Pat Reeve, who hunts far-northern states and Canada, says, "I don't like hunting for mature bucks until the weather is 20 degrees or less." Chapter 4, Dr. Larry Marchinton says that funnels are the most-reliable stand sites to hunt for big bucks and tells why.
VERSIONS: AUDIBLE & PRINT
---
Expert Guidebooks on BowHunting Deer: Best Sellers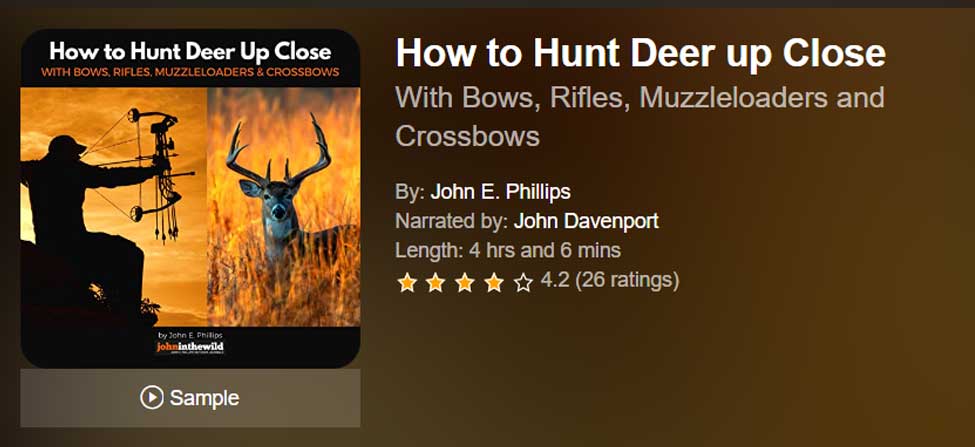 How to Hunt Deer Up Close with Bows, Rifles, Muzzleloaders and Crossbows
To be more successful as a deer hunter, learn all you can about the animal, the wind, the temperature and the techniques required to get in close.
In this book, you'll hear about some of the best hunters in the nation who know how to hunt deer close, including one of the greatest archers who ever lived, Howard Hill.
John E. Phillips also shares his own deer stories and hunting tips from 50 years of experience.
VERSIONS: AUDIBLE, KINDLE & PRINT
---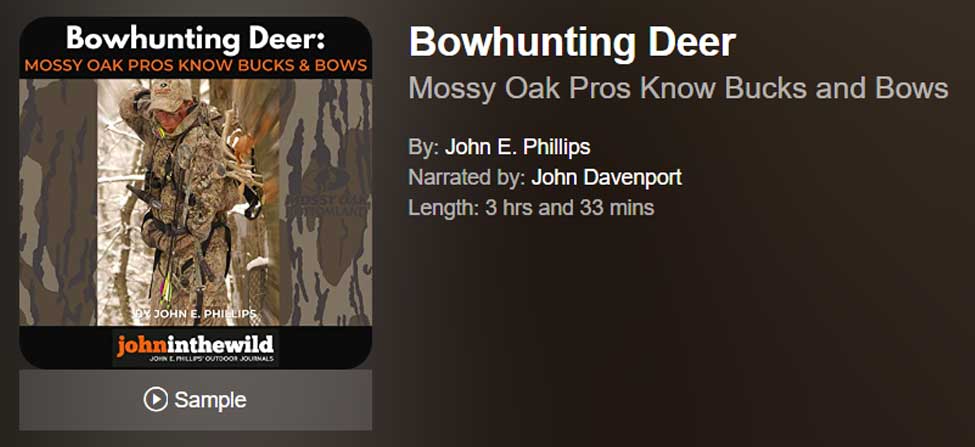 Many deer hunters have told me: "I want a deer-hunting book with regular hunters who are just like me" and "I want a deer-hunting book with the best advice from the best professional deer hunters in the nation". 
Mossy Oak's Pro Staff is made up of some of the nation's best deer hunters, professional deer hunters, and TV hosts whose names and advice often are heard in deer camps all over the nation. But many of the more than 1,000 Mossy Oak Pro Staff hunters are everyday, weekend, and vacation deer hunters just like you.
Whether you hunt private or public lands, you'll find tips and tactics in this book from the Mossy Oak Pro Staff that will increase your odds for locating and taking the bucks of your dreams.
If you're serious about learning to hunt and take deer with a bow, if you're looking for a different strategy that will help you identify and harvest big bucks, if you want to learn from your misses as well as from the shots that connect, and if you enjoy being in the great outdoors that the Good Lord has blessed us with, then this book is for you.
VERSIONS: AUDIBLE, KINDLE & PRINT
---
Expert Guidebooks on Turkey Hunting: Best Sellers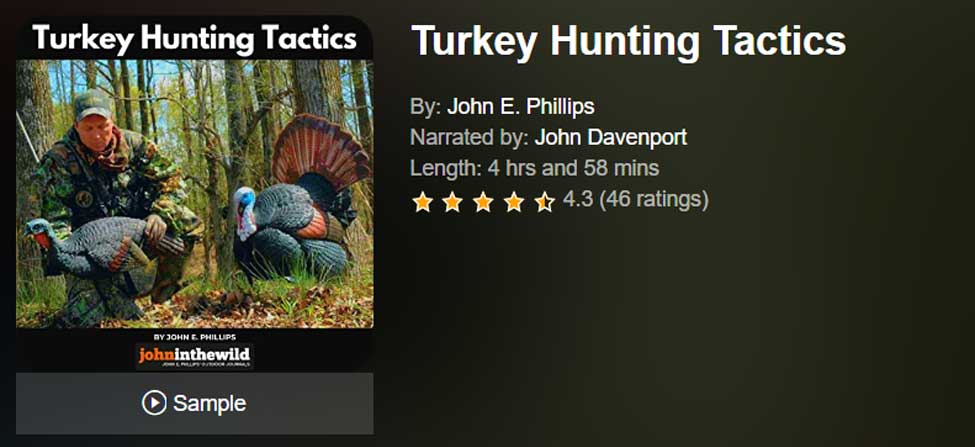 Turkey Hunting Tactics
This turkey hunting audiobook has entertaining chapters like: "How to Miss a Turkey", "Hunting with a Guide", and "The Turkey and the New York Lady".
You'll learn about all the subspecies of turkey across North America, how to use a turkey call, how to scout before turkey season, how to find a turkey to hunt, and what hunting gear you'll need to put the odds in your favor to take a wily gobbler.
VERSIONS: AUDIBLE, KINDLE & PRINT
---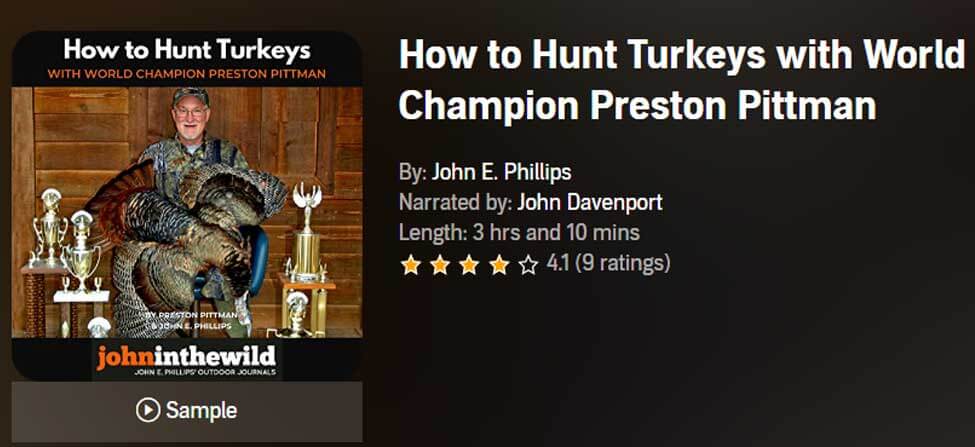 How to Hunt Turkeys with World Champion Preston Pittman
You easily can take a turkey if you don't make any mistakes, but you have to know what the deadly sins of turkey hunting are to keep you from making those mistakes. If you understand how to hunt a turkey, you're far more likely to take a gobbler than if you just know how to call a turkey.
Of course, calling is important, and if you want to learn to call a turkey, Preston Pittman will teach you how to call turkeys with box calls, friction calls, diaphragm calls, and other turkey sounds.
You'll also learn why Preston Pittman once put turkey manure all over his body to kill a tough tom.
When you have turkeys that strut and drum in the middle of a field, when you know there's no way to get close enough to get a shot, Pittman will show you some weird tactics that have worked for him to help you hunt tough ole toms.
But the main thing you'll learn in this book is how to become the turkey.
Using what he's learned while hunting wild turkeys, he's also become a master woodsman who can take most game, regardless of where he hunts. To learn more secrets about how to be a turkey hunter from one of the world champions of the sport, this turkey-hunting book with Preston Pittman is a must.
VERSIONS: AUDIBLE, KINDLE & PRINT
---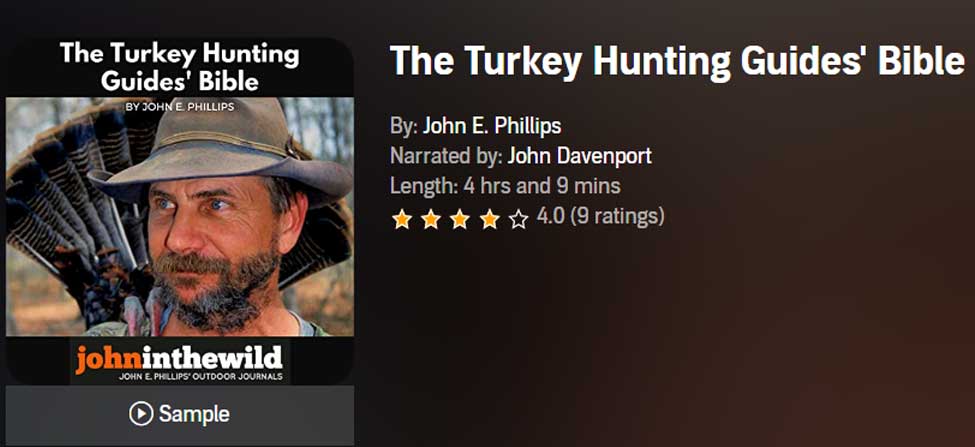 The Turkey Hunting Guides' Bible
The quickest way to learn how to turkey hunt successfully is to either hunt with a turkey hunter with years of experience or a turkey-hunting guide. These two types of turkey hunters have solved most of the problems turkey hunters ever will face.
Just as one size of shoes won't fit every person, one style of turkey hunting doesn't fit each hunter. Each turkey-hunting guide interviewed for this book has his own style of calling, hunting, and outsmarting turkeys.
While listening to this book, make a list of the new information you've learned, take that list with you during turkey season, and try some of the new tactics. Then you'll become a more versatile turkey hunter and prove the wisdom from The Turkey Hunting Guides' Bible.
VERSIONS: AUDIBLE, KINDLE & PRINT
---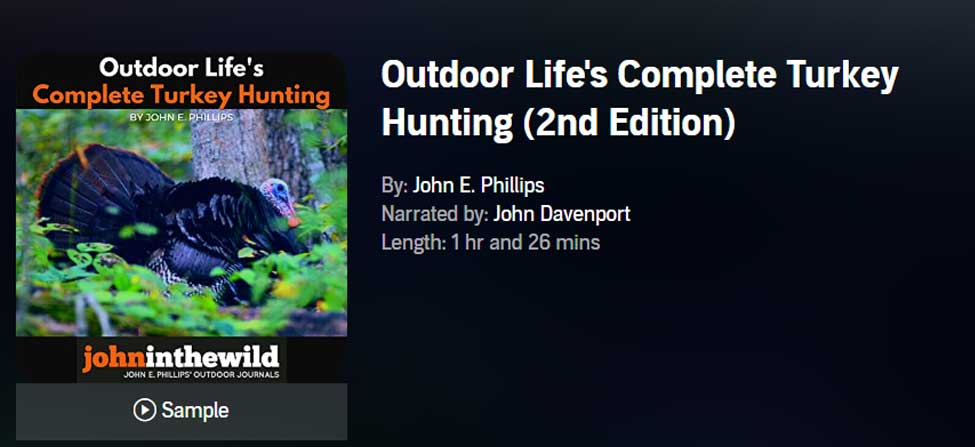 Outdoor Life's Complete Turkey Hunting (2nd Edition)
This Audible book will help you learn how to call turkeys with two of the nation's best, longtime and well-known turkey callers, Rob Keck, formerly with the National Wild Turkey Federation, and Lovett Williams, a wildlife biologist who recorded wild turkeys giving the calls that you'll learn how to make on various types of turkey callers.
VERSIONS: AUDIBLE & KINDLE
---
Expert Guidebooks on Bass Fishing: Best Sellers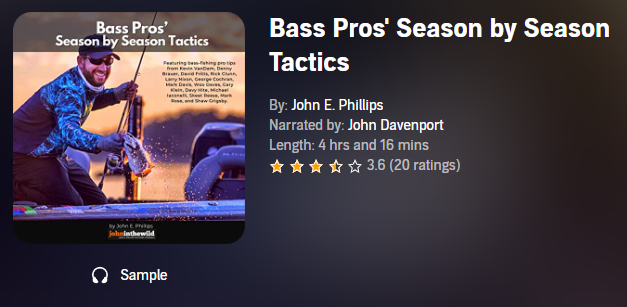 If you want to become the best you can be, find someone who's already become the best at what you want to do and follow his or her instructions. This is what I've done in my new book, Bass Pros' Season by Season Tactics.
In this book, I've chosen some of the best bass fishermen to give you advice on how to find and catch bass during each period of a bass fish's life, including professionals like Kevin VanDam, Denny Brauer, David Fritts, Rick Clunn, Larry Nixon, George Cochran, Mark Davis, Woo Daves, Gary Klein, Davy Hite, Michael Iaconelli, Skeet Reese, Mark Rose, and Shaw Grigsby.
My hope is that this book will help you find and catch more bass at every time of the year and each day you're on the water. The men included in this book are some of the best mentors I know of for successful bass fishing anywhere in the nation.
VERSIONS: AUDIBLE & PRINT
---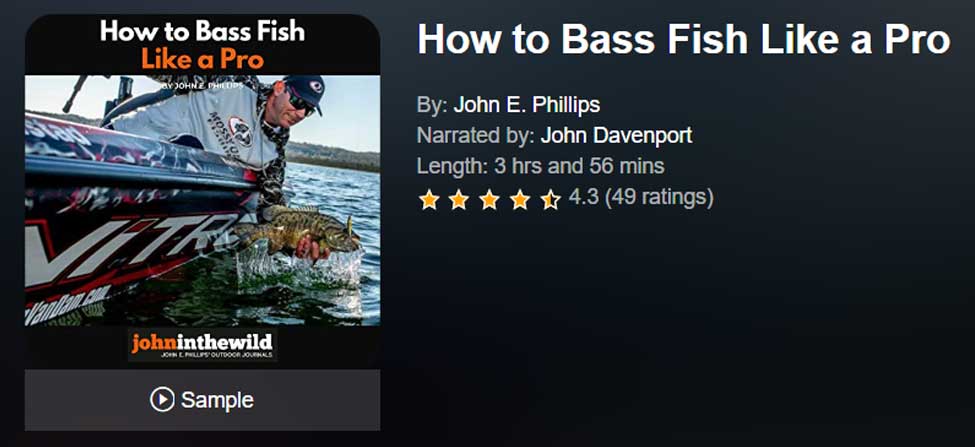 How to Bass Fish Like a Pro
If you could sit down and interview some of the best pro bass fishermen in the world, what would you want them to tell you to help you improve your bass fishing skills?
In this book, How to Bass Fish Like a Pro, Kevin VanDam explains how he catches bass consistently, and how he fishes all 12 months of the year. In the bonus chapters, he will tell you how to fish for hot-weather bass.
Denny Brauer will tell you the ways he hates to fish, how he picks the best fishing lures for different water and weather conditions, and will give you his best fishing tips for hot weather. In Brauer's bonus chapters, he'll teach you when to flip a jig, a tube, or a creature bait and tell you his three tips for how to be a better fisherman.
Mark Davis, in Chapter 3 of the book, explains his five secrets to becoming a better bass fisherman, how to turn your bass fishing around to the positive side, and how to catch hot-weather bass. In the bonus chapter, you'll get six different interviews with Davis, where he tells you: three tips for becoming a better bass fisherman; his three favorite bass lures; and how to keep a big bass on the line and get it to the boat.
James Niggemeyer tells you how to become a bass pro. He also tells you how to catch bass when the weather sizzles. In Niggemeyer's bonus chapter, he explains how to move from being a bass-club fisherman up to being a pro.
Mark Rose will explain his five favorite go-to bass lures, and how to catch bass in the middle of the summer.
In this book, you'll hear from top-performing pro fishermen about how they catch big bass consistently, and what they do to win millions of dollars as professional bass fishermen.
VERSIONS: AUDIBLE, KINDLE & PRINT
---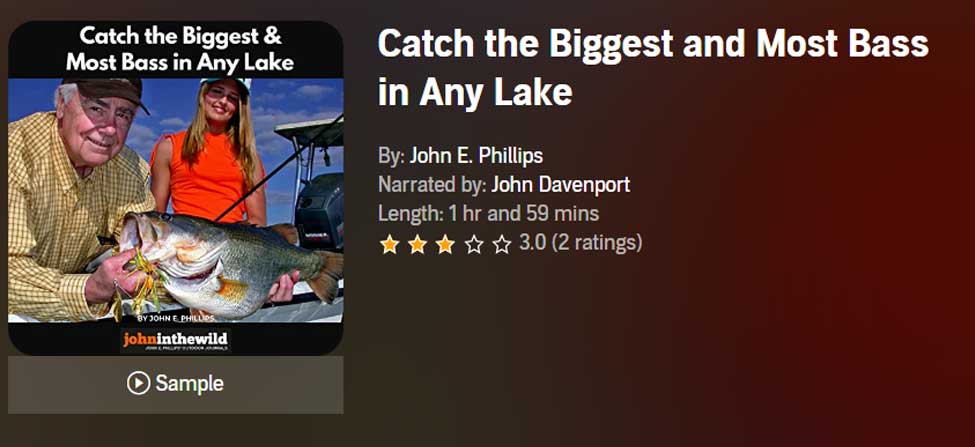 Catch the Biggest and Most Bass in Any Lake
If you were having open-heart surgery at the hospital, you'd want the best doctor with the most experience and the latest equipment and techniques that money could buy to do your operation. You'd study these doctors' credentials to learn who was the best.
This is the same type of research that author John E. Phillips has done with the best bass fishermen in the nation to solve the problem of how to find and catch the biggest and the most bass in any body of water that he fishes.
This is the same type of research that author John E. Phillips has done with the best bass fishermen in the nation to solve the problem of how to find and catch the biggest and the most bass in any body of water that he fishes.
In this book, you'll hear about the techniques, tips, baits, lures, and tackle that 18 of the nation's best professional fishermen use to support their families by winning bass tournaments and catching the most and the biggest bass they can in every tournament they fish.
Most of these anglers are Bassmaster Classic winners, Megabucks winners, Angler-of-the-Year and FLW Tour winners – like Rick Clunn, Kevin VanDam, George Cochran, Mark Davis, Paul Elias, Skeet Reese, Larry Nixon, Hank Parker, Ken Cook, Denny Brauer, Alton Jones, and Jay Yelas.
Also, every serious bass fisherman should know Timmy Horton, Mark Rose, Randy Dearman, Harold Allen, Mike Wurm, and Shaw Grigsby, men whose tactics you'll find in this book. To learn how to fish for bass and change your bass-fishing trips from fishing trips to catching trips, this book is a must-have.
VERSIONS: AUDIBLE, KINDLE & PRINT
---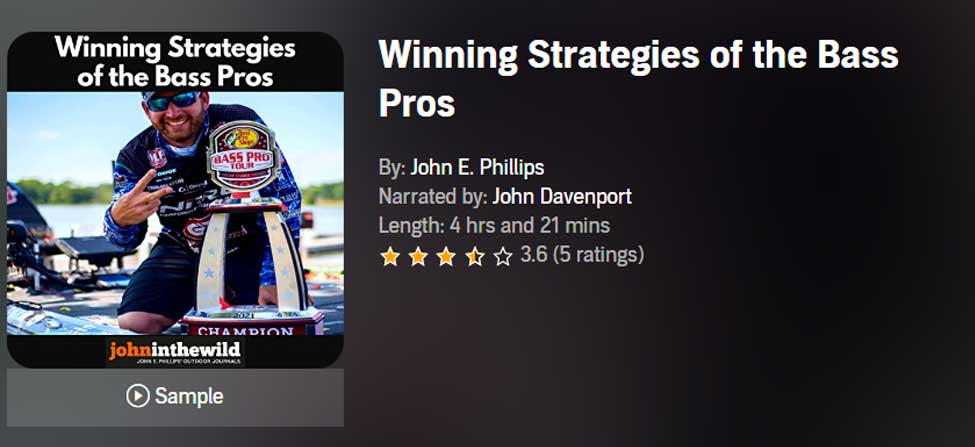 Winning Strategies of the Bass Pros
I learned many years ago if you want to be the best you can be, then you need to learn from the best – particularly when you want to be the best bass fisherman possible. That's why I've written Winning Strategies of the Bass Pros about 11 top bassers.
If you're wondering at what age you can start learning about bass fishing, you'll see in the first two chapters about two young men who have come up through the ranks of collegiate bass tournaments – Jordan Lee, who won the Bassmaster Classic in 2017, and Dustin Connell, who won $100,000 in a B.A.S.S. Elite Series tournament in Mississippi in 2017. Top-name pros on both the B.A.S.S. circuit and the FLW circuit are in this book, including Kevin VanDam, Jay Yelas, George Cochran, Rick Clunn, Larry Nixon, Woo Daves, Randy Howell, Scott Canterbury, and Gary Klein.
VERSIONS: AUDIBLE, KINDLE & PRINT
---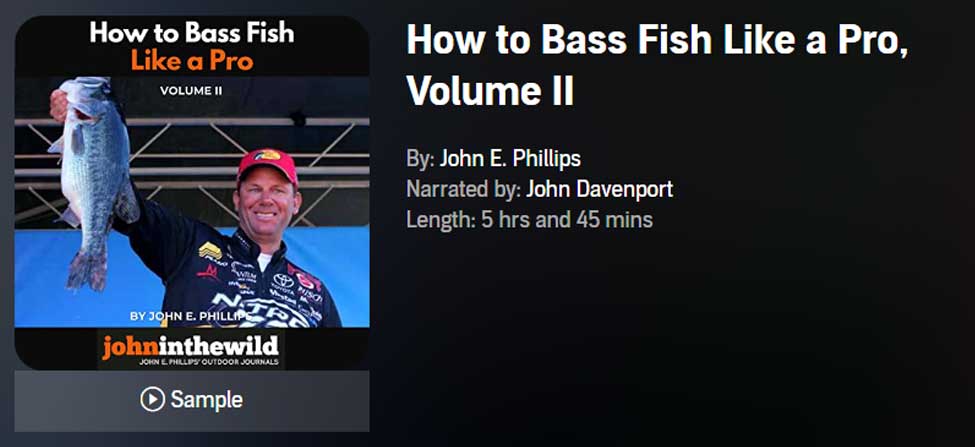 In How to Bass Fish Like a Pro, Volume II, you'll learn tips and tactics from 21+ Bassmaster Classic winners, two Major League Fishing champions, and 20+ Bassmaster Anglers of the Year about some of the dramatic changes in bass fishing, like:
Depth Finders: You need the latest and greatest depth finders available, since they're the brains of a bass boat with maps, GPS, side scanning, down scanning, and forward scanning features that enable you to see underwater structures and fish 100-feet away with a 360-degree view. Today's competitive bass anglers may have four or five depth finders located on the consoles and the bows of their boats.
Other Changes in Equipment: Power fishing for bass using heavy line and rods, big baits, and bait-casting reels that resemble winches have given way to finesse fishing and new techniques like fishing the Ned Rig, the Neko Rig, the Chicken Rig, and the Tokyo Rig on spinning tackle and line as small as 6-10 pounds.
The Growth in Youth and College Competitions for Bass: A young person can begin competition fishing as early as the second grade and continue throughout high school. After that, if the competitor qualifies, he/she may win a scholarship to fish on a college team that eventually may lead them to a professional bass-fishing career.
Changes in the Ways Anglers Bass Fish: Many of the most-consistent winners never pick-up their rods to fish during pre-fishing. Instead, they'll idle across the water, dropping waypoints from their electronics in places where they've identified schools of bass holding. These contestants will have at least 50-250 locations, where they've pinpointed schools of bass before a tournament starts.
VERSIONS: AUDIBLE, KINDLE & PRINT
---
Expert Guidebooks on Elk Hunting: Best Sellers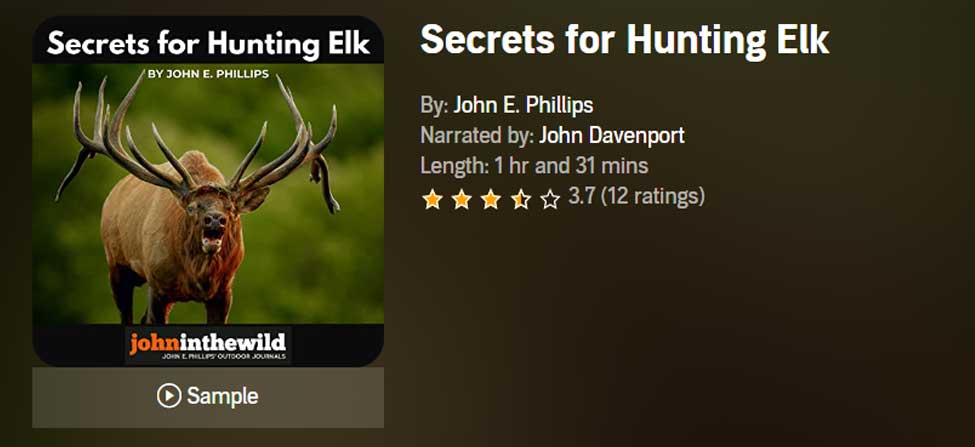 Secrets for Hunting Elk
The quickest, easiest (if there is an easy way), and safest way to find and take that bull elk of a lifetime will be to hunt with a guide.
Chad Schearer, a longtime Montana guide and TV personality, told me, "My hunter is my gun. If I get to the elk, and my hunter isn't with me, then we don't take the elk. My job is not only to find the elk but also to help the hunter get to the elk and make the experience as enjoyable as I can for him." That's the kind of fella with whom I want to go elk hunting.
An elk hunt can be tough, but it doesn't have to be so tough that you don't enjoy it. That's why this elk hunting book starts with the confessions of an elk guide and with Chad Schearer's philosophy of what the guide and the hunter's relationship should be.
A good portion of your success will depend on your physical condition, and Matt Morrett of Harrisburg, Pennsylvania explains how an eastern hunter can get ready physically during June and July to hunt western elk, the animals he describes as, "Like deer or turkeys on steroids."
Wayne Carlton, well-known elk hunter and TV and video personality from Montrose, Colorado, tells us what types of elk calls to use and what to say to the elk. Mike Miller of Colorado, another elk guide and Mossy Oak video personality, has tactics for the best equipment for bowhunting and gun hunting elk.
You'll learn helpful strategies and hunting tips in this book, as well as some straightforward hunting methods that will help to make your elk hunt more successful.
"Thanks to the advice in your elk hunting books, I was able to call up a nice 6-point (6X6) bull elk! He was bugling like crazy. I called him in from about a ¼ mile away. Called him into bow range (about 40 yards away). It was a thrill!" ~Rob Brannon
VERSIONS: AUDIBLE & KINDLE
---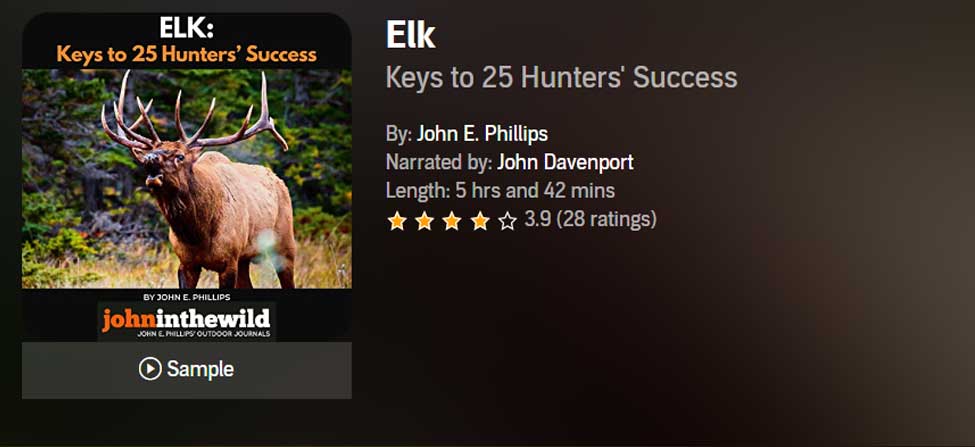 Elk: Keys to 25 Hunters' Success
Often just one tip or tactic makes the difference in whether you take an elk home to dinner or have to hike back to the truck by yourself. In John E. Phillips' latest elk book, Elk: Keys to 25 Hunters' Success, you'll learn from successful elk hunters the strategies they use to find and take elk.
Many know that the technique that seems to work most often is to hunt where other elk hunters don't and understand where the elk are before you go on a hunt by studying data from each state, visiting HuntData (see chapter 1), examining maps, and reading postings on elk forums.
This book also tells you how to get ready physically for an elk hunt, including participating in Train to Hunt Competitions, what gear you need to take, how to enjoy a successful do-it-yourself elk hunt, or how to pick the best elk guide for you. You'll also hear about the X System and the Broken Y System of hunting elk.
Although no one person has all the answers on how to help you find and take your elk, I'm convinced that this book's outdoors men and women will teach you how to have satisfying elk hunts.
As my friend Karl Badger once told me, "Elk hunting doesn't get any better than when I ride horses into the high backcountry, see two grizzly bears, hear a pack of wolves howl close to camp all night long, eat plenty of delicious food prepared on a fire and enjoy the company of good friends."
VERSIONS: AUDIBLE, KINDLE & PRINT
---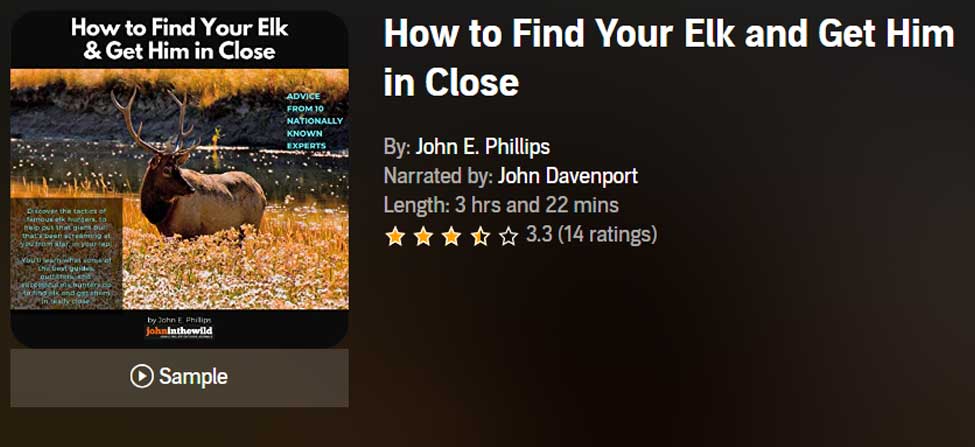 How to Find Your Elk and Get Him in Close will teach you the tactics of 10 nationally known elk hunters, to help put that giant bull that's been screaming at you from afar, in your lap. You'll learn what some of the best guides, outfitters, and successful elk hunters do to find elk and get them in really close.
Also in this audiobook, you'll notice that the majority of the experts call elk to within bow range. We selected numerous bowhunters and bowhunting guides, since the bowhunter has to get much closer to a bull than the gun hunter does – often less than 20 or 30 yards – practically in your lap.
On one elk hunt, I'd heard this bull bugle all morning. My guide had called him within 30 yards, and he was standing just inside black timber. I saw the smoke from his nose wafting out into the icy air less than 30-yards away. All the bull had to do was step out, and I could take the shot with my bow. But then, through no fault of my guide or me, the bull vanished.
The only conclusion I could come up with to understand why the bull I wanted to take with my bow hadn't stepped out and given me a shot, was because he got raptured. He evidently had left the earth with no trace of himself.
This hunt was when I started wanting to learn more about hunting elk up close. In this book, I've tried to find some of the most knowledgeable, experienced, and practical elk hunters. I've always found that the best way to learn any outdoor skill, is to either hunt or fish with the best sportsmen in that field.
Often, in elk hunting, that means elk guides, who generally hunt every day of the season and receive a salary for every hunter they guide. So, I've put together a group of some of the best elk hunters I know to help us all learn how to find bull elk and get them in close.
VERSIONS: AUDIBLE, KINDLE & PRINT
---
Expert Guidebooks on Crappie Fishing: Best Sellers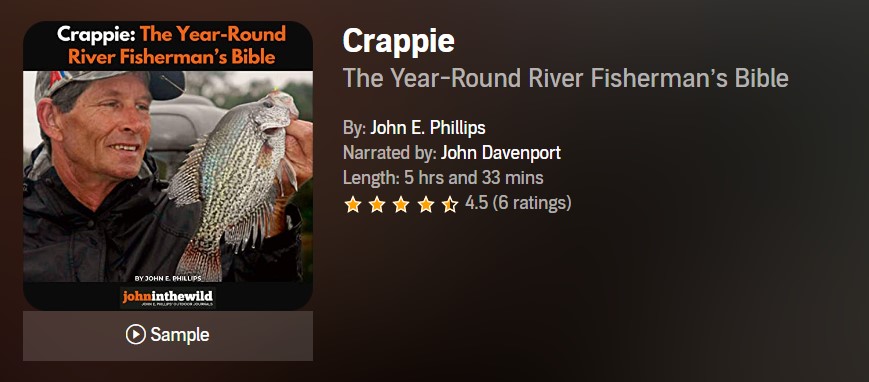 Fishing rivers for crappie and being able to find and catch speckled sides consistently has long been one of the mysteries in the crappie-fishing world.
"One of the reasons that river systems are so difficult to fish is because the water's either rising or falling in them," says Ott DeFoe, the 2019 Bassmaster Classic champion.
Rivers also are very susceptible to floods and droughts and constantly have current moving through them. Often fast current or slow current in rivers is created by rain or droughts upstream. When rivers flood, they can wash away fish habitat like logs, sunken trees, manmade brush piles and stake beds. But that's the time when a river also creates new crappie hot spots that haven't been available to the crappie or the fishermen before the flood.
Because river systems are so unpredictable, I've felt the best way to get the most useful information on how to fish rivers for crappie is to talk to numbers of anglers all over the nation to learn their best tactics.
In this book, I've gleaned crappie-fishing wisdom from three dozen crappie anglers and guides from a dozen states, who consistently catch crappie at all times of the year. The tournament crappie fishermen in this book fish most of the country at different times of the year on various river systems and lakes. And, these anglers use techniques you never may have considered, including:
Setting up a casting ring with your electronics to keep you from getting too close to the crappie that are holding on underwater structure, while you're fishing all the way around the structure;
Buying an automotive laser temperature gauge to measure water temperature
Evaluating the most-productive places to sink brush and other structure, according to prevailing wind direction, the crappie's summer, fall, winter, and spring migration patterns, and other factors.
VERSIONS: AUDIBLE, KINDLE & PRINT
---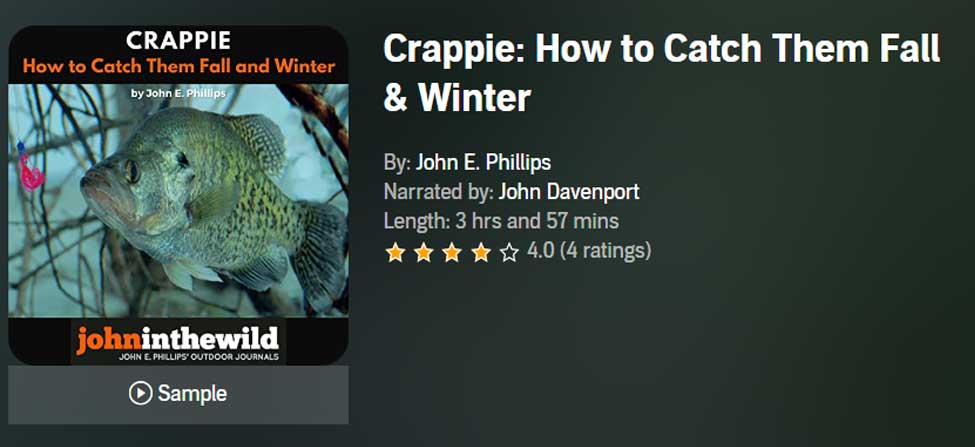 Crappie: How to Catch Them Fall & Winter
Yes, you can catch and eat crappie during the fall and winter months. Often, at many places, you'll catch more and bigger crappies in the fall and winter than you do in the spring and summer. To learn where to find and how to catch cooler weather speckled sides, we've interviewed a wide variety of some of the nation's best tournament crappie fishermen and guides.
Many of the individuals you'll hear about in this audiobook are tournament crappie pros who travel the country to fish in crappie tournaments from New York to Florida and from Virginia to California. They use the latest crappie-finding equipment, the best poles, rods, reels, line, and the most-productive baits. Each of the people mentioned in this book has the ability to be dropped out of an airplane anywhere in the United States and catch crappie on any lake close to where they land that contains crappie.
From over 50 years of crappie-fishing experience, I've learned that you get the best advice by interviewing a large number of people who have different tactics and fish under various water, weather, and fishing-pressure conditions.
In this book, you will learn:
How to spider-rig (slow-troll), which is one of the fastest-growing techniques for catching the most and biggest crappies in the shortest time
How to catch crappie on crank baits and when and where using a crank bait is the most appropriate
How to find areas of any lake that will hold large schools of crappies during the winter months – places you can return to time and again and expect them to be there
Why competing in crappie tournaments is one of the quickest ways to learn how to catch more and bigger crappie faster
Why and how to look for and catch the biggest crappie in a lake
VERSIONS: AUDIBLE, KINDLE & PRINT
---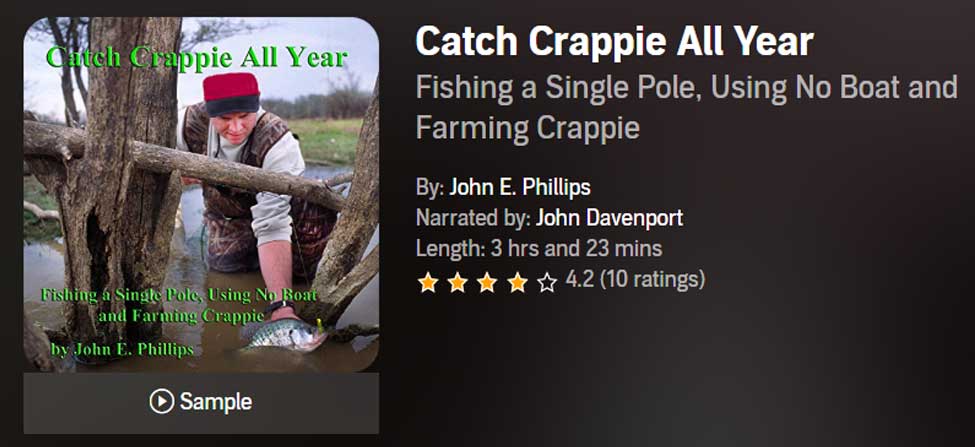 Catch Crappie All Year: Fishing a Single Pole, Using No Boat, and Farming Crappie
I've interviewed some of the best crappie fishermen in the nation for my new audiobook, Catch Crappie All Year: Fishing a Single Pole, Using No Boat and Farming Crappie to learn how, where, and when to catch the most crappie with or without a boat while single-pole fishing. I've also included information on how to grow a crop of crappie to catch every day of the year. Although I've fished in fully rigged crappie boats costing $45,000 – $90,000-plus that can have up to 16 rods at one time to slow troll, I still enjoy….
Watching a quill cork sink in a brush top
Fishing with an ultralight spinning rod
Reeling jigs or minnows along a grass line and feeling that thud when a crappie takes the bait
Fishing with family and friends, even if we all can't fit in one boat
Participating in less-expensive and hassle-free yet highly-productive crappie fishing like single poling
I've tried to capture in this new audiobook the old way of crappie fishing with new twists and detailed tactics to aid you in catching crappie all year.
VERSIONS: AUDIBLE, KINDLE & PRINT
---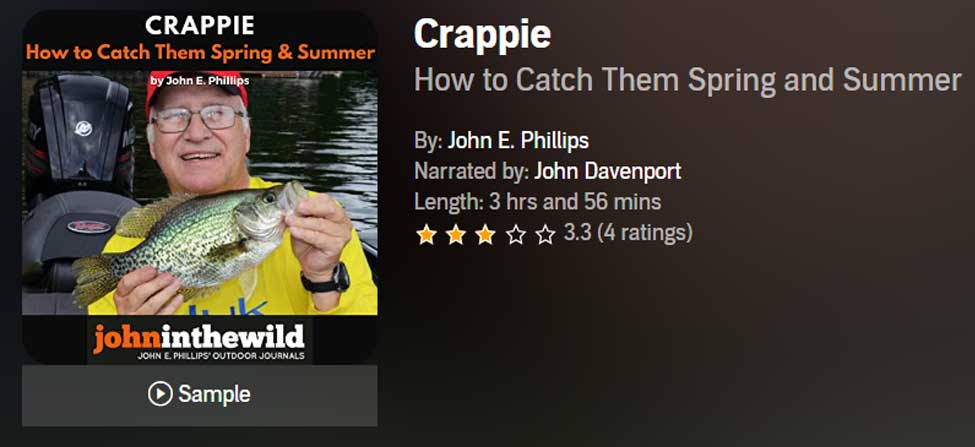 Crappie: How to Catch Them Spring and Summer
You can catch crappie all year long if you know where to find them and what techniques to use to catch them. However, crappie fishing is so technical these days, and we've learned so much about how to crappie fish because of the professional crappie-fishing circuits, that one book can't hold all the information.
This book is the first of a three-part series on how, where, and when to catch crappie, with the best crappie fishermen in the nation. Many of these men have proven they are the best, because they've won crappie-fishing tournaments or been successful fishing guides for many years.
This audio version of Crappie: How to Catch Them Spring and Summer includes crappie pros like Ronnie Capps, who has won seven national championships and over $1 million with his partner Steve Coleman.
We also have Malcolm Lane, Stokes McClellan from North Carolina, Billy Blakeley from Reelfoot Lake, John Woods, Kent Driscoll, fishing biologist and professional basser Ken Cook, and many others. We asked the questions that crappie fishermen want answered about how to find and catch crappie during the spring and summer months, and these fishing tips are the result.
In the world of crappie fishing, no one man knows it all, and that's why I've interviewed so many fishermen, asked so many questions, and tried to get so many answers for you about how to fish.
VERSIONS: AUDIBLE, KINDLE & PRINT