Editor's Note: "Because we harvest 45 – 50 elk every year, and I've been guiding elk hunters for 27 years, I've probably called in over 800 elk that have been taken at our outfitting company, Fulldraw Outfitters (www.fulldrawoutfitters.com)," Fred Eichler of Aguilar, Colorado, explains. To learn more about Eichler, go to his Facebook page at https://www.facebook.com/pg/fredeichlerpage/.
I have guided and called in bull elk that would score 350 inches up to 370 inches. Usually, I don't hunt until after all my clients have hunted, so my biggest bull I've ever taken scored 315 inches. I took him with my recurve. On that hunt, I already had called-in several bulls but something had spooked the herd. I had bulls everywhere. So, I ran in close to where I had seen a cow elk. The bulls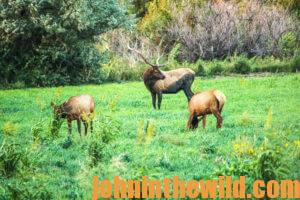 were chasing cows, since the rut was on, but I quickly realized I had gotten in too close. I backed a little and bugled. The bull came in walking 15 yards from me, and I released my arrow and double-lunged the bull.
At this time, we were actually filming for the "Easton Bowhunting" TV show (https://www.thesportsmanchannel.com/show/easton-bowhunting-tv/81982). After the bull took the arrow, he only went about 40 yards and piled-up. Most hunters using compound bows would have to wait on the elk to stop before they released their arrows. However, by shooting instinctively this close, I didn't have to wait for him to stop before I took the shot. With a recurve, you can make the snap shot, even if the animal you're shooting at is traveling. I've shot geese out of the air and pheasants in flight with my recurve. I've learned that I can make a much- quicker shot with a recurve or a longbow than I can make with a compound bow.
When I tell this story at seminars, always someone in the crowd raises his hand and asks, "How did you run to that elk without making any noise?" Well, I wasn't silent when I ran up to the place where I was planning to take the elk, and the reason for that was that elk aren't silent when they move. Elk make a ton of noise as they're moving through the woods – breaking branches, their hooves hitting rocks and their antlers hitting branches. So, if I have to make an aggressive move to take an elk, I don't worry about how much noise I'm making. Actually, I think that the noise that I am making as I run toward the elk is what another elk naturally will do. The main thing I'm concerned about is I just don't want the elk to see me as I'm running. Another thing that I do when I'm hunting elk or guiding elk bowhunters is use decoys.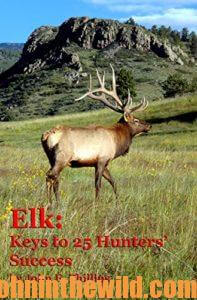 To learn more about hunting elk, check out John E. Phillips' book, "Elk: Keys to 25 Hunters' Success," available in Kindle, print and Audible at https://amzn.to/2IDszQk.
Tomorrow: Fred Eichler – the Elk That Have Taught Him the Most and Using Decoys