Editor's Note: Captain Colton DeBlieux owns Liquid Force Inshore Charters (https://fishingbooker.com/charters/view/4466) in Orange Beach Alabama. As a youngster, he learned that during the summer months when the weather was hot, water skiers, jet skiers and fishing boats all were very active during the daylight hours. He discovered that he could find and catch more fish, especially speckled trout, redfish and flounder, by dock fishing at night, especially during the hot months of summer and early fall. DeBlieux has a Facebook page at https://www.facebook.com/liquidforceinshorecharters, and his phone number is 251-233-5731.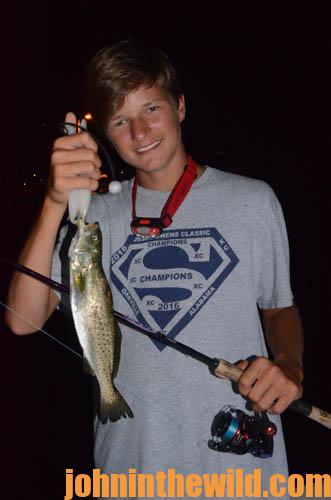 Many of our visitors to the Gulf of Mexico are summertime fishermen. But to be honest, one of the best-kept secrets for catching specks, reds and flounder is during the month of October and the first of November. October is when the flounder start moving out of the back bays and the estuary areas, headed for the Gulf of Mexico. If you're just targeting flounder at that time of year, catching eight to 10 flounder is not uncommon. Also, smaller speckled trout will start running up the creeks and coastal rivers in October. Some of the redfish will move out toward the Gulf of Mexico, and some of the bigger redfish (bull reds) will swim from the deep water in the Gulf closer to the shore and around the jetties. So, October is a good time of year to catch a good mess of speckled trout, redfish and flounder.
Something else about fishing the end of September through the middle of October is that most years the Orange Beach area hasn't had any cold weather by then. So, whether you're fishing daytime or nighttime, the weather is much more comfortable, and the fish are far more active. Usually, the motel, hotel and condo prices are much cheaper, and there is plenty to do on the beaches for your family.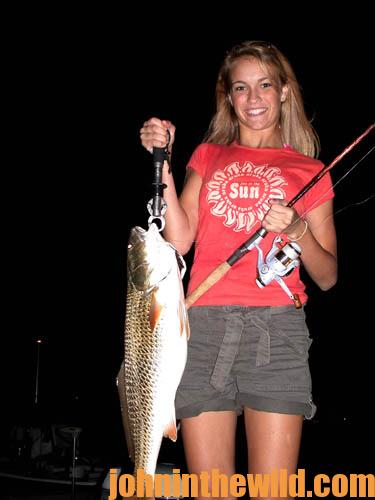 For me personally, I love October fishing. Not only are the flounder bigger that we catch in October, but generally, the speckled trout and redfish we catch will be bigger in the fall than during the summer months. Very rarely, will you see anyone fishing the dock lights at night. So, fall is a great time to fish speckled trout, redfish and flounder, whether you want to fish in the daytime or fish at night.
To learn more about saltwater fishing, check out John E. Phillips' Kindle eBooks and some print books at http://johninthewild.com/books/#gulf.
Tomorrow: What Are Tips for a Great Nighttime Fishing Trip for Redfish and Speckled Trout
EXPLORE MORE: you'll love these stories from John too