John's Note: Bob Walker of Livingston, Alabama, has guided for deer and turkeys for almost 3 decades at Bent Creek Lodge in Jachin, Ala. He's been deer hunting for more than 40 years and is on several outdoor pro staffs. This week he'll tell us how to find big bucks where no one is looking for them.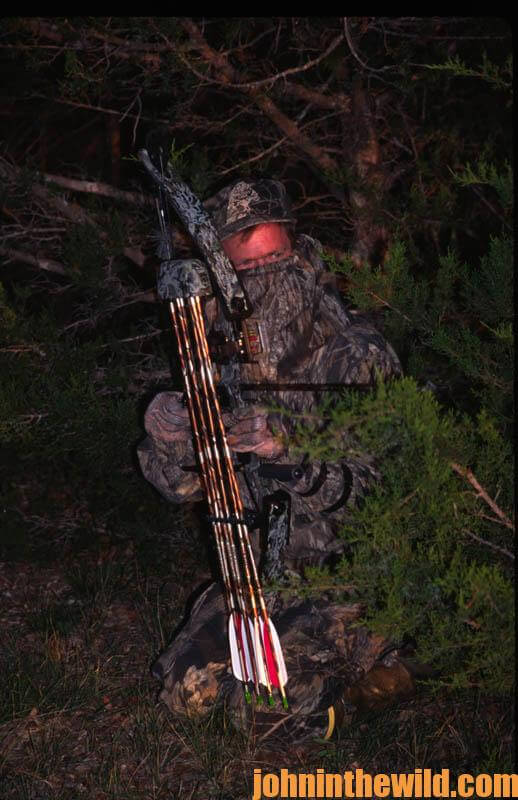 After I took my first Illinois buck that scored 160 on Pope & Young, I met an older fellow (see Day 1), as I was dragging my deer to my vehicle, who had a squirrel dog. Since I had a squirrel dog too, we started talking about squirrel dogs. This gentleman asked me to go to his house with him that wasn't far away and said we'd have a cup of coffee. My buddy was still hunting, and I wasn't meeting him until dark. So, I decided to go with my new friend, drink coffee and talk about squirrel hunting. As we were enjoying coffee, the man said. "Listen, I have 45 acres of woods that adjoins that WMA, and I have some pastures for my cattle that surround that woodlot. Every day I see large numbers of does coming out in my pastures. Why don't you hunt those woods and shoot some of those does?" I told him, "Well, thanks, but I've already got my deer.  But if I come back next year, I'll see you then, and if you don't mind, I'd like to hunt those 45 acres of woods you have."
The next season when I returned to Illinois, I planned to hunt the little creek where I'd taken the big 160-point buck (see Day 1), but that year it had been super-dry in the area where I was hunting. Although I saw a few deer, because the creek had dried up, my spot wasn't as good as it had been the year before. Then after my morning hunt, the wind changed, and I couldn't hunt the spot I'd planned to hunt that afternoon. I went to see Mr. Gary – the squirrel dog man I'd met the year before. His house was only a mile from where I was hunting. When I arrived at Mr. Gary's house, he fixed a pot of coffee, and we started talking. After only a few minutes, Mr. Gary said,  "If we sit here long enough, you'll see a pile of deer coming out of the 45 acres of hardwoods I told you about last year. They like to come to the little pond I've built for my cattle for water to drink." I hung around, and sure enough we saw 12 does come out of those hardwoods to drink the cattle pond's water. Once again, Mr. Gary insisted I hunt his hardwoods. I explained that I didn't want to impose. "Why don't you come back tomorrow in the middle of the day, let me take you around that little patch of woods and show you the deer sign that's there," Mr. Gary said.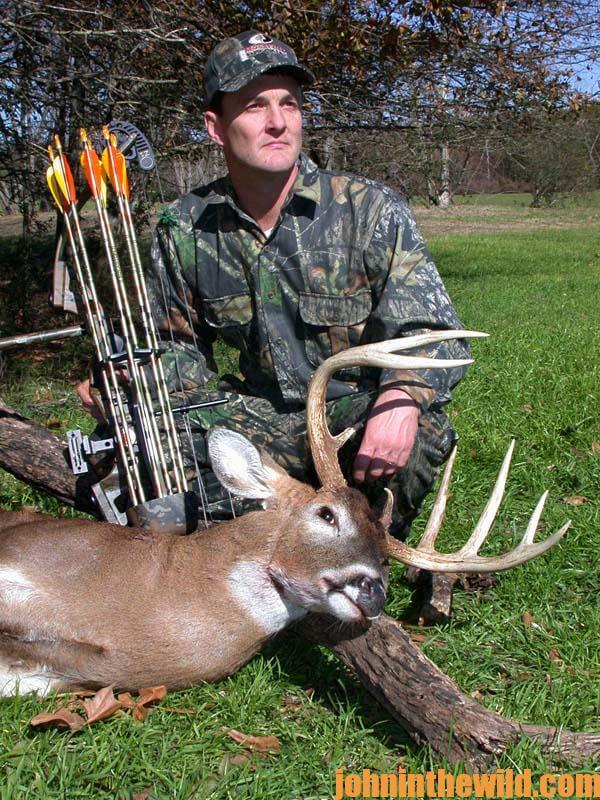 So, the next morning after I hunted the public land, I went back to Mr. Gary's. We got in his 4-wheeler and rode the 45 acres. The property had been select-cut for timber 2 years earlier and had grown-up in a lot of brush and thick cover. I told Mr. Gary, "There sure enough should be some deer in those thickets."
I hunted the public land the next morning. But later the wind was wrong to hunt where I wanted to, so, I went over to Mr. Gary's and set-up a stand. That afternoon I saw 10 deer – one a small buck – coming out of those thickets and going to the pond to water. This hunt was in late October, and I knew the bucks should start rutting any day. So, I decided to return the next afternoon and hunt this spot. On that day, I got to Mr. Gary's early and moved my stand a little deeper into the woodlot near the trail that I'd seen the does using the previous day. As I carried my stand to the new stand site, I saw a large number of rubs and scrapes. I really got fired-up seeing all that buck sign. This time, I spotted some really-nice bucks, but they were still a little bit deeper in the woods than where I had put up my stand. I came out of my tree early, moved my stand again, set it up where I'd seen the bucks and then came out of the woods.
The next morning I hunted the public land and didn't see any deer. I anxiously hurried back to Mr. Gary's for that afternoon hunt. Late that afternoon, I saw a very-big 8-point coming toward my tree stand. When he was at 27 yards, I drew my bow, aimed right behind his shoulder and put the buck down. On this hunt, I learned that if you talk to people when you're hunting public lands, you'll often discover a great spot to hunt that you've never known about, and that no one else ever has hunted.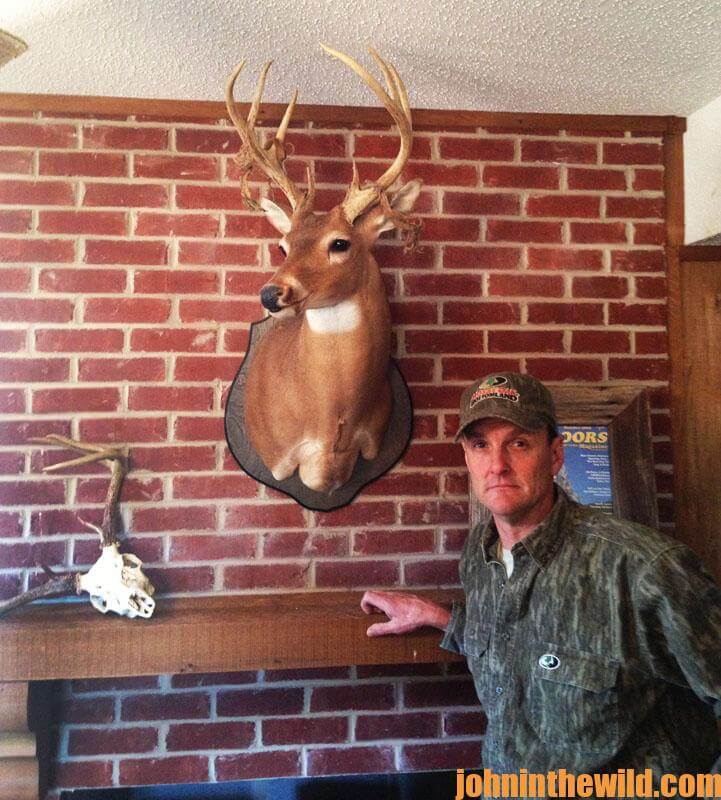 To get John E. Phillips' eBooks and print books on hunting deer, including his newest deer-hunting book, "Whitetail Deer and the Hunters Who Take Big Bucks," available at http://amzn.to/2bYwYOK/, and you can click on these books to learn more, "How to Hunt and Take Big Buck Deer on Small Properties," "How to Hunt Deer Up Close: With Bows, Rifles, Muzzleloaders and Crossbows," "PhD Whitetails: How to Hunt and Take the Smartest Deer on Any Property," "How to Take Monster Bucks," "How to Hunt Deer Like a Pro," and "Bowhunting Deer: Mossy Oak Pros Know Bucks and Bows," or to prepare venison, "Deer & Fixings." Or, go to www.amazon.com/kindle-ebooks, type in the name of the book, and download it to your Kindle, and/or download a Kindle app for your iPad, SmartPhone or computer. You also can find John's books on Nook at www.barnesandnoble.com.
For information on making jerky from your deer to provide a protein-rich snack, you can download a free book from http://johninthewild.com/free-books.
Next: Bob Walker's Hunt for His Kentucky Finger Wood Buck Deer