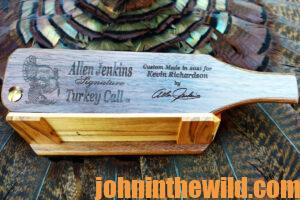 When the words, box call, are used in turkey camp, the picture painted in most turkey hunters' minds is a two-sided box with a lid that can be stroked across either side of the box to make the calls of two different hens. And, this box also can be shaken to make the sound of a gobbling turkey. The two calls that don't seem to register in most turkey hunters' minds when the words box call are mentioned is the pushbutton call and the single-sided box call.
One of the advantages of the single-sided box call is that it's built and shaped, so that all you have to do as the hunter is slide the lid of the call across that one side of that chalk box to produce a hen yelp. Many a longbeard has been called in and harvested with a yelp because it's the most-versatile call in a turkey hen's language. When a hen turkey is content and feeding, she'll purr and give soft yelps as she moves through the woods. Once a flock of turkeys is scattered, she'll give loud yelps then to call the flock back together. If your gobbler is with his harem of hens, and you start yelping, the boss hen often will answer back with loud, excited yelps. If you use a tree call just before or at first light, the hens in the trees often may give soft yelps. When a hen is excited and wanting to breed, she'll generally give a series of fast yelps known as cutting. Many different ways are available to use a yelp and a single-sided box call.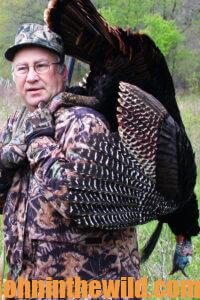 However, yelps aren't the only calls you can produce on a single-sided box call. You can make most if not all the sounds of a hen turkey with this type of box call. Once more, one of the reasons I like and use a single-sided box call is because that particular call is one that's rarely used by few turkey hunters. More than likely the turkeys where you hunt may not have heard a single-sided box call during the spring of the year.
Also, this call, like the pushbutton call, is a call that a person who's never been turkey hunting or never tried to call a turkey can use effectively with only 5-20 minutes of instruction. However, there's a caution about using the one-sided call and the pushbutton call. Because these two calls are so easy to use and so much fun to call with, hunters often have the tendency – especially among beginning turkey hunters – to call too much. Let's face it. Most of us call turkeys because we like to hear ourselves calling turkeys. We feel very gratified when one of those woods wizards answers our calls. We sometimes believe that the more we can get a turkey to gobble then the better our chances are of bagging that bird – but remember these items about making a turkey gobble.
The more the turkey gobbles, the more hunters he'll call in to where he is.
A good gobbling tom will call in coyotes, bobcats and foxes too, as well as hunters.
An old, smart bird knows that a hen that's calling that much – if you're calling often – is calling predators to her position that will eat her up before the gobbler arrives.
A 3-year-old or older tom turkey knows that when he gobbles, the hen is supposed to come to him. If he doesn't hear that hen moving closer to him and yelping less frequently, then he's already learned that that hen probably has a shotgun in her hands.
That tom will say to himself, if you keep calling to a gobbler, and he doesn't respond, "If that gal doesn't come to me, there are other hens around that will come to me. I'll just leave her standing over there by herself, yelping."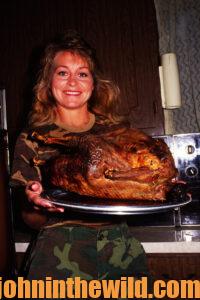 The moral of this story of box calls is that knowing when not to call is more important than understanding when to call. If you help 1-3 times, put your box call down and don't pick it up again, you've got a much-better chance of taking a longbeard home for dinner, than if you try to burn-up the woods with a lot of calling. Also if a bird is more than 2-years old, when he hears a hen yelping and makes the decision to go in to her, he'll generally come in silent. So, often you'll be much better off, if you've had a gobbler answer your hen calls, to have your shotgun in your hand and not your box call.
As I've mentioned earlier, I've been fortunate to hunt with many of the best turkey callers and hunters in the nation – including World Champions, Grand National Champions, state and regional champions and Champions of Champions. Generally they all call less and spend more time trying to find the very-best places where they're hunting to set-up rather than attempting to outcall gobblers. The great callers I've hunted with generally wear a turkey vest full of various turkey calls, including different types of box calls.
To learn more about hunting turkeys successfully, visit John E. Phillips' Amazon book page at https://www.amazon.com/John-E.-Phillips/e/B001HP7K6O. For even more information from many of the top turkey hunters and callers, go to the book, "Turkey Hunters' Bible," https://www.amazon.com/gp/product/B007HT1IUS/ref=dbs_a_def_rwt_hsch_vapi_taft_p2_i7
available in Kindle, print and Audible. You may have to copy and paste this link into your browser. (When you click on the book, notice on the left where Amazon says you can read and hear 10% of the book for free). On the right side of the page and below the offer for a free Audible trial, you can click on Buy the Audible book.