John's Note: Rain, sleet, snow or hail will keep most blackpowder hunters at home and from hunting deer. On the days the weatherman predicts wet weather, I know the lands I hunt will have less hunting pressure from any hunters, particularly from blackpowder hunters. I'll also have better odds of seeing a deer. During bad weather, I do lose my ability to hear deer walking in the woods, crunching acorns, sparring or grunting – some of the best ways to find deer on still, calm days. I also lose some vision because during rain or snow I usually can't detect a deer's tail or ear twitch. However, on rainy days, deer can't hear, see or even smell as well as I can. Rain provides the best conditions for me to stalk. Deer rarely like to move in the rain. Although I hunt in the rain, I usually hope the rain will stop at some time during the day. When the rain quits, even if only for 30 to 45 minutes, I know the deer generally will move then.
You'll find the best opportunity for taking a really-nice buck with your blackpowder gun during the rut right after a rain. Bucks will move out of thick cover to freshen-up their scrapes as soon as the rain stops. They have to reactivate the scrapes because the rain washes away all the information they've left there. Bucks can reactivate their signposts very quickly, since a buck's home range generally measures about a mile. Often he can reestablish his scrape line in less than an hour. If you go to your stand after the rain stops, more than likely, you'll spook the buck or miss the buck that already has visited the scrape near your stand before you've arrived.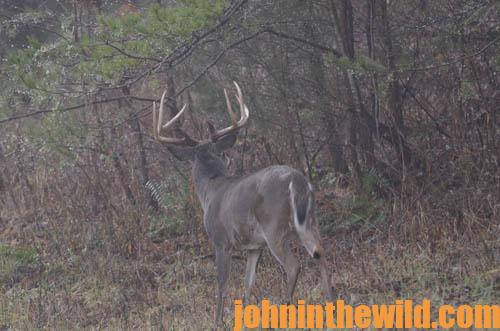 To take advantage of knowing bucks freshen-up their scrapes immediately after a rain, move to your stand in the rain. You probably will see the buck within 5 minutes to an hour after the rain stops. Then you can take the shot when he comes down the scrape line where you hunt.
If the rain has fallen for a long time, either all night or for most of the day, more than likely the bucks have bedded down from the time the rain started. If they've gone 8-12 hours without feeding, as soon as the rain stops, they'll move to feed. Therefore, even if you hunt before or after the rut, setting up your tree stand near a food source before the rain ceases may help you take a buck. You have to know what deer do under bad-weather conditions, and you also must understand what other hunters in the area you hunt do.
I believe 99.9 percent of hunters – especially blackpowder hunters – won't hunt in the rain, especially if they think the rain will stop within a few hours. They prefer not to hunt in the rain. However, after a rain, the woods will be still and quiet. When the bucks begin to move after the rain, they generally can hear, see and smell better than under any other weather conditions. If a hunter waits until after the rain to hunt, a deer may spot him before he sees the deer.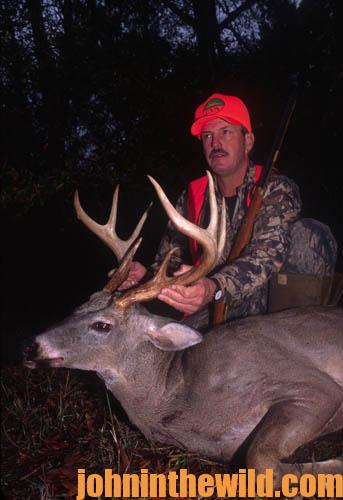 Since blackpowder hunters don't like to hunt in the rain because they fear they'll get their powder wet, and other hunters don't hunt in the rain because they don't want to get wet, you'll have the best chance of having the woods to yourself on a rainy day. Also when you add in the fact that deer usually move immediately after a downpour, you easily can see why hunting in the rain with black powder gives you a tremendous advantage.
You'll learn more deer-hunting information and tips from hunters in John E. Phillips' Kindle, CreateSpace and Audible books. Go to http://johninthewild.com/books/#deer to purchase and download to your Kindle, and/or download a Kindle app for your iPad, SmartPhone or computer. You also can go to Nook Books at www.barnesandnoble.com to buy. Also you can download free books by going to http://johninthewild.com/free-books.
Next: Why Hunt Deer in the Never Ending Rain and Snow with Black Powder