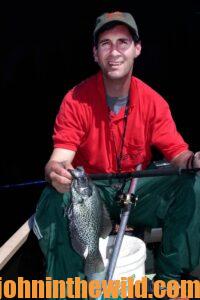 Editor's Note: Nighttime crappie fishing is one of the most-addictive forms of fishing I know. Crappie fishing at night in the summer is cool, relaxing, rewarding and an ideal way to spend quality time with friends and family away from the rest of the world. Also, crappie fishing at night doesn't interfere with any of my daytime activities. I can fish in the afternoons after work, fish all night Friday and Saturday and still have Sunday after church to recover.
"The biggest problem with fishing for crappie during the hot summer months is keeping your minnows alive and lively," a friend mentioned before we fished for crappie. "Because the water's so hot, an aerator is a must."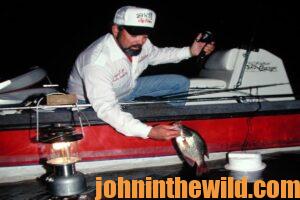 Aeration alone won't keep minnows from dying. Many anglers fill plastic medicine bottles 3/4 of the way to the top with water, screw the lids tight on the bottles and put the bottles in the freezer. After freezing, they'll use one in each minnow bucket to keep the fish cool and the minerals in the water from killing the minnows.
I like either a lightweight crappie or ultralight rod. After putting a small weight on the end of the line, I then fish with a crappie rig that consists of two drop lines coming off a main line – a B'n'M Capps and Coleman Minnow Rig (https://www.bnmpoles.com/products/mr). I usually fish with 4-6-pound test line.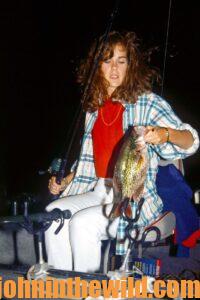 I'll rig with a crappie hook, a small shot lead and a quill cork and set the cork on the outside edges of the light and fish several rods, since in many states you can fish at one time with numerous rods and poles for crappie. Some lakes in a state may have restrictions on fishing more than one rod or pole. (Be sure to check the state's crappie regulations where you're fishing). My fishing companions generally will have the same number of lines down that I do.
Many crappiers use lanterns, either floating lights that shine beams down deep toward the bottom or a lantern that draws in bugs and causes the bugs to fall into the water. I like both kinds of lights. For night crappie, I bait with live, large, shiner minnows. Generally, the bigger the minnows I fish with, the larger the crappie I'll catch. However, I also carry at least a dozen, 1/24- and 1/32-ounce jigs with me to always have bait to fish. My depth finder gets a workout at night pinpointing crappie on underwater creeks, river ledges and drop-offs.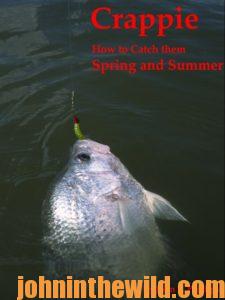 To learn more about crappie fishing, check out John E. Phillips' book, "Crappie – How to Catch Them Spring and Summer," available in Kindle, print and Audible versions at http://amzn.to/WGaJLT. You may have to copy and paste this link into your browser. (When you click on the books, notice on the left where Amazon says you can read and hear 10% of the book for free). On the right side of the page and below the offer for a free Audible trial, you can click on Buy the Audible book.
Tomorrow: Where to Fish for Nighttime Crappie