John's Note: 49-year old Kevin VanDam of Kalamazoo, Michigan, is one of the most-consistent professional bass fishermen of our time, having won $6.38 million chasing bass. Pros like VanDam have to know how to win in any kind of weather or water conditions. He's been a pro for 26 years and has had 130, top-10 finishes and 22 wins, including winning two tournaments in 2016. He's fished in 25 Bassmaster Classics, and won four, besides being Angler-of-the-year. VanDam is known as Mr. Consistency.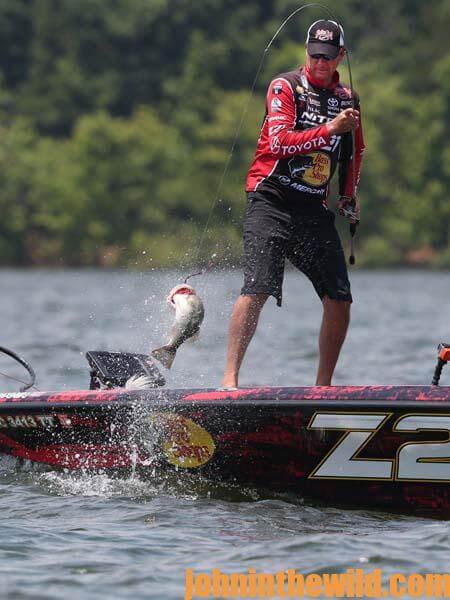 John Phillips: Kevin, you've mentioned that in some tournaments, spectators will mark the spots you fish and then go back and fish those places the minute you switch locations. If you go to the same lake the following year and fish those same spots, how successful will you be?
VanDam: If a tournament is held about the same time on the lake 1 year later, generally the places I've found will be as productive as they have been the first year. Years ago pro bass fishermen had an edge on catching bass, but today with so-many TV bass-fishing shows and all the articles and blogs written during and after a tournament, an angler can't really hide many of his bass-fishing secrets.
Phillips: Kevin, when you return to an area you've fished maybe a year or two before, you now may have to use a more finessed technique than you did when you found that spot. Why is that?
VanDam: Finesse fishing is more important today in bass fishing than in the past because when a fisherman finds a school of keeper-size bass, he needs to maximize the number of bites that he can get from that school. I'm using a wide variety of finesse lures and tactics to try to catch more bass at each location where I find them. I've learned to love to fish a shaky head worm, a drop-shot rig and a finesse worm. I also look for lures that have unique actions that I can present to a bass when I'm fishing for highly-pressured bass. I like to put a lure in front of them that's a different color and/or a different style of lure or action than what the bass has seen in the past. I'm hoping to convince the bass that are not in a feeding mood to bite, but the key to make any of these techniques work is I have to know where the bass are, and how they're positioned on structure.
Phillips: What's been the number-one finesse bait this season?
VanDam: The Strike King Ocho (http://www.strikeking.com/ ) is a soft-plastic stick bait that comes in 4, 5, 6 and 7 inch sizes. This bait has a subtle action to it. You can rig it many different ways – wacky style, Texas, nail weighted to fish it in heavy cover with a weight or in clear water with no weight. The Ocho is a very-versatile lure. When I'm having a hard time getting bass to bite, this lure is my go-to lure.
Phillips: What's your favorite color of Ocho to fish?
VanDam: I like natural colors like watermelon and green pumpkin. The last bass tournaments I've fished I've used the Honey Candy color that resembles a bluegill. It's got some purple flake and other bait fish colors in it. I also like to fish green colors because most of the lakes we fish are clear to slightly stained. If we are fishing in Florida, I like darker colors like black or June bug. Water clarity really dictates the colors of lures that I choose.
To learn more about bass fishing, get John E. Phillips' Kindle eBooks and some print books, "How to Bass Fish Like a Pro (soon to be published as an audiobook)," "How to Win a Bass Tournament," "Catch the Most and Biggest Bass in Any Lake: 18 Pro Fishermen's Best Tactics, "Hot Weather Bass Tactics" and "How to Become A Tournament Bass Fisherman" and go to www.barnesandnoble.com.
Tomorrow: Being a Power Bait/Bubba Bait Fisherman and Becoming a Sissy Bait Angler with Kevin VanDam