John's Note: This past weekend in early April I went to the Crappie Masters Alabama Championship ( www.crappiemasters.com) on the Alabama River near Montgomery. My goal was to find new and better ways to catch crappie. Here's the information I gleaned from this tournament and these crappie pros. Whitey Outlaw, from Saint Matthews, South Carolina, has won the Alabama State Championship for 2 consecutive years and has won numerous tournaments on Santee Cooper Lake. He fished his first crappie tournament when only 15-years old and still loves to fish for crappie at least 5 days per week all year long.
Outlaw says, "I was raised fishing a jig pole. Today I use a 10-foot piece of conduit with a 90-degree bend on the end to dig a hole in grass and catch crappie.
The hole I dig is only about the size of a grapefruit. I dig in hyacinths, four leaf clovers, gator grass, milfoil, hydrilla and any other type of grass. I use 10 and 12 pound test line. I like a stiff pole, so I can jack a 2-1/2 pound crappie out of a hole as soon as it takes my jig. Usually when I drop my jig in a hole, if there's a crappie there, the fish will take it instantly."
Most of the crappie that Outlaw is fishing for in the grass will be black crappie. As Outlaw explains, "Over the years, we've discovered that white crappie prefer to hold on wood, and the black crappie seem to prefer to hold on vegetation, especially in the lakes that I fish."
Outlaw uses a flat bottom boat, because flat-bottom boats don't tear the grass up as bad as V-bottom boats. After Outlaw fishes the outside edge of the grass, using his big engine, he'll drive into the grass often until his outboard touches the bottom. Then he takes his conduit pole and digs four to six holes on either side of the boat and one or two holes on the front of the boat. "When crappie are holding in thick grass or on the sides of cypress trees with thick grass around them, they don't seem to be as skittish as they are when they're holding in open water or tree tops or on stake beds," Outlaw explains.
Something that really surprised me about Outlaw's technique was when he told me, "I never turn my outboard motor off. I leave it in idle while I'm fishing. When I back out, I back off the grass slowly, so I don't disturb the grass." Outlaw leaves his motor idling, because he fishes so many places in a day of crappie fishing. If he turns the motor off, the process of cranking the motor seems to disturb the bait fish and grass shrimp more than if he leaves the motor idling.
Digging holes in grass and fishing in those holes provides yet another advantage.
According to Outlaw, you can dig holes in the morning and catch crappie there, come back in the middle of the day,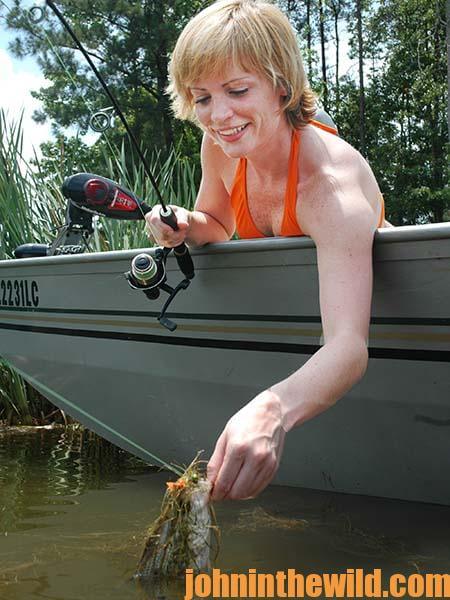 catch more crappie in those same holes, return in the afternoon, fish those same holes and catch even more crappie. "We've caught as many as 70 crappie out of one hole before," Outlaw reports.
Outlaw prefers a 10 foot B'n'M #9 jig pole that's a medium-stiff pole and 10-pound-test Vicious line. Because he's fishing through thick cover, he likes the heavier line with enough backbone not to break in that thick cover. He also needs a stout line, because the crappie aren't the only fish in the lake looking at the hole, when the jig falls through it. When he catches a crappie, with the same stroke that he sets the hook, he needs to pull the crappie straight out of the hole and into the boat. Before Outlaw has caught a largemouth bass that weighed 13-1/2-pounds and a catfish that weighed 38 pounds out of the same holes that he digs for crappie.
He likes a 1/16- or a 1/8-ounce Rockport Rattler (www.rockportrattler.com) jig head and Midsouth tube jigs (www.midsouthtackle.com). His two favorite colors are black-and-chartreuse and white-and-chartreuse, and his preferred water depth is 5 to 6 foot deep. He explains, "Water that's shallower than 5 to 6 feet doesn't seem to produce as well. I just ease my jig down into the hole and back up out of the water. Then, I let it go all the way to the bottom again. If I jig the hole the third time and don't catch a crappie, I fish another hole."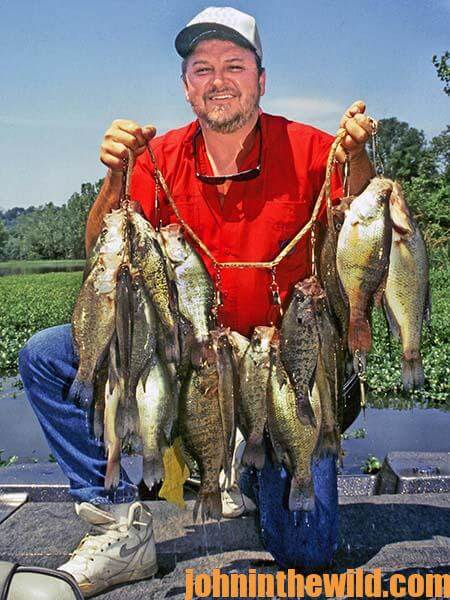 Remember, the crappie are holding under the grass in the dark. But when you dig a hole in that grass and drop a jig through it, you'll generally get a quick reaction strike. Most of the time the water will be acidic-colored and stained. Depending on the time of the year, we'll catch crappie that weigh 3/4-pound to 2-1/2-pounds.
For more crappie fishing tips, get John E. Phillips' Kindle eBooks "Crappie: How to Catch Them Fall & Winter," "Crappie: How to Catch Them Spring and Summer," "Catch Cold Water Crappie Now," and "Reelfoot Lake: How to Fish for Crappie, Bass, Bluegills and Catfish & Hunt for Ducks." Click here to get these books.
Share this page with a friend!
About the Author
John Phillips, winner of the 2012 Homer Circle Fishing Award for outstanding fishing writer by the American Sportfishing Association (ASA) and the Professional Outdoor Media Association (POMA), the 2008 Crossbow Communicator of the year and the 2007 Legendary Communicator chosen for induction into the National Fresh Water Hall of Fame, is a freelance writer (over 6,000 magazine articles for about 100 magazines and several thousand newspaper columns published), magazine editor, photographer for print media as well as industry catalogues (over 25,000 photos published), lecturer, outdoor consultant, marketing consultant, book author and daily internet content provider with an overview of the outdoors. Click here for more information and a list of all the books available from John E. Phillips.