John's Note: To care for fish, ideally, put your fish on ice straight away. Bleeding and gutting before icing will make for the best tasting fish. If not on ice, keep fish alive for as long as possible if you have a livewell or another method to allow plenty of oxygen. Letting your catch die slowly on a stringer in warm water is an invitation for food poisoning. Take along ice-filled cooler, and store your catch right on ice, if you don't have a livewell to give the fish plenty of oxygen. When you land a fish, either kill it quickly by cutting through the backbone behind the head or else actually cut off the head and place the fish promptly in a plastic bag, and bury it in ice in a well-insulated, portable, ice box. If unable to use fresh fish within two days of catching or purchasing it, cook it. Cooked fish maintains quality in the refrigerator for two to three days.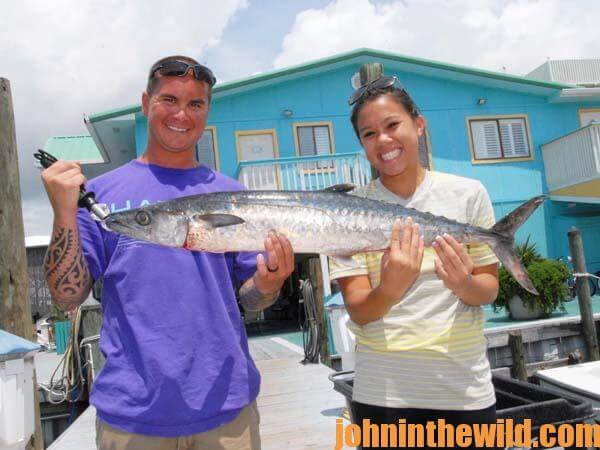 How To Clean Fish:
Remove gills from freshly caught fish at once and from bought fish as soon as possible to preserve freshness spoilage starts at the gills.
To Dress A Whole or Round Fish:
Hold fish firmly near tail, and scrape off scales with a saw tooth knife, working from the tail toward the head. Soak whole fish in water a few seconds before beginning, and scales will come off easier. Do not trim fins off, but cut into flesh on each side of base of the fin, which permits easy removal of the fin and fin bone, either before or after cooking. Cut a slit in the fish's belly from head to tail, and then lift out entrails intact. Be sure to remove the head and the pectoral fins by making a cut just in front of the collarbone. If the backbone is large, cut down to it on either side, and snap the head off. Remove the dorsal fin by cutting along each side with a sharp knife and grasping the end near the tail in one hand and giving a quick pull toward the head. Clean, and rinse the fish thoroughly. Now the fish is dressed or pan-dressed.
To Bone Fish or Make Fillets:
After washing the fish in cold water and cutting off the head and the tail, start at the tail, and run a sharp knife close to the backbone the entire length of the fish. Then by working the knife carefully down toward the abdominal side, and hugging it against the bone, the entire side may be stripped away. Repeat on the other side.
Skinning a fillet is easier to do when fillet is unscaled. Lay the fillet, skin down on a cutting board. Hold the tail end of the fillet with the fingers of one hand. With a sharp knife at the angle, make a cut about 1/2-inch from the fingers through the flesh to the skin, being careful not to cut through the skin. Lay the knife blade flat against the skin, and push the knife forward along the skin while holding the free end of the skin firmly with the fingers.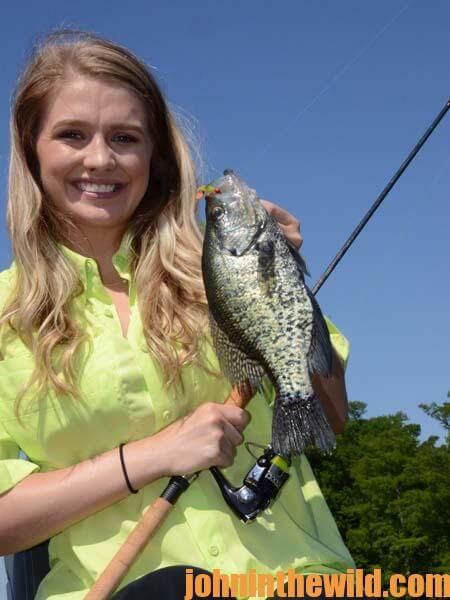 To Clean Fish with Tough Skin Like Catfish:
Drive a sturdy nail in the body of a tree, a heavy board or a 2×4 in an outside building. Use a sharp knife to barely cut through skin all around base of the head. Hang fish by its tough throat over the nail. With pliers, grip skin that runs up to a point at back of head. Pull down strongly, stripping off skin and leaving smooth, clean, white flesh. Eviscerate fish. To easily sever head, which is attached with strong, hard bone, hold back of fish with the point where you want to separate head from body squarely over edge of a tube or a similar narrow, firm-edged material. Very sharply hit the fish against this edge. This breaks the bone quickly.
Also, watch our video on skinning catfish in 20 seconds on YouTube: https://www.youtube.com/watch?v=6q8a1AI7rY4
Brown Sugar Fish and Strawberries
The versatility and taste of this dish means you can use a wide variety of fish to prepare it, including white meat saltwater fish and catfish.
Ingredients for Fish:
1/3-cup packed brown sugar
1 tablespoon canola oil
1 teaspoon ground mustard
1 teaspoon ground allspice
1/2-teaspoon salt
4 fish fillets (5-ounces each)
Ingredients for Relish:
1 tablespoon minced fresh mint
1 tablespoon canola oil
1 tablespoon lemon juice
2 teaspoons grated lemon peel
1 cup finely-chopped fresh strawberries
1 small cucumber, finely chopped
Preparation:
In a small bowl, mix the first five ingredients; rub over flesh side of fish. Refrigerate, covered for 1 hour. For relish – in another bowl, mix mint, oil, lemon juice, lemon peel and sugar. Add strawberries and cucumber; toss to coat. Moisten a paper towel with cooking oil; using long-handled tongs, rub on grill rack to coat lightly. Place fish on grill rack, skin side down. Cover and grill, over medium heat for 8 to 10 minutes, or until fish flakes easily with a fork. Serve with relish. Yield: 4 servings. (2 cups relish).
Shrimp and Tomato Stew
This New Orleans style stew is yummy but easy and quick to make.
Ingredients:
1 pound medium to large wild shrimp, without shells and deveined
2 tablespoons butter
1 teaspoon dried oregano
1 teaspoon fresh cilantro
1 teaspoon garlic powder
1/2-cup heavy cream
2 cups stewed tomatoes
1/4-cup lemon juice
1/2-teaspoon ground nutmeg
1 tablespoon brown sugar
Salt and pepper to taste
Preparation:
In a large pan, sauté the shrimp in the butter along with the oregano, cilantro and garlic powder until the shrimp are pink. Add the cream, and cook for 5 minutes. Add the tomatoes, lemon juice, nutmeg and brown sugar, and simmer gently for an additional 15 minutes, letting the flavors meld. Add salt and pepper to taste, and serve over rice.
Seafood Salad
This seafood salad is different from others we've eaten, and we know you'll enjoy it.
Ingredients for the Salad:
12 cups loosely-packed arugula (or 6 cups arugula, 6 cups spinach, which is what we prefer)
3/4-cup diced celery
1-1/2-cups cherry tomatoes, cut in half
1-1/2-pounds medium to large wild Alabama shrimp, shelled and deveined (about 25-30)
1 pound sea scallops (approximately a dozen), cut in half
2 cups croutons
Freshly-ground salt and pepper to taste
3-4 tablespoons olive oil
2 tablespoons unsalted butter
Ingredients for Dressing:
2 cups loosely packed torn fresh basil leaves
5 tablespoons chopped parsley
3 tablespoons olive oil
1-1/2-teaspoons lemon juice
2 tablespoons white wine vinegar
1 teaspoon minced garlic
2 teaspoons Dijon mustard
1 shallot, thinly sliced
Freshly-ground salt and pepper
Preparation for Dressing:
Heat the olive oil over medium heat; add lemon zest and shallot; cook, stirring for 1-2 minutes. Remove from heat, and whisk in remaining ingredients. Adjust seasonings to taste, and set aside.
Preparation for Seafood Salad:
Heat 2 tablespoons olive oil and 1 tablespoon butter in large skillet over high heat. Dry scallops thoroughly, and sprinkle with salt and pepper. When oil is hot, gently add scallops, making sure they don't touch one another. Sear the scallops on each side for approximately 1-1/2-minutes. They should have a golden crust on each side and be opaque in the center. Remove from the pan, and put in a bowl. Reduce heat to medium high, and add 1 tablespoon butter and 1-2 tablespoons olive oil to pan. Sprinkle shrimp with salt and pepper, and add to the pan. Turn several times until shrimp turn pink and are opaque in the center, about 3-4 minutes. Don't overcook.
Preparation for Assembly of Salad:
Combine greens, herbs, celery and tomatoes in a large bowl. Add scallops and shrimp. Toss lightly. Drizzle with warm dressing, and toss to coat. Add salt and pepper if needed, and sprinkle croutons on top.
Greek Shrimp Casserole
Our family loves all foods prepared with shrimp, and this casserole is very tasty.
Ingredients:
1/4-cup butter
2-1/2-cups finely chopped onion
2 pounds large fresh shrimp, peeled and deveined
2 pints home-canned tomatoes, or 1 (28 ounce) can crushed tomatoes
4 cups cooked long-grain white rice
2 cups crumbled feta cheese, divided
1 cup pitted nicoise olives
1/4-cup capers
2 tablespoons chopped fresh dill
1/4-teaspoon ground black pepper
Garnish: chopped fresh dill and feta cheese
Preparation:
Preheat oven to 375 degrees. Spray a 3- to 4-quart baking dish with nonstick cooking spray. Set aside. In a medium skillet, melt butter over medium heat. Add onion; cook until softened, 5 to 7 minutes. In a large bowl, gently stir together onion, shrimp, tomatoes, rice, 1-1/2-cups cheese, olives, capers and dill. Transfer to prepared dish. Sprinkle with remaining 1/2-cup cheese and pepper. Bake until shrimp are pink and firm, approximately 35 minutes. Garnish with dill and feta, if desired. Yield: 6t serving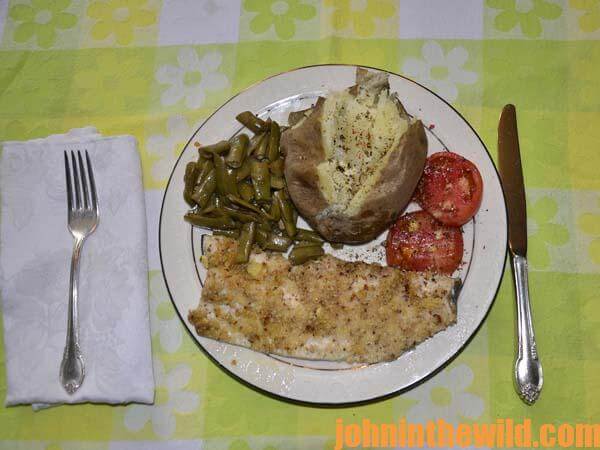 Crunchy Rainbow Trout
If you're fortunate enough to have visited trout streams or caught put-and-take trout, your family will love this recipe.
Ingredients:
1 cup finely chopped pecans (not ground)
1/4-cup dry bread crumbs or Panko crumbs
2 teaspoons grated lemon peel
1 egg
1 tablespoon milk
1 pound rainbow trout fillets
1/2-teaspoon salt
1/4-teaspoon pepper
2 tablespoons vegetable oil
Lemon wedges
Preparation:
Mix pecans, bread crumbs and lemon peel in a shallow bowl. Beat egg and milk with wire whisk or fork in another shallow bowl. Cut fish into 4 – 6 serving pieces. Sprinkle both sides of fish with salt and pepper. Coat the fish with egg mixture and then coat well with pecan mixture, pressing slightly into the fish. Heat oil in a 12-inch skillet over medium heat, add the fish, and reduce heat to medium-low. Cook 6 to 10 minutes, turning once carefully without puncturing the fish's flesh, until the trout is browned and flakes easily with a fork. Serve with lemon wedges. Yield: 4 – 6 servings.
Oriental King Mackerel
Anglers on Bama's coast can enjoy catching king mackerel all year, and this simple recipe makes a delicious dish.
Ingredients:
2 pounds king mackerel steaks
1/4-cup orange juice
1/4-cup soy sauce
2 tablespoons catsup
2 tablespoons salad oil
2 tablespoons chopped parsley
1 tablespoon lemon juice
1-1/2-teaspoons oregano
1/2-teaspoon pepper
1 clove garlic, finely chopped
Preparation:
Cut steaks into serving sizes. Place in a single layer in a shallow dish. Combine remaining ingredients, and pour over fish. Let stand to marinate for about 30 minutes, turning fish once. Remove fish, reserving sauce for basting. Place fish on greased broiler pan. Broil about 3 inches from heat for 4 to 5 minutes. Turn, and brush with marinade. Broil 4 to 5 minutes longer. Yield: 6 servings.
Scalloped Crappie
We've never meet a crappie dish we haven't liked, and your family will find this one delicious.
Ingredients:
2 cups flaked, cooked crappie
2 cups medium white sauce
1 cup buttered bread crumbs
2 hard-cooked eggs, sieved and chopped
Salt and pepper to taste
Ingredients for White Sauce:
4 tablespoons shortening
1/2-teaspoon salt
4 tablespoons flour
1 cup milk
Preparation for White Sauce:
Melt shortening, and add salt and flour to make a paste. Add 1 cup milk, cooking on simmer until the mixture thickens. Cool.
Preparation:
Preheat oven to 350 degrees. Mix sieved yolks and chopped egg whites with white sauce. In a greased baking dish, layer alternately the fish and the sauce (beginning with the fish), seasoning with salt and pepper, and covering with bread crumbs. Bake at 350 degrees for 20 minutes or until bread crumbs are brown. Yield: 4 servings.
Camp-Out-Style Fish Packets
Our oldest grandson is a Boy Scout, who has completed his cooking badge, and is working toward becoming an Eagle Scout. This recipe is one campers and people grilling out will enjoy.
Ingredients:
4 speckled trout or redfish boneless fish fillets (6-ounces each) (delicious with other types of white-meat fish such as catfish)
2 cups sliced or diced fresh or frozen (thawed) vegetables such as broccoli, carrots, zucchini
2 tablespoons extra virgin olive oil
1 teaspoon lemon-pepper seasoning
4 sheets foil, about 15-inches long
4 pats of butter (about 2 teaspoons each)
4 garlic cloves, crushed or pressed
4 lemon slices
Preparation:
In a bowl, combine the vegetable oil and lemon-pepper, mix well. Divide the vegetables among the pieces of foil. Place a fish fillet on top of the vegetables. Sprinkle with lemon-pepper mixture as desired. Place a pat of butter atop each fillet. Top with 1 crushed garlic clove per fillet, and finish with a slice of lemon per fillet. Bring the sides and the edges of the foil together and roll, making a tent out of the foil. Make sure to leave room for steam inside the tent. Grill over medium heat/flames 10 to 20 minutes, depending on the thickness of the fish and the heat of your grill. Serve in the packets, being mindful of the hot steam. You also may bake these in a 375-degree oven for 15 to 25 minutes. Yield: 4 servings.
Green Chili Sauce Crappie
This recipe is one our family has enjoyed for many years that I somehow misplaced but found recently.
Ingredients:
1 onion, chopped
1/2-cup fresh, green, semi-hot chili peppers, seeded and chopped (may want to wear rubber gloves to do this)
2 garlic cloves, minced
2 tablespoons vegetable oil
1/2-cup peeled, seeded and chopped tomato
1 tablespoon wine vinegar
2 pounds crappie fillets
2 tablespoons softened, unsalted butter
Salt and pepper to taste
Lime slices for garnish
Preparation:
In a food processor with a steel blade, or in a blender, puree the onion, the chili peppers and the garlic with 1/2-cup of water. In a skillet, heat the oil over moderate heat until hot. Add the puree carefully, and cook it, stirring for 5 minutes, or until it begins to thicken. Add tomato, vinegar, salt and pepper. Cook the sauce over low heat, stirring for 10 minutes, and keep it warm. Pat the fillets dry, and arrange them on the oil rack of a broiler pan. Spread the butter on the fillets. Sprinkle fillets with salt and pepper, and broil under a preheated broiler about 4 inches from the heat for 3 to 4 minutes, or until they flake when tested with a fork. Using a large spatula, transfer the fillets to heated plates, and cover them with the sauce. Garnish with lime. Yield: 4 – 6 servings.
These recipes are new and are not included in our book, "The Best Wild Game & Seafood Cookbook Ever: 350 Southern Recipes for Deer, Turkey, Fish, Seafood, Small Game and Birds," available at http://amzn.to/WkbLRg in Kindle eBook and in print.
Next: You Can Enjoy Crappie, Catfish, Speckled Trout, Shrimp and Crab