John's Note: The trophy buck is the oldest and the smartest deer on the land you land. Trophy bucks must have eluded hunters for at least 3 years and often for 5-6 six years to become a trophy. He has learned to recognize the mistakes hunters make and understands how and where to hide where hunters can't find him. If you're going to take the wide-racked, heavy-antlered, high-tined buck of your dreams with a blackpowder rifle, you must hunt mistake-proof and realize your quarry may be smarter than you are.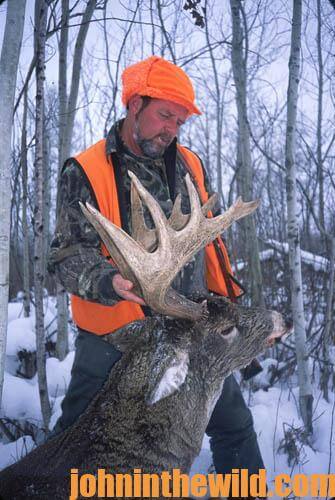 To take a trophy buck with black powder, you first must know where he is and then prevent him from pinpointing where you are. The two biggest mistakes a blackpowder hunter makes in his search for a trophy buck are hunting areas where no such buck exists or notifying the buck of the hunter's presence in a region that homes trophy bucks.
One of the advantages the blackpowder hunter has over the conventional-weapon hunter is the special season or special areas set aside for blackpowder hunters to participate in their sport that many states have instituted. If the blackpowder season comes in before conventional gun season, the blackpowder hunter has the advantage of being able to scout and locate the biggest bucks before the rest of the deer hunters enter the hunting region. If the blackpowder season takes place in the middle of or after gun season, then the blackpowder hunter can continue to hunt areas where gun hunters have seen trophy bucks. Because fewer hunters will be in the woods during blackpowder season, the large bucks should move more often during daylight hours.
Many private landowners who may not permit hunting during conventional-weapon season may be willing to let a blackpowder enthusiast hunt their lands. Another trend that has been developing in recent years is special blackpowder hunts being held at hunting lodges at the beginning of gun season. Even in the South where most hunting lodges stayed booked during late December and January when the rut occurs, many of these lodges will have openings for hunters at the beginning of gun season in mid-November and early December. Some lodges now are filling these openings with special blackpowder hunts.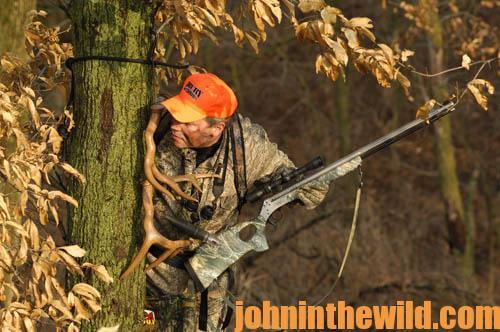 "Many southern lodges have bragged so much about their late-season hunting that not many sportsmen book at the first of the season before the trophy bucks receive so much pressure," Robert Pitman of White Oak Plantation near Tuskegee, Alabama, says.
Another place to find a trophy buck before the conventional gun hunter does is South Carolina. Along the Savannah River Swamp near Estill, South Carolina, deer season starts in mid-August. "Although our lodge has numbers of hunters the first week of the season, after opening week, we have fewer hunters until mid-November," Joe Bostick of the Bostick Plantation (http://south-carolina-plantations.com/hampton/bostick.html) near Estill, explains. "A week or two after opening week, we begin to see the big bucks back on the green fields until the gun hunters return. So, from September to mid-November, a blackpowder hunter has a very good chance to bag a trophy buck here in South Carolina."
To get John E. Phillips' eBooks,audio books and print books on hunting deer, including his newest deer-hunting book, "Whitetail Deer and the Hunters Who Take Big Bucks," available at http://amzn.to/2bYwYOK/, click on these books to learn more, "How to Hunt and Take Big Buck Deer on Small Properties," "How to Hunt Deer Up Close: With Bows, Rifles, Muzzleloaders and Crossbows," "PhD Whitetails: How to Hunt and Take the Smartest Deer on Any Property," "How to Take Monster Bucks," "How to Hunt Deer Like a Pro," and "Bowhunting Deer: Mossy Oak Pros Know Bucks and Bows," or to prepare venison, "Deer & Fixings." Or, go to www.amazon.com/kindle-ebooks, type in the name of the book, and download it to your Kindle, and/or download a Kindle app for your iPad, SmartPhone or computer. You also can find John's books on Nook at www.barnesandnoble.com.
For free information on making jerky from your deer to provide a protein-rich snack, you can download a free book from http://johninthewild.com/free-books.
Next: Controlling Human Odor When Hunting Deer
EXPLORE MORE: you'll love these stories from John too