John's Note: Luck plays a major role in any type of successful fishing – whether you're angling for catfish on a Saturday morning with two children or fishing for a bass to win a $100,000 bass-fishing tournament. However, with both luck and knowledge, you'll generally have a successful fishing trip.
I fished with Bob Holmes, who may very well be one of the best catfishermen in Tennessee, one time in the summer.
During the spring of the year, Bob is notorious for catching catfish on the rocks. "Catfish like broken rock points to nest in and spawn in," Holmes says. "During the latter part of spring and the first part of summer, the cats will get on these broken rock points on rivers like the Tennessee to spawn. To catch the cats, you have to check a lot of points and find out which points seem to be holding the most fish. For some reason on some days, there will be on more catfish on specific points than there will be on others. But, the points aren't the only places the catfish stay. They also will be all along a rocky bank of which the point is a part.
"The best way I know to catch those catfish is to use a treble hook and lace a big night crawler all the way around all three hooks, so that the points of the hooks are covered, and part of the worm is still hanging off. I use a split shot and douse my worm with some kind of catfish attractant – homemade or bought. Up the line, I put a slip cork to allow my bait to sink down about 6 or 8 feet to hold a foot off the bottom. I cast my bait up close to the bank and then pull it away from the rocks just so that the cork will stand-up.
If the cats are there, a bite won't be long in coming.
Most people miss catfish when the fish take the baits, because they try and set their hooks too quickly.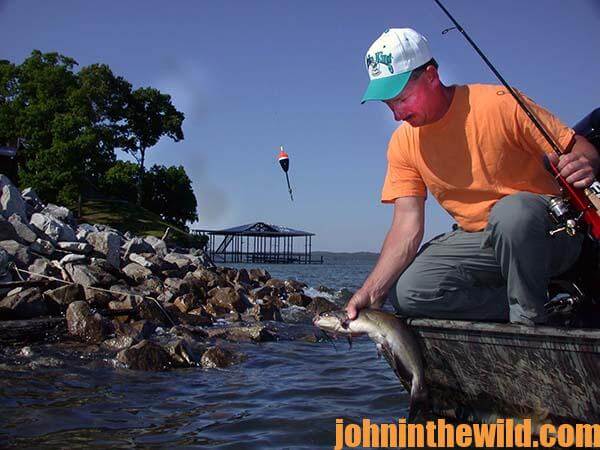 If they are using single hooks, they'll reduce their chances a lot more.
I have found that the best way to catch a cat on the rocks is to let it take the cork completely out of sight, before I set the hook. And, just because I am using a treble hook, which may tend to get a bigger bite on the fish's lip, doesn't mean that I don't depend heavily on the edge of my reel. I have fought some 10- and 12-pound catfish on 8- and 10-pound-test line for 10 to 15 minutes before I could boat them. You just can't horse a big cat.
"Yet another good catfishing spot that is often overlooked by most big-river catfishermen is riprap. Many times, even the people who are fishing riprap are not nearly as effective as they can be because they allow their baits to lie on the bottom. Although a cat often will swim on the bottom and may take a bait on the bottom, I believe I catch more cats when my bait is just off the bottom. During the spring of the year when the cats are on the rocks, I can easily take 100 pounds of fish in a day. I believe most other catfishermen may be missing this kind of fishing."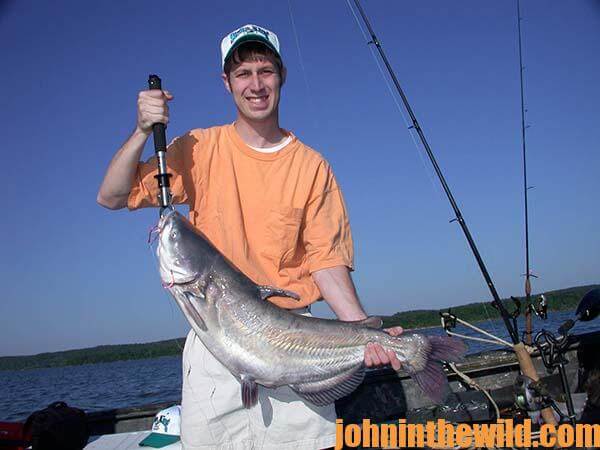 To get "13 Freshwater Fish Recipes You Can't Live Without," "Catfish Like a Pro," "The Best Wild Game & Seafood Cookbook Ever: 350 Southern Recipes for Deer, Turkey, Fish, Seafood, Small Game and Birds," click here to get these books.
About the Author
John Phillips, winner of the 2012 Homer Circle Fishing Award for outstanding fishing writer by the American Sportfishing Association (AMA) and the Professional Outdoor Media Association (POMA), the 2008 Crossbow Communicator of the year and the 2007 Legendary Communicator chosen for induction into the National Fresh Water Hall of Fame, is a freelance writer (over 6,000 magazine articles for about 100 magazines and several thousand newspaper columns published), magazine editor, photographer for print media as well as industry catalogues (over 25,000 photos published), lecturer, outdoor consultant, marketing consultant, book author and daily internet content provider with an overview of the outdoors.