John's Note: This year 2013 anglers have experienced about every type of bad weather affecting much of the nation, particularly rain, floods and rising water. Outdoor writer John E. Phillips has talked with some of the tried-and-true bass fishermen who must catch fish no matter what the weather is. Gary Klein www.garykleinfishing.com, a professional bass fisherman from Weatherford, Texas, has fished in more than 354 tournaments and placed in the earnings in 241 of them. He has had 8 first-place finishes, 87 top-10 finishes and was named BASS Angler of the Year in 1988 and 1993. When the storm clouds brew, and rain starts coming down, fair-weather anglers will crank-up their motors and head for home but not Gary Klein. By staying in the wet weather, Klein has learned how to catch bass and how to become a better angler.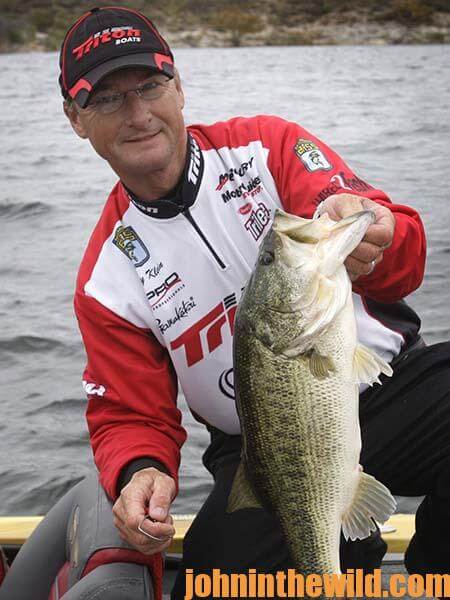 "A toad strangler is a day when you arrive at the lake, and you don't even want to get out of your car due to the rain pouring-down so hard you can imagine big frogs giving little frogs artificial respiration to keep them from drowning," Gary Klein says as he laughs. "Usually this is a day when the rain has been coming down like that all night long. Most fishermen will return home. Many tournament anglers will be defeated, before they put their boats in the water. When this happens, I believe I have a better chance of winning a fishing tournament. I also think most anglers have a better chance of catching bass than they will at any other time, because not near as much competition will exist for the bass as there will be on a sunny day.
"I'll plan to use basically two baits – the spinner bait and the crankbait, because I can cover more water in a shorter time. I mainly will fish on the lower arms of major tributaries and closer to a dam, if it is a man-made impoundment. These areas will be the least affected by the rain and should have the clearest water. I will be using the spinner bait and the crankbait, because in a heavy downpour, I can't feel baits like plastic worms or pig and jigs as they move along the bottom. The rain will be hitting my line and my rod so hard I won't be able to feel a strike. But with the spinner bait and the crankbait, I can feel every move the lure makes. I will be able to tell when a fish hits, and I will be able to cover more water. Besides requiring very-little feel on the part of the angler, the crankbait and the spinner bait also can be cast hard toward the target and fished quickly.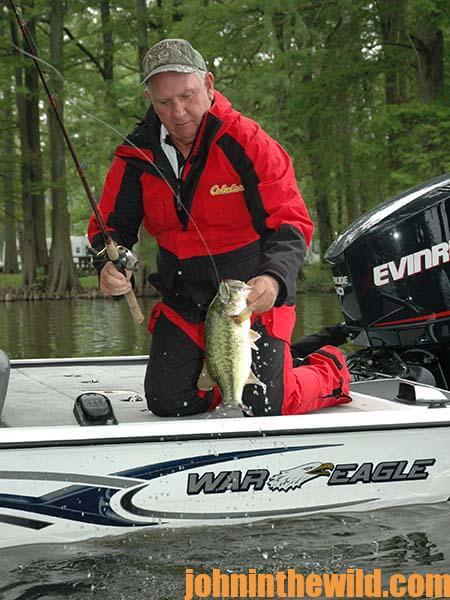 "Under rainy-weather conditions I like to fish baits with a wider wobble that displace more water but don't go that deep. During those hard, driving rains, especially the ones that have lasted for awhile, I'll be looking for the rocky banks. Fishing the rip-rap down close to a dam may very well be one of my prime targets under weather conditions like this."
Angling the Drizzling Days of Fall:
"When the weather is cool in the fall, and we get a cold, slow, drizzling rain, I believe the fisherman has the best opportunity he can have to catch bass," Klein observes. "When the water temperature is below 60 degrees, a light, drizzling rain is falling, and the water has become stained, I again will move to the lower third of the lake and begin to fish old creek channels, ditches, drop-offs and ledges. My primary baits during a fall drizzle will be a pig and jig and a spoon. For the jig in a drizzling rain, I prefer a 5/8-ounce and 3/4-ounce jig. I'll use a bigger, bulkier pork frog and trim the rubber down on my jigs to make the fall a little bit faster. By doing this, I will be able to cover the bottom quicker and feel the bait better.
"My hands usually get cold during a cold, wet rain. By utilizing the heavier bait, I can feel the lure much better than if I use the lighter lure. Also bass seem to like a bigger bait during the colder weather, and they hang on to it much longer than they will a smaller bait. When I am vertical jigging a spoon, I also will go to a bigger spoon. I like a 3/4-ounce spoon because it will get to the bottom fast, and I can jig it quickly. During the winter months, whether you're fishing a slow, drizzling, cold rain or a hard driving cold rain doesn't really matter. The bass basically are going to be at about the same depth and take the lure about the same way. When I'm in a storm in the winter that includes a lot of wind, rain and maybe some lightning, I will angle more in creeks where I'm close to the banks and away from the winds. Or, I will fish closer to the marina, so I can get out of the weather if I must. There is no substitute for being safe on the water.
"Rainy days are good days for bass fishing, but to catch fish, you can't just go out and start angling. You have to decide where the best water will be, where the bass should be in relationship to that water, and what baits you can use to cover the most water and trigger the most strikes. I like rainy-day fishing. The more you become accustomed to angling foul weather, the more fish you will catch."
To get "Hot-Weather Bass Tactics," "How to Become a Tournament Bass Fisherman," "How to Win a Bass Tournament: Personal Lessons from 8 Pro Bass Fishermen," "Catch the Most and Biggest Bass in Any Lake: 18 Pro Fishermen's Best Tactics" and "How to Bass Fish Like a Pro,"    click here to get these books.
About the Author
John Phillips, winner of the 2012 Homer Circle Fishing Award for outstanding fishing writer by the American Sportfishing Association (AMA) and the Professional Outdoor Media Association (POMA), the 2008 Crossbow Communicator of the year and the 2007 Legendary Communicator chosen for induction into the National Fresh Water Hall of Fame, is a freelance writer (over 6,000 magazine articles for about 100 magazines and several thousand newspaper columns published), magazine editor, photographer for print media as well as industry catalogues (over 25,000 photos published), lecturer, outdoor consultant, marketing consultant, book author and daily internet content provider with an overview of the outdoors. Click here for more information and a list of all the books available from John E. Phillips.