Editor's Note: Very few of us know what we want to be when we finish high school, and some people don't have a clue of what they want to become even after getting their college educations. And, these two statements are typical about the 2020 Bassmaster Classic (https://www.bassmaster.com/) winner Hank Cherry of Lincolnton, North Carolina, on the shores of Lake Norman. But in his heart of hearts, he knew he wanted to earn a living bass fishing. However, life takes twists and turns, and few men or women reach greatness without traveling through discouragement and failure. Actually in most people's lives, failure is a prerequisite to success, and such is the backstory of Hank Cherry.
On the first day I fished the causeway, which was the last day of practice, I caught the first big bass – 5-6 pounds, on a Bloodythumb's crankbait (https://www.bloodythumblures.com/) in the dingy water. This lure is an oversized square-bill, bright-orange crankbait that only dives down 8-9 feet deep. I used a Picasso jig (https://www.picassooutdoors.com/) with a Berkley Powerbait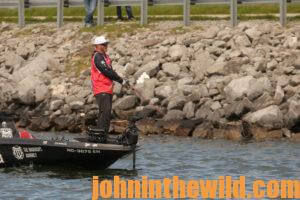 Maxscent (https://www.berkley-fishing.com/berkley-powerbait-maxscent/) chunk, but most of the bass I caught came on a Megabass Ito Vision 110+1 French pearl OB (orange belly) jerkbait
A jerkbait is a lure I have a lot of confidence in, and this lure had just enough color to be visible to the bass in the dingy water. If the water became slick, it didn't stand out too much to not look natural in the clearer water. The jerkbait had a subtle presentation, making the bass able to see it and sneak up on it to eat. I was fishing the jerkbait on 15-pound-test 100% Trilene Fluorocarbon line (https://www.berkley-fishing.com/).
I think one of the reasons I didn't have any competition on the causeway was because it was so close to the boat ramp where we left from each day. With that much traffic, I'm sure that most competitors didn't consider fishing there. I knew that all bass that would spawn in Browns Creek would use the causeway as a major highway to return in the creek. Since we had cold, bad weather during the Classic, I figured all those spawners should stack-up on the causeway, waiting for warmer weather to move back into the creek. Although you could say my winning the Classic was luck, skill, and/or a twist of fate, it was a game plan I'd worked out mentally, and that I hoped and prayed would work.
I knew from what I had read about in the information I had found on the internet that the water was 2-3 feet higher when those big catches that won tournaments on Guntersville had been held, than the water level during the 2020 Classic. Also, I knew that since the water in 2020 was much lower than it generally was in March that the bass would move out of many of the regions where they normally would spawn during warmer weather. Then they should be holding on the places where they'd concentrated during the prespawn because of the cold weather. This knowledge gave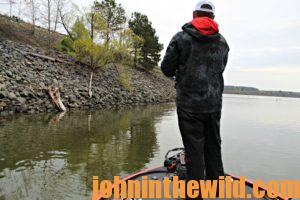 me a lot of confidence about the areas I was fishing. I think confidence is a major component – whether you're participating in the Bassmaster Classic or fishing on your home lake on the weekends. I've also learned that March can be a very-unpredictable month. If cold weather occurs at the first of March in the Deep South, the bass may not be spawning. However, if the weather at the first of March is hot, the bass already may be on the beds.
* Going from an Unknown Angler to a Classic Champion:
Most people who didn't know me viewed me as an unknown rookie in the Bassmaster Elite Series when I won the 2020 Classic. However, I had won Rookie of the Year at the All-Star event in Upper Michigan in 2013, and I had won a Southern Open in 2012. So, I was really an experienced angler before this Classic. Many of the members of the press corps and spectators probably didn't know about the other wins I'd had. I didn't go into the 2020 Classic intimidated or believing I couldn't win. I'd learned from previous tournaments that you couldn't bet on one spot to produce tournament-winning bass over a period of 3-4 days. Although I concentrated most of my fishing during the Classic on the causeway, I ventured off to another area on Day 1 and to a different place on Day 2.
On the first day of the tournament, I caught 23 pounds of bass off a grass flat and was in the lead. I'd gotten one bite during the practice days at this little, short-grass flat before the tournament started. I caught a 5, a 6 and a 7 pound bass off that grass flat on a Jack Hammer bladed jig (https://zmanfishing.com/cms/products/chatterbait-jack-hammer). I also fished isolated cuts under docks in the Browns Creek area. I was skipping the jig under the walkways of the dock and caught one or two bass that I weighed in using that tactic. But I spent most of my time the third day on the causeway.
The final day of the Classic was the second day after the cold front had moved through, and the bite really slowed down. But I also knew I had a lead with the causeway bass, especially when I looked at the solunar tables. I realized there would be a full moon that night, and that the gizzard shad would move to the rocks on the riprap at some time that day. I had to be patient because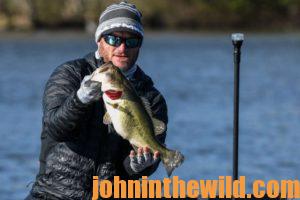 there was no way I could know the exact time the gizzard shad would move on to the rocks, and the bass would come with them. I knew the wind should hit the lake between 11:00 am to 1:00 pm. I told the camera crew following me that I thought the bass should move into the causeway riprap at about 12:00 noon, and that's pretty much what happened.
Again, I depended on the solunar tables. I knew that when we took off that last morning, the moon should be overhead, and at 12:00 noon, it should be underfoot. From the weather forecast, I estimated that the wind should arrive at 11:00 am and would make the water somewhat choppy. I'd noticed on the earlier tournament days that any time the wind picked up, I'd start getting bites. I already had made the decision in my heart that I would fish that causeway all day long. I felt certain I could catch 15-16 pounds of bass for a five-fish limit, if I stayed with and fished the causeway all day.
I'm a strong believer in studying solunar tables and knowing the weather forecast. I've learned that bass are most active and bite best during the full moon, the new moon and when the moon's out of the sky – which means I can't see it in the morning when I go out to fish. I have fished with these elements of the solunar tables all my life. I'd been in first place all three days of the tournament, which was a really-rare occurrence in any fishing tournament, especially the Classic.
* Winning the Classic:
Since my winning the Classic, writers and broadcasters have asked me how much more sponsor money from old and new sponsors did I receive after the Classic win, besides the $300,000. Well, I've increased my family's income probably twice as much as I had coming in before the Classic. I've done hundreds of radio and television interviews as well as interviews for magazines, newspapers and social media. I have many speaking engagements booked that I haven't been able to do because of the pandemic. However, one of the good things, at least for me that's come from having to stay at home and social distance is that I've had much more time to be at home with my family – my wife Jaclyn, my 10-year-old son Christian and my 7-year-old daughter Bella Grace – this year than ever before. I've had the opportunity to speak to numbers of people over the phone too that I never would have been able to talk to if I'd been on the road going to tournaments and speaking at seminars. At the time of this interview in May, 2020, I'm looking forward to the Bassmaster Elite Series starting back up in early June and returning to my regular fishing and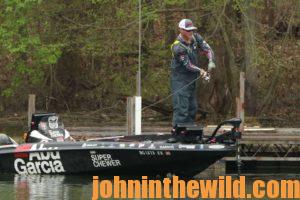 tournament schedule.
* Thinking about the Future:
I've been asked by reporters what I see myself doing in the future. I want to build on my Classic win. The Bassmaster Classic win moved me from being a dream chaser to a dream catcher. I believe that my faith in my fishing ability and never doubting that if I kept fishing and learning that I could reach my goal is the one element of my fishing career that enabled me to succeed. Through all the ups and downs, I always believed I could fish with and compete with the best bass anglers in the nation, and that one day I might have a chance to win the Bassmaster Classic. Although I have had bad tournaments back to back, and I might have thought about quitting, deep down inside I knew I had to keep pushing and chasing my dream.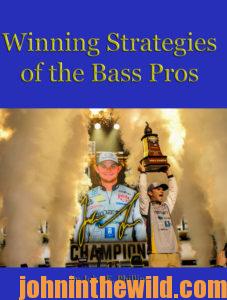 An older man told me several years ago that sometimes in this world, a guy has to stop doing what he's doing, and start doing what he's supposed to do. I've known through most of my life that a tournament bass fisherman was something I was supposed do.
To learn more about bass fishing, check out John E. Phillips' book, "Winning Strategies of the Bass Pros", at https://amzn.to/2XJrz3k, available in Kindle and print. Click here for the Audible link.