Editor's Note: In 2019, Ott DeFoe of Knoxville, Tennessee, won the Bassmaster Classic on the Tennessee River and $300,000 in February, 2019. In mid-March of 2020, Defoe won $100,000 on Day 3 of Stage 3 of the Bass Pro Tour event, which is a part of Major League Fishing on Lake Fork, Texas, and the Championship Round on 1,799 acre Lake Athens near Athens, Tex. On the last day of the tournament, DeFoe boated 69 pounds and 12 ounces with 23 scorable fish. DeFoe also weighed in the biggest bass caught that day – 9 pounds, 6 ounces. "That bass and most of my big ones were caught on a Rapala DT10 Crankbait (https://www.rapala.com) in a new color called Biggs Shad that will be available in the summer on 12-pound test XPS fluorocarbon line (https://www.basspro.com/) with a Bass Pro (https://www.basspro.com/shop/en/bass-pro-shops-crankin-stick-split-grip-eva-casting-rod) 7-foot, 6-inch medium-heavy action crankin' stick with a Johnny Morris Platinum 6.8:1 reel." To learn more about Ott DeFoe check out (https://www.facebook.com/pg/ottdefoe/about/?ref=page_internal). What DeFoe learned can help you at your next tournament or on your next fun bass-fishing trip.
John E. Phillips: Why did you think you could catch those bass you discovered by the bridge in the water over the 8-12 foot bottom?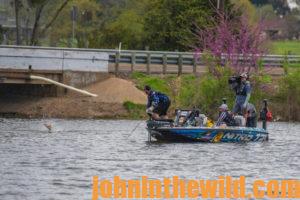 Ott DeFoe: Although I could see those bass on my Humminbird electronics (https://www.humminbird.com/), to be really honest, I didn't know if I could get them to bite or not. The first bass I caught, I caught on the crankbait, but as I reeled the crankbait for the first four or five casts I made, I could feel that crankbait bumping off the sides of bass. There weren't many rocks or stumps on this ledge, so I realized my lure was actually hitting the bass. I made four or five casts with the crankbait, before I actually caught a bass.
Phillips: Why did you choose the Rapala DT10 Crankbait in the Biggs Shad color?
DeFoe: This lure matched the depth of water I was trying to fish. It runs about 11-foot deep. My boat was in 12 feet of water, and the bass were holding in 8-10 foot deep water. So, I knew that when I reeled the lure down to the 8-foot-deep part of the bottom, it could dig the bottom. Then when it came out to the 12-foot-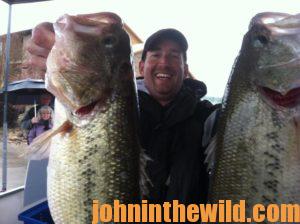 deep water, it would be running about a foot off the bottom. The Biggs Shad color was a natural color for the shad in this lake. Once the bass came up to the surface and started busting schools of shad, the Biggs Shad color pretty much matched the color and the size of the shad on which they were feeding. When I first started casting the Rapala DT10, I felt pretty certain that the bass were feeding on shad, and that the Biggs Shad color would look like the shad they were eating.
Phillips: How long were the casts you were making to get the crankbait down to where you wanted to fish it?
DeFoe: I was making about a 100-foot cast.
To learn more about catching bass, check out John E. Phillips' book, "Bass Pros': Season by Season Tactics," at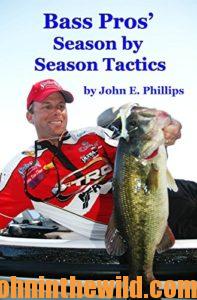 https://amzn.to/2IKUhe available in Kindle and print versions and Click here for the Audible link.
Tomorrow: Where Ott Defoe Was Ranked on the Final Tournament Day When He Made $100,000 in 1-1/2 Hours