Editor's Note: "During my in-the-woods preseason scouting six to eight weeks before opening day, I pick the trees from which I'll hunt," Jim Crumley of Roanoke, Virginia, longtime avid deer hunter and the founder of Trebark Camouflage, says. "I'll climb those trees with my stand and trim the limbs I need to eliminate to provide shooting lanes. I'll prepare numerous stand sites before the season. Then on any day, I'll have several stand sites for my hunting set-up. I also know when I go up those trees during deer season I won't have to waste time cutting limbs and making noise in the tree before I start to hunt. Preparing stand sites before deer season arrives will make a difference in your opening-week deer-hunting success."
Jim Crumley's Ideal Stand Site:
Jim Crumley names his ideal stand site as one with the sun at his back, the wind in his face and the deer approaching down a trail parallel to him. However, rarely does anyone find all those ingredients at any one stand site. The direction of the wind should play the most-important role in determining which stand site to hunt in any area. Try setting-up your tree-stand sites without spooking any deer. Determining where a deer will feed at certain times of the year before the deer begin feeding in those places can increase the success of your preseason scouting. Remember, deer often will feed under certain trees every season at specific times of the year.
Morning and Evening Stand Sites:
Also during the preseason, choose stand sites you can hunt from in the morning and different stand sites you can hunt from in the afternoon. "For the most-productive morning stand sites, I hang a tree stand where I can see a deer moving down a trail away from its feeding region and going to its bedding area," Crumley advises. "Because I believe deer feed primarily at night, I want to place my morning stand closer to the bedding region than to the feeding area. Then I may can see the buck just at daylight when he leaves his feeding spot and just before he arrives at his thick-cover bedding site."
To have a successful morning stand, you want to reach it before daylight without spooking the deer. Oftentimes a hunter will put up a tree stand where he expects deer to appear but doesn't consider how he'll reach that stand, and whether or not he'll spook them as he walk to his stand.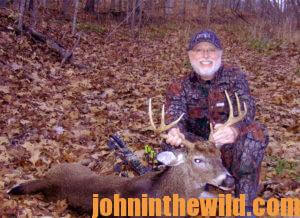 "Sometimes I'll locate great stand sites I'd love to hunt from but can't place tree stands at those sites because I realize that walking to or away from those stands may mean I'll spook the deer I hope to hunt," Crumley says. "The wind may carry my scent to the deer before I arrive at the stand, or, I may make so-much noise getting to the stand that these sounds will spook the deer.
When looking for an evening stand site, I make sure I won't spook the deer going to or coming away from the stand. I'll also place this stand further away from the bedding area and closer to the food source. Late in the afternoon, the deer will walk from its bedding site to where he plans to feed."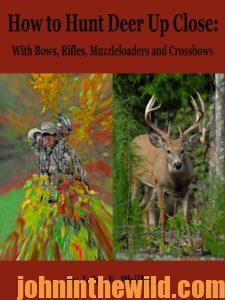 To learn more about hunting deer, check out John E. Phillips' book, available in Kindle, print and Audible versions, "How to Hunt Deer Up Close: With Bows, Rifles, Muzzleloaders and Crossbows" (http://amzn.to/11dJRu8).
Tomorrow: Locate Where Deer Feed for More Hunting Success