Editor's Note: Dove season starts soon, and nothing's more fun than tailgating with friends in a dove field to start your hunting season. You can wear masks and socially distance during this pandemic time while hunting doves.
To put a gobbler down quickly and efficiently, the most-consistently successful turkey hunters pattern their shotguns long before they see turkeys. However, most dove hunters never consider the benefits that can come from patterning their dove shotguns. So, use a sheet of newspaper or a large piece of cardboard, paint a red dot in the middle of it, place it 30-40 yards away, aim at the t
arget with No. 8 shot and squeeze the trigger. You'll probably learn why you're missing doves. To tune-up your dove shotgun, take about four different manufacturers' target loads, and see which one patterns best in your shotgun. If you're not getting a good pattern, you may want to consider the barrel or choke you're shooting. Many people like to use an improved cylinder choke or a light modified choke for early-season doves and a modified choke for late-season doves.
Another strategy that a successful turkey hunter often uses is a range finder to range the distance from where he's set-up to various landmarks in front of him. Then when a gobbler starts coming, he knows the distance the gobbler is before taking the shot. When you know how effective the shotshell you're shooting at 30 yards is, then you need to try to take your shots at 30 yards to get the best shooting pattern on doves. Use your range finder to determine where 30 yards is, and before the dove shoot begins, take sticks or weeds, and set them up at 30 yards from your stand all the way around your tree. Then you can start preparing to take the shot as the dove approaches and know when to mount your shotgun and shoot for the greatest chance to down the bird.
Another similarity in turkey hunting and dove hunting is that the turkey hunter doesn't want to move until just before he takes the shot – never when a turkey is looking at him. Many dove hunters start moving, standing up, jumping out from behind a tree or making some type of movement that will flare the dove when it's in range. If you're sitting, go ahead, and move your feet to face the dove when it's well away from you. If you're sitting on a dove stool, move or turn slowly. Then the dove won't see you when it's within gun range. When the time arrives to take your shot, bring the gun to the pocket of your shoulder, and shoot.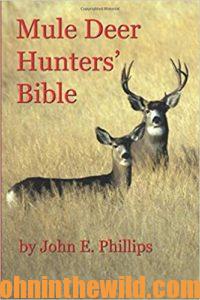 If you enjoy hunting all species of wild game, learn more by checking out John E. Phillips' book, "Mule Deer Hunters' Bible," available in Kindle, print and Audible at – https://amzn.to/2Kg62w5. You may have to copy and paste the clicks in your browser.