John's Note: Ronnie "Cuz" Strickland, the senior vice president of Mossy Oak/Haas Outdoors, Inc. www.mossyoak.com in charge of video and television production, has shot tournament archery and is a lifelong bowhunter. This week you'll learn how Strickland has passed on his hunting heritage to his children and grandchildren.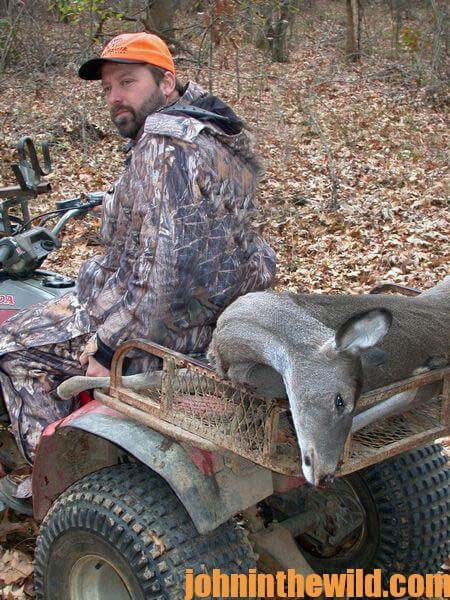 After my 6-year-old grandson Matt took a doe with his PSE Fang crossbow www.pse-archery.com, my son-in-law Richard and I went to the house, got a 4-wheeler and loaded the deer up. Then we took Matt and his deer back to the camp house where my wife, Miz Pam, and Matt's mother, Lauran, were waiting. I filmed Matt showing his first deer off to his mother and his grandmother, better known as Yaya. After I filmed the young hunter arriving back at camp with his deer, I told Matt, "Since this is your first deer, we have to put some blood on your face. That's what hunters always have done when another hunter takes his first deer." Matt wasn't really excited about having blood put on his face. So, I told him, "I'm going to put some blood on my face, so you can see what I'm going to do, and you can see what it looks like." Matt answered, "Okay." He already had black face paint on his face. So, I put a little bit of blood on his cheek. As soon as I put some blood on his cheek, he turned to his mother and grandmother and said, "Take my picture."
After all the pictures were taken, we took the deer back to the shed. Matt watched as I field dressed the doe. He was constantly saying, "Why are you doing that?" As I field dressed the deer, I explained why I did everything that I did. Then he watched as I took the hide off the deer and cut up the meat. The next day we fried some of Matt's deer in my shop. I never will forget what Matt said, "Pop, this is better than chicken nuggets." I knew that Matt understood everything about hunting from getting ready for the hunt, cooking the deer and eating the meat the deer provided for our family.
When my daughters started having children, I decided I wanted my grandchildren to know where meat came from and not the meat at the supermarket that was wrapped up in a package. I wanted them to understand that to have meat to eat someone had to take an animal's life, and that there was nothing wrong with that. I wanted them to know where meat came from, and the different steps the meat had to go through before you could eat it for dinner. I think anti-hunting people who eat meat are hypocrites. They don't mind someone else killing the meat they eat, but they don't want to take an animal's life to have meat to eat. I want my grandchildren to know what the meat they eat really is, how to harvest meat to eat, how good wild game is to eat, and how it's good for you. I was surprised at how mature and how accepting Matt was going through every step of being a hunter, harvesting an animal, preparing the animal for the table and then eating the meat that the animal provided.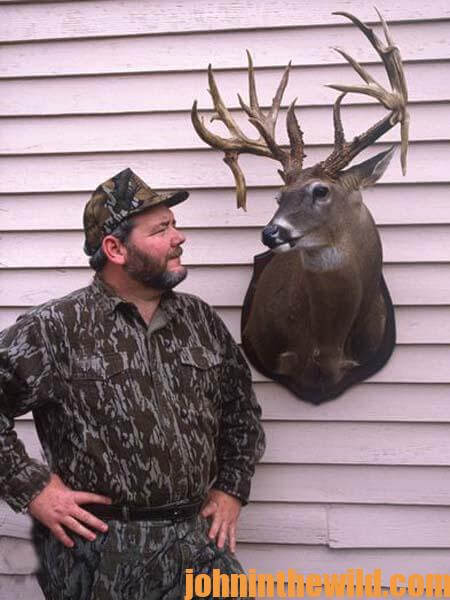 This hunt and this day was the greatest hunt I'd ever had in my life. It's a memory I will cherish forever. I'll never forget when Matt's dad, Richard Ellis, got to our blind. He pulled me off to the side and asked, "Did Matt really shoot that deer?" I said, "Absolutely. I was running the camera. He had his Fang bow sitting on the Fieldpod http://www.btibrands.com. I couldn't even reach him, even though he was only 2- to 3-feet away from me." With the pride that only a father can feel –or a grandfather – Matt's dad said, "I can't believe it!" I smiled and said, "Neither can I."
I think Matt's mother, Lauran, was more excited than anyone. She and I have hunted together ever since she was Matt's age. She's taken numbers of deer and turkeys. She totally understood the magic of the moment, when her son took his first deer. She wanted Matt exposed to the same type hunting experiences she had when she was growing up. Both of my daughters have taken plenty of turkeys and deer throughout their lives. They love living in the country, and they love the benefits they've received from being hunters. If I'm real honest, I guess what I'm most proud of is that not only did Matt take his first deer, but he took that deer during bow season with a crossbow.
To learn more about deer hunting, you can get John E. Phillips' Kindle eBooks, "How to Hunt and Take Big Buck Deer on Small Properties," (John's latest book), "How to Hunt Deer Up Close: With Bows, Rifles, Muzzleloaders and Crossbows," "PhD Whitetails: How to Hunt and Take the Smartest Deer on Any Property," "How to Take Monster Bucks," and "How to Hunt Deer Like a Pro," or to prepare venison, get "Deer & Fixings." Click here to get these books.
Share this page with a friend!
About the Author
John Phillips, winner of the 2012 Homer Circle Fishing Award for outstanding fishing writer by the American Sportfishing Association (ASA) and the Professional Outdoor Media Association (POMA), the 2008 Crossbow Communicator of the year and the 2007 Legendary Communicator chosen for induction into the National Fresh Water Hall of Fame, is a freelance writer (over 6,000 magazine articles for about 100 magazines and several thousand newspaper columns published), magazine editor, photographer for print media as well as industry catalogues (over 25,000 photos published), lecturer, outdoor consultant, marketing consultant, book author and daily internet content provider with an overview of the outdoors. Click here for more information and a list of all the books available from John E. Phillips.