Editor's Note: Roger Gant of Corinth, Mississippi, has fished Pickwick Lake on the Tennessee River for more than 40 years. Some fishermen haven't recognized Pickwick Lake, located on the Alabama/Tennessee/Mississippi border, as a crappie lake. However, Gant guides on Pickwick Lake more than 200 days a year and consistently catches good limits of slab crappie.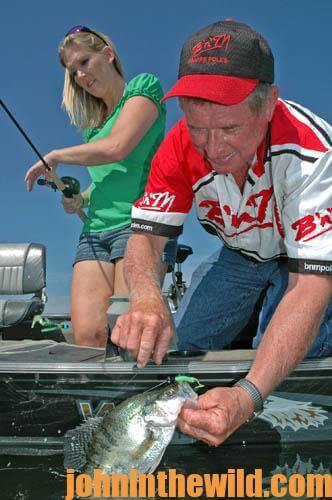 * Know where the crappie hold in the lakes you plan to fish at the time of year you plan to fish for them. Crappie will concentrate in different places at various times of the year under different weather and water conditions. By using your depth finder and locating a number of spots in the lake where crappie hold during every season of the year, you can pattern crappie and always know their location. For instance, to catch crappie in the summer, you must pinpoint areas with heavy structure where you can fish, regardless of the wind.
Also, locate crappie to fish for during the three distinct times of the day. For instance, if you fish in the summer, you need to locate areas with heavy cover in 12 to 14 feet of water where you can fish in the early morning. Next, look for places in 14 to 16 feet of water that you can fish in the mid-morning. Then, find places with heavy structure in 18 to 22 feet of water that you can fish in the middle of the day. So, you not only have to know where the crappie hold at certain times of the year, you must locate three different places to catch those crappie throughout the day. During the summer and spring, you'll find crappie in different locations throughout the day. In the winter months, you may find crappie in deep-water structure all day long.
* Recognize the fact that crappie that hold in different water depths bite at different times of the day. Therefore, if you plan to fish all day, you need to change the water depth that you fish as the crappie in the different depths begin to feed more actively. I don't believe that fish move. For instance, if you catch crappie for the first two hours after daylight, and those crappie stop biting, the crappie may not have moved to deeper water. I think those crappie may have quit feeding in that spot, just like after working outside all day, you come in and eat large amounts of food. But, you will slow down your eating as you begin to get full. Then you won't eat again for a while, no matter how much food someone brings to the table. I think crappie act the same way. To continue to catch fish after they stop biting, go to another spot that has similar structure at a deeper water depth. After 1:00 or 2:00 pm when you've caught the deepest-water fish, then fish for crappie in shallow water again.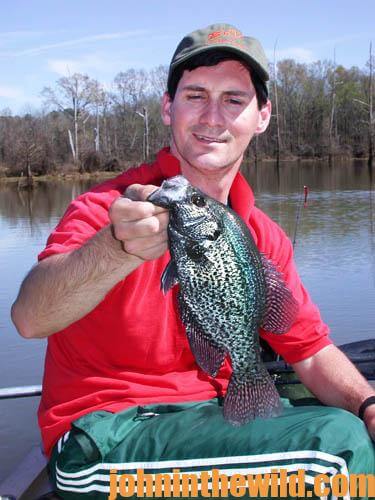 To learn more about crappie fishing with Roger Gant, call him at 731-689-5666 or 662-287-2017, or go to http://visitmississippi.org/events-and-points-of-interest/super-pro-guide-service-26669.
To learn much more about crappie fishing, get John E. Phillips' Kindle eBooks, and print and Audible books by going to http://johninthewild.com/books/#crappie or to www.barnesandnoble.com for Nook books. To receive and download for free "The Crappie Catchers' Cookbook," by John and Denise Phillips, go to http://johninthewild.com/free-books.
Tomorrow: Watch Your Speed and Fish with Different Colors of Jigs for Crappie with Roger Gant