Editor's Note: Some states still have open turkey seasons. Although my home state of Alabama's season has ended, I know you still can learn plenty of turkey savvy from my longtime friend, 81-year-old J. Wayne Fears of north Alabama, who can't remember a time when he hasn't hunted wild turkeys. He started guiding for turkeys in 1975 full-time until about 1985 and then has hunted them part-time ever since. He's hunted turkeys all over the U.S. and has battled some of the toughest longbeards in the nation. This week we're learning from him about what gobblers have taught him through the years.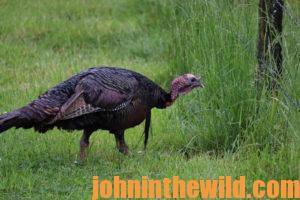 This hunt took place in the 1990s when I first went to Missouri hoping to take the biggest gobbler I'd  ever bagged. Back then, Missouri was known for having the heaviest and best gobbling eastern turkeys in the nation. Of course, I wanted to take one of those big, fat gobblers. At that time, none of the gobblers I had taken had weighed more than 21-22 pounds. When I was invited to Missouri, my host told me, "All of these birds will weigh 25-28 pounds, and you'll see the largest gobblers you've ever seen in your life."
During the first three or four days of the hunt, I called in gobblers every morning. Since every gobbler that I looked at appeared to weigh only 18 pounds, I decided that I wasn't going to shoot one of these little birds until the last day of the hunt. I thought, "The birds in Missouri aren't any bigger than the turkeys I hunt at home in Alabama." As you might expect, on the last day of the hunt, a cold front moved in, the wind started blowing, and the weather was miserable. My host told me, "We're going to sit in the truck until the weather gets better. It's too cold and windy to try and find a gobbler this morning." I explained, "This is my last day to hunt, so I'm going to go ahead and start hunting." I was comfortable since I knew the area where we'd been hunting.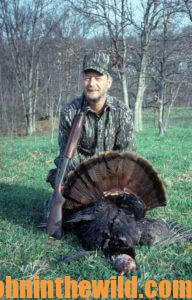 On a bad, windy day, I've learned that a turkey can't hear you call. But if you get down in some kind of hole, valley or drainage, the wind will blow over that spot, and the turkeys can hear you. I slipped off into an open valley with a lot of hardwoods and started calling. Above me, where I  set-up, the wind was blowing almost as hard as a tornado, but in that little valley, I could hear. When I started yelping, hens began cutting. Since I knew this bird was truly a Romeo, I started to call them, hoping they'd drag a gobbler by me. Sure enough, I could see the hens coming toward me. In the back of the flock, I spotted a longbeard gobbler. Unfortunately, this gobbler looked just like the size of the other gobblers I'd seen before. Soon enough, the gobbler was about 30-40 yards away from me. I looked him over really well and decided that this wasn't the gobbler that I came to Missouri to hunt.
When I quit calling, the hens and gobblers started slipping away from me. I called the hens again to get a better look at Romeo, and he still looked like he weighed 18-19 pounds. So, I let the hens and gobblers ease away from me, but decided to call them back for the third time. Finally, Romeo got close enough for me to see his spurs, and he had some of the longest spurs I ever had seen in my life. I told myself, "I don't care if you weigh only 5 pounds, Romeo, I want your spurs," and decided to take the shot. One of his furs was 1-½ inches long, and the other spur was 1-3/4 inches long. I realized that these were some the longest furs that I had ever taken from a turkey. I had never taken a turkey with a 12-inch beard, and when we put him on the scale, he weighed 28 pounds. This was the biggest and heaviest gobbler that I had ever taken in my life. As I carried my gobbler back to the truck where my hosts were sitting, listening to the radio, they couldn't believe that I had taken a turkey in the blowing wind.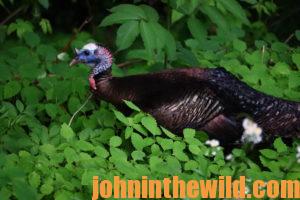 What I Learned from Romeo:
* Go ahead, and call to the hens, even when the gobblers aren't talking, but the hens are. Turkey season occurs when the gobblers are breeding hens. So, if you have an opportunity to call in a group of hens that are talking to you, even if you don't hear a gobbler, there may be a gobbler close by, if not moving with the hens. Romeo wouldn't gobble, but he went just about wherever the hens went. If I hadn't called the hens, I wouldn't have had the opportunity to harvest the biggest and best bird I'd ever taken.
* Don't let the weather stop you from turkey hunting. I had the worst hunting conditions on the last day, but since I hadn't tagged a bird yet and didn't have anything else to do, I went out in that bad weather and looked for a gobbler. My philosophy is to never sit in the truck. Also, look for a place to get out of the wind because that's where the turkeys will be – out of the wind.
* Remember you may not be able to tell the difference between a 28-pound gobbler and a 19-pound gobbler. I realized on the last day of the hunt that all the gobblers that I called in probably weighed 26-30 pounds.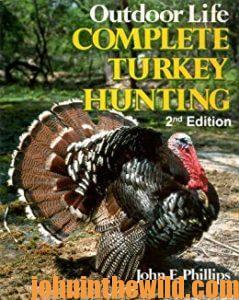 To learn more about turkey hunting, check out John E. Phillips's book, "Outdoor Life's Complete Turkey Hunting," at http://amzn.to/1fpP4Qu, and available in Kindle and print.
Tomorrow: Hunting the Captain Cook Turkey