Editor's Note: Using a black magic marker and a gray work jumpsuit, Jim Crumley of Buchanan, Virginia, drastically changed the nature and purpose of camouflage when he created the first sportsman's camouflage – Trebark. Crumley's idea that vertical patterns best represented objects in the forest and created an illusion of a tree stump or the trunk of a tree brought into being a new term, "sportsman's camouflage." Crumley has been in love with bowhunting deer all his life.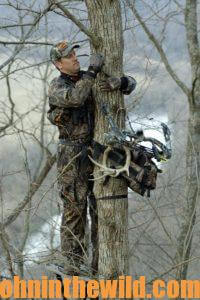 Climbing tree stands can be used when you know numbers of straight trees with no branches or little branches near the bottom of the tree are available. Poplars and pines are the best types of trees for using climbing tree stands. Climbing tree stands probably are more popular in the South than in the Midwest and the North due to more pines being in the South. But they also are effective in birch and poplar forests. When you're choosing a tree stand that's best for you, first look at the terrain you have to hunt.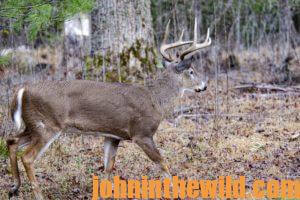 One of the problems associated with a climbing stand is the noise hunters tend to make with them, which is far-more noise than they do with ladder stands, permanent stands or hanging stands they have put up days or weeks before they hunt. To use a climbing stand effectively, allow 15 to 30 minutes more to go up your tree slowly and quietly, and let the woods forget you're there. Also try to set-up farther away from the area where you think the deer may go to or come from with a climbing stand than you will if you're hunting with a ladder stand, a hanging stand or a permanent stand. Then you won't spook the buck as he moves to the region you're hunting. I want to make sure the deer's out of hearing when I start going up the tree. I may go up a tree an hour before daylight with a climbing stand and hope not to see the deer until 8:00 a.m. to be certain I'm not spooking the deer with my stand.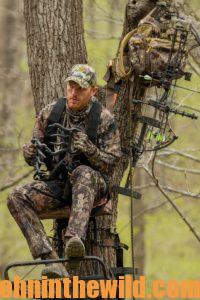 A good rule of thumb is the noisier the stand, the farther away from the deer you should set-up and the later in the morning you should expect to see deer. The more quiet the stand, the closer you can hunt to the deer, and the earlier you can expect to get a shot in the morning. But another major mistake many hunters make is to place their stands so close to where they expect the deer to come that the deer pass by their stands while there's too-little available light for them to shoot. Set-up your tree stand in a region far enough away from where you think the deer will come to enable you to get a shot during daylight hours. Having a shot in daylight hours is not only a morning-stand problem but also an evening-stand problem. If you place a tree stand on the edge of a field the deer are coming to and hunt that field in the afternoon, the deer may not show-up, until there's too little light to shoot. Instead of putting your stand on the edge of the field, set-up 200-300 yards down a trail the deer will utilize to move to the field. Then you'll have an opportunity to see and take the deer while enough light is present to shoot.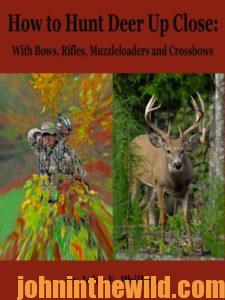 To learn more about hunting deer, check out John E. Phillips' book, available in Kindle, print and Audible versions, "How to Hunt Deer Up Close: With Bows, Rifles, Muzzleloaders and Crossbows" at http://amzn.to/11dJRu8. You may have to copy and paste this link into your browser. (When you click on this book, notice on the left where Amazon says you can read 10% of the book for free, and you can listen to 10% for free). On the right side of the page and below the offer for a free Audible trial, you can click on Buy the Audible book. To see more of John's bowhunting books, visit www.amazon.com/author/johnephillips.
Tomorrow: Jim Crumley – Tripod Deer Stands