John's Note: Sonny Schindler and the other captains who work for Shore Thing Charters (http://www.shorethingcharters.com/, 228-342-2206) have developed some of the most-successful summer tactics for catching speckled trout and redfish on the Upper Gulf of Mexico coast. These captains fish out of Bay St. Louis, Mississippi, and guide in both Mississippi and Louisiana waters. We've asked Schindler to give his best tactics and techniques for catching speckled trout, redfish and other species in warm weather.
Question: Captain Sonny, you talk a lot about fishing a jig and popping cork for specks and reds over reefs and grass. Walk us through the retrieve, so we know exactly what you're doing.
Captain Sonny: If you're fishing open water instead of reefs that you can see or reefs that are above the surface, you want to look for bait fish flipping on the surface of the water and oil slicks. The oil slicks are created by speckled trout and redfish feeding heavily on bait fish. As they kill and eat the bait fish, the bait fish give off oil that rises to the surface and creates a slick spot. Those slicks also have a very distinctive smell to them. So, if you spot bait fish or the slicks, you try to cast to those types of open water targets. If you don't have a target to cast to, use a technique we call pop, stop and reel. You cast the jig out under a popping cork. After the cork hits the water and stands up straight, you pop the cork, causing it to spit water. Next, you let the cork sit still in the water. You reel it about a foot or two, stop the cork, let it sit still and then pop it again. Then you repeat that same action until your cork and your jig get back to the boat.
Again, our objective is to catch as many fish as we legally can catch, when we find a school, and the fish start biting. Once one of our anglers catches a fish and starts reeling the fish in, we want the other anglers to cast close to the spot where the fish has been caught and start retrieving their lures, since speckled trout and redfish usually move in schools. When you locate one speck or red, often you'll find many more trout and reds.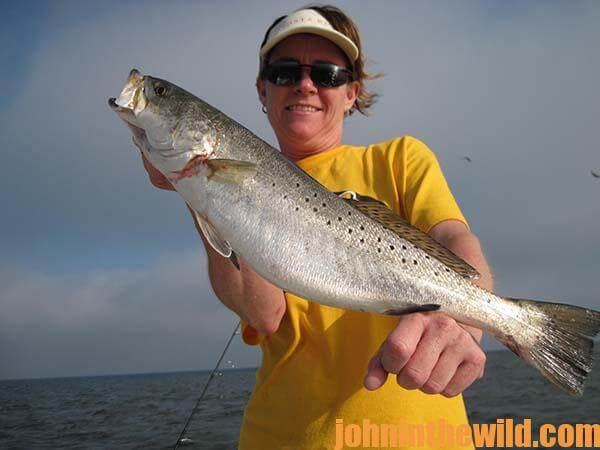 We don't practice courtesy when the fish start biting. Everyone in the boat starts casting to the spot where the first fisherman has caught the first fish. We believe in the philosophy that says, "Fish where the fish are, not where the fish are not." If the bite from that school of trout slows down or stops, all our anglers start casting in different directions and hopefully locate another school of trout nearby that we can catch. If no one catches a fish, in a few minutes, we'll move the boat and try another area.
Question: Captain Sonny, we know speckled trout and redfish often school together. So far, the tactics we've talked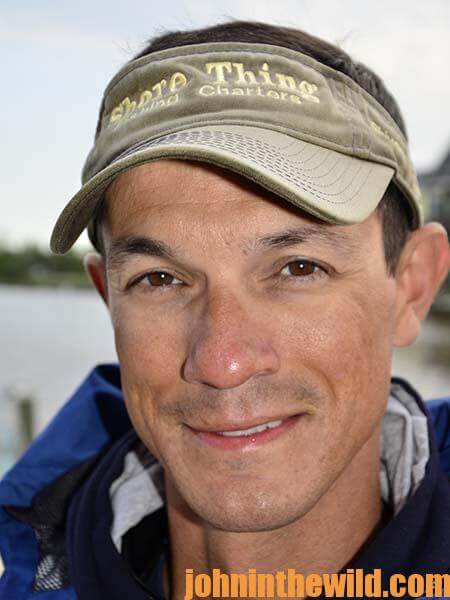 about primarily are designed to catch speckled trout. What kind of areas do you move to once your party catches its legal limit of trout and decides that they're tired of catching and releasing speckled trout and prefer to target redfish?
Captain Sonny: During the summer months with their high tides, when we decide to shift gears from primarily targeting trout to trying to catch redfish, we'll move to areas where we find broken grass beds. We'll keep the same popping cork and jig rig for redfish that we've used for speckled trout.
However, when we start targeting redfish, we tip the hook on the jig with a piece of fresh dead shrimp. Or, we take the soft plastic off the jig and hook a live finger mullet through the lips with the jig hook. We cast to the bank or to the edge of the grass and keep moving until we find a school of redfish. Often, we'll catch a redfish as we move down the broken grass banks, or we may get into a little bay that may be loaded with redfish. Then our fishermen can catch as many as they want to reel in, but they have to release all fish but their legal limits.
Casting and retrieving a Strike King Redfish Magic spinner bait is another productive tactic. We'll cast these spinner baits into any pocket, bay, drainage, point, isolated grass or any abnormality we spot along the edge of the grass or the edge of the bank. Too, a weedless spoon is a good choice to fish for redfish. On a clear day, with the water really clear, you often can see redfish cruising the bank. We cast to them with only a grub tipped with fresh dead shrimp, a top-water lure, a spinner bait or a weedless spoon.
Sometimes the redfish will be feeding in only 6 inches of water, and their backs and tails will be out of the water. On other days, they may be in a foot or two of water. These redfish are usually within the slot that anglers can catch, keep and eat. But occasionally, we'll find a herd of big bull redfish that will come along the bank and take any bait that we cast to them. They really create a riot with our fishermen trying to stop the fish, reeling the big bulls in and staying out of each other's way, but that's a fun problem to have.
Check out this video for more information from Captain Sonny Schindler:
To learn more and get John and Denise Phillips' eBooks and print books "The Best Wild Game & Seafood Cookbook Ever: 350 Southern Recipes for Deer, Turkey, Fish, Seafood, Small Game and Birds" and "Fishing Mississippi's Gulf Coast and Visitor's Guide." Click here to get these books.
About the Author
John Phillips, winner of the 2012 Homer Circle Fishing Award for outstanding fishing writer by the American Sportfishing Association (ASA) and the Professional Outdoor Media Association (POMA), the 2008 Crossbow Communicator of the year and the 2007 Legendary Communicator chosen for induction into the National Fresh Water Hall of Fame, is a freelance writer (over 6,000 magazine articles for about 100 magazines and several thousand newspaper columns published), magazine editor, photographer for print media as well as industry catalogues (over 25,000 photos published), lecturer, outdoor consultant, marketing consultant, book author and daily internet content provider with an overview of the outdoors.