John's Note: Doug Shipp from Jachin, Alabama, has been turkey hunting for more than 40 years and has been a turkey-hunting guide at Bent Creek Lodge (www.bentcreeklodge.com) since 1987.
One mistake I think most turkey hunters make is knowing when to call and when not to call. I make that decision based on how the tom's gobbling. If he's calling loudly and aggressively, then I'll call back to him the same way. If he's gobbling softly and intermittently, I'll call back to him like that. One of the calls that I think many turkey hunters overlook is the sounds they make while walking in the woods. One time my hunters and I were walking in the woods, stopping slowly and frequently, when we heard a turkey gobble. We sat down right where we were, and I never called to that bird. I'm convinced that gobbler thought we were hens walking in the woods, and that's why he gobbled to us.
When we sat down, I told my hunter, "That turkey is out in the green field in front of us. There's a thicket in front of the green field, and the only way to get that turkey to come to us is if we can get him to walk around that thicket. So, watch both sides of that thicket carefully to spot him in time to get your gun up and make whatever adjustments you need to do. You should be able to take him." Although I thought I knew what the turkey should do, instead of walking around the thicket, the turkey took to the air, flew over the thicket and landed 18 steps from my hunter. I whispered to my hunter to shoot, but he was locked-up. He told me in a whisper, "The turkey's too far away from me." But I said, "No, that gobbler's in killing distance. Go ahead, and take the shot." Once more my hunter insisted, "That turkey's too far away from me." I replied, "No, he's not. Go ahead, and take the shot." However, then the gobbler putted and walked off.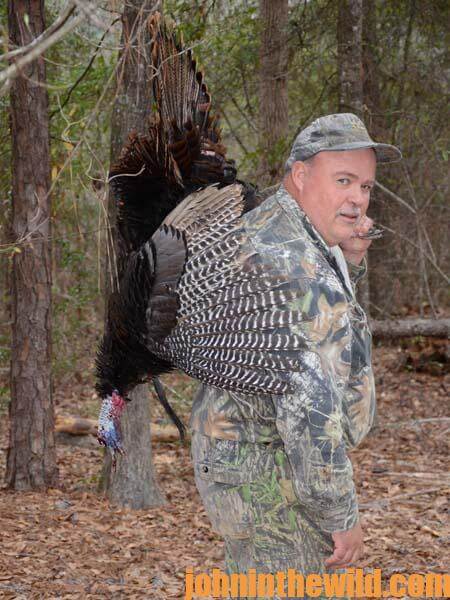 After I was certain the tom had left the area, I asked my hunter to get up and pace off the distance from he was sitting to where the turkey was standing when I told my hunter to shoot. As I watched my hunter step off the yardage from where the turkey had been, he stopped and turned back to me and said, "18 steps." When I asked what he wanted me to do, my hunter smiled like a cat with the canary feathers caught in its mouth, and said, "Let's go back to the lodge." Sometimes hunters think they can judge distance in the woods better than their guides can. Also I think the fear of missing causes some hunters not to shoot when I tell them to take their shots. But usually I'll have a problem like this only once or twice a year.
Doug Shipp – "The Great Turkey Race:" https://youtu.be/VRanT40Zgqg
To get John's book, "The Turkey Gobbler Getter Manual," for free, go to www.johninthewild.com/free-books to download.
To learn more about turkey hunting from the masters, get these Kindle eBooks and print books by John E. Phillips, including: "The Turkey Hunter's Bible (available as an eBook or in paperback)," "PhD Gobblers: How to Hunt the Smartest Turkeys in the World," "Turkey Hunting Tactics," "How to Hunt Turkeys with World Champion Preston Pittman," "The 10 Sins of Turkey Hunting with Preston Pittman" and "Outdoor Life's Complete Turkey Hunting." Click here to get these books.
Next: Other Turkey Hunting Problems with Guide Doug Shipp