Editor's Note: After seeing thousands of new product items, this past year in 2017, I've selected some of the most beneficial and most interesting with the best price points. This week you'll find camping and emergency gear, boots, raingear, vocations you can learn from home, electronics, food-preparation aids, knives, lights and transportation to name a few.
Camping Products and Emergency Gear: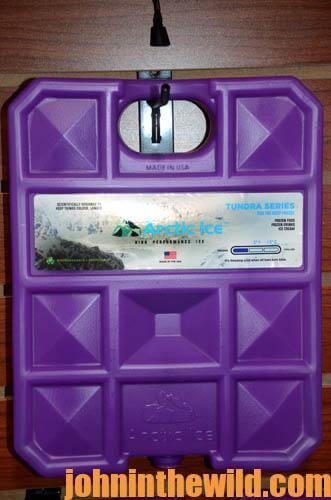 1) Artic Ice – Outdoorsmen and campers often need to keep products cold when afield or where there's no electricity. This ice replacement substitute that's plant oil derived comes in three different styles: the Tundra Series, essentially like dry ice, keeps items frozen as though in a deep freeze, including ice cream for 3 days in 80 degree temperatures; the Chillin' Brew preserves beer, sodas and drinks in bottles or cans to stay cold; and the Alaskan Series retains coldness for lunch meat, cheese, eggs and similar products for 4 days. After freezing this ice substitute, products will remain cold and at even temperatures. The amount of time food can remain cold and/or frozen, depends on the size of your cooler, and how you've stored the products there. http://www.arctic-ice.com/.
2) Camp Chef Stoves – The new Pro Series Stoves from Camp Chef go wherever you do. With cast aluminum 30,000 BTU burners, matchless ignition and a three-sided windscreen, these stoves feature easy outdoors cooking. You can create culinary masterpieces on the creekbank and at primitive camping spots or use the stove as extra burners outdoors with all the mix-and-match 14-inch accessories. Two folding side shelves give you extra room for utensils and prep work, while built-in leg levelers make standing your stove on uneven ground easy. The stove too is ready to use out of the box. You can choose from the two-burner stove with a 24"x 32" cooking grate or a three-burner stove with a 16" x 38" cooking grate. http://www.campchef.com/.
3) Campfire Defender Kit – Campers and outdoorsmen all need and use fire. This kit is designed for safety and can be placed over a campfire in inclement weather or at bedtime. Made from a military grade highly durable fabric that endures temperatures in excess of 2,500 degrees F, the Campfire Defender won't allow fire embers to escape. The pinwheel vent on the cover allows for air flow control that extends the life of coals and keeps them dry for up to 8 hours to start a new fire. https://campfiredefender.com/.
4) Dark Angel Medical Kits – Whenever you're far from medical help, you'll find these kits will give you peace of mind. Made in the USA, simple and compact, these kits include the D.A.R.K. Trauma Kit with bandages, nasal airway, Mylar blanket and other products. The Elite First Aid Military Individual First Aid Kit is in a backpack with QuickClot gauze, tape and scissors, and the Complete Kit weighs only 15.7 ounces and features tourniquets, shears, QuickClot gauze, gloves, etc. http://darkangelmedical.com.
5) Thermacell Backpacker Mosquito Repeller – Put the hurt on mosquitoes, blackflies and no-see-ums this turkey, spring fishing and gardening seasons with this brand-new product from ThermaCell, a company with proven reliability in repelling flying insects. The lightweight, compact backpack unit produces up to 80 hours of repellent from a small, 4-ounce gas canister and gives a 15-foot halo of protection. The mats containing the repellent will produce a natural odor for about 4 hours of protection before they have to be replaced. (https://www.thermacell.com/).
6) Uco Storm Proof Matches – This new type of waterproof matches goes one step further than others. The longest match burns for 25 seconds and others for 15 seconds and 12 seconds. These matches make a chemical burn and don't require oxygen to burn. You can dunk these matches while burning in water, stomp on them, bury them in the ground and allow wind and snow to hit them, but they'll continue to burn. These inexpensive sets come with various sizes of the storm proof matches along with striking pads and pre-soaked cotton to help your fire get going quicker. Each kit is in a waterproof container. www.ucogear.com.
7) Yeti's Rambler Jug and the Hopper Flip 12 Cooler – Offered in half-gallon and gallon sizes, the Rambler Jug is constructed of kitchen-grade stainless steel and features a double-wall vacuum insulation for ultimate ice or heat retention. This durable product that's puncture-and-rust resistant and won't retain odor will keep your food or drinks extremely hot or very cold for a long time. You can use this jug for ice water, hot coffee, soup, stew and other foods. When you take off the cap with its 1-inch insulation from the Rambler Jug, a magnet on the lid holds the cap in place to keep you from dropping or losing it. You can mount the jug too in vehicles or on the side of a tree. The leakproof cooler is smaller and lighter than the original Hopper. Made from abrasion-and-puncture resistant material, it features the same type 100% leakproof zipper found in a hazmat suit. www.yeti.com.
Clothing: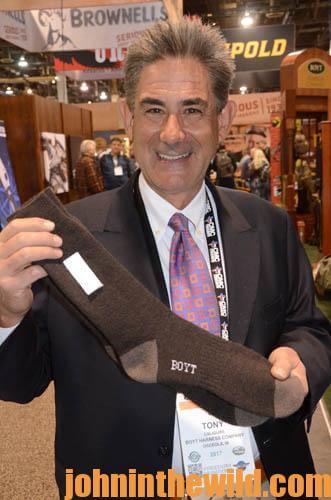 1) Boyt Harness' High Country Merino Wool Socks – These socks eliminate one of a hunter, a rancher and a farmer's worst nightmares – cold feet. The socks last a lifetime and incorporate some of the newest technology of the sockmaker's craft with bamboo in them to make them soft and comfortable. They feature mohair too on their insides for additional insulation and loft value. Since these products are made from very high micron wool sheared from high country sheep in South Africa, there's no itching or allergy issues. The bamboo keeps the loft in the wool, and you'll feel like you're putting on a new pair of socks every time you wear them. https://boytharness.com/.
2) Browning's Hell's Canyon Clothing – This clothing provides advanced scent control, with    several new products being introduced in Mossy Oak's Break-Up Country and Open Country camos. Available in a base layer, insulating layers and outerwear, Hell's Canyon clothing is waterproof and windproof and is designed for both men and women. A new pack rainsuit is available too. www.browning.com.
3) Compass 360 Gear Raingear and Waders – Lightweight raingear and wading gear for backpackers, anglers and duck hunters and farmers and ranchers in muddy fields are now available. The Ultra-Pak Storm Pattern weighs only 7 ounces and is 100% waterproof and breathable, while packing into its own pocket, to ready you for unexpected rains. The Ultra Hardcore Waders in a 3.5 millimeter Neoprene are insulated, ultra-lightweight, waterproof, breathable waders with a 1600 lightweight boot and a removable boot liner for extra protection.  www.compass360gear.com.
4) Hothands – HotHands offer the solution for cold weather, cold hands, cold feet and cold all over and have introduced a Mossy Oak camo-printed pouch to hold the handwarmers. Ideal for hunting, outdoor sport games, working around the farm or ranch or anywhere you'll be out in the weather and need warmth for your hands, these HotHands produce heat for up to 10 hours, after taking them out of their pouch and waiting 10-15 minutes for activation. HotHands also offers adhesive body warmers that produce up to 12 hours of heat wherever you place them on your clothing. www.hothands.com.
5) L.L. Bean's Maine Guide Jak Shirt with Primaloft and Signature Waxed Vest and Jacket – "This Maine Guide jak shirt with two breast pockets and two hand pockets has been a customer favorite for many years," Matt Bickford explains. "L.L. Bean added a front zipper and a PrimaLoft package to the shirt to make the jacket easier to put on and much warmer, besides a neck pad to keep the wool collar from rubbing against your neck. The company also if offering a waxed canvas down vest and jacket for men and women to wear around the farm or ranch." www.llbean.com
6) Signature Products Group's Browning's Buck Shadow Hunting Boots – Available in three insulation options – uninsulated, 400 gram Thinsulate and 800 gram Thinsulate – these boots feature a waterproof membrane that's highly breathable and is reliable and comfortable. The injected midsole has a long lasting underfoot cushion with rebound and superior collapse resistance, as well as an integrated external shank that helps keep the boot steadier and more stable over rough terrain. www.spgoutdoors.com.
To learn more about a wide variety of outdoor subjects, including hunting, fishing and cooking, go to www.amazon.com/author/johnephillips.
Tomorrow: New Outdoor Products in Education and Electronics