After trying to catch crappie one night for more than 7 hours, at first when my line twitched, I thought a minnow had run into it or a bug had hit it. But as that line swam off, I reached for the rod, reeled and felt a heavy fish at the other end of the line. Immediately after boating the 1-1/2-pound crappie, I spotted the line on another rod moving, signifying that a crappie had taken my minnow and was swimming away with it. "I've got one, too," my friend Joe yelled, excitedly, as he reeled one rod and reached to grab the other rod and set the hook. We soon were bringing crappie into the boat so quickly, and the bites were occurring so fast, that we didn't have the opportunity to bait up but one rod at a time. This tremendous catching made both of us cocky.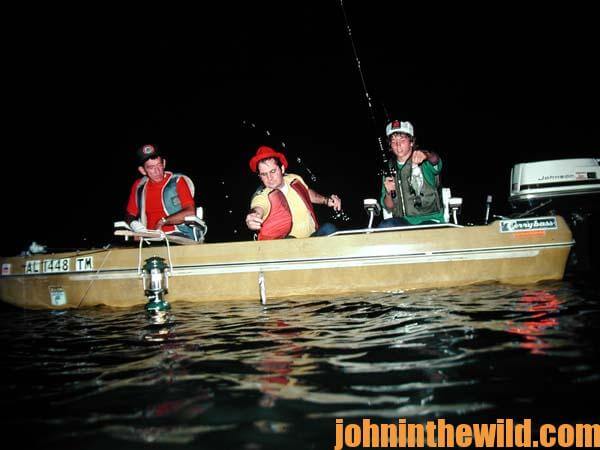 "I've got a crappie already," Joe said, "But I'm going to let it stay down there long enough to catch another one on that same hook. Then I can pull in two crappie at once, and I won't have to bait up but one time." And unbelievably, Joe was right. When he reeled his line in, he had one crappie that weighed about 1/2-pound and another fish about 1-1/4-pounds. However, I didn't have long to check out Joe's catch, because I was frantically reeling in a fish of my own. The bites were coming so frequently, and the fishing was so good that we left the lid to the livewell open as we baited up, caught papermouths and heard them splash as they hit the water. It seemed as though the crappie never would stop biting.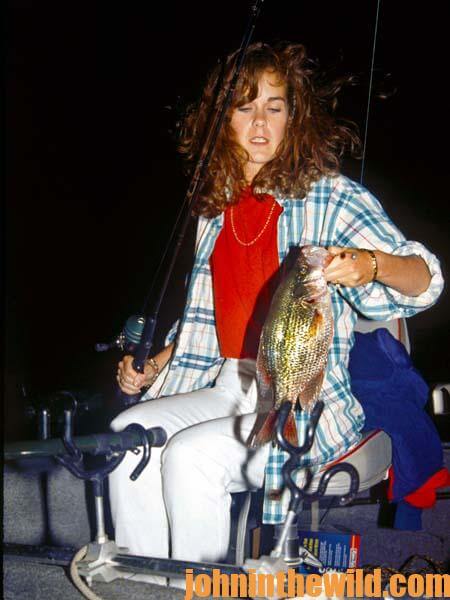 Occasionally we caught a slab-size crappie, weighing between 1-3/4-pounds and 2 pounds. But we didn't stop long to admire our catch. We were almost an assembly line of taking crappie. Our pace was, "Reel them up, take them off, throw them in the livewell, rebait, and let the lines back down."
I knew we were taking a large number of fish when I threw a crappie into the livewell and didn't hear the usual splash of the fish hitting the water – just the dull thud of one fish crashing into another. As I tried to dip more minnows, I became aware that the minnows were in short supply with only two left in the bucket. Luckily when I brought the next two crappie to the surface, I found that one of the minnows was not absolutely dead. So, instead of lip hooking the minnow as I normally would, I hooked the minnow through the tail. This time when I lowered the bait down, I jiggled it up to give it a lifelike appearance. Once again I caught another crappie on that wilted minnow. I was successful in utilizing that same baitfish to catch five crappie.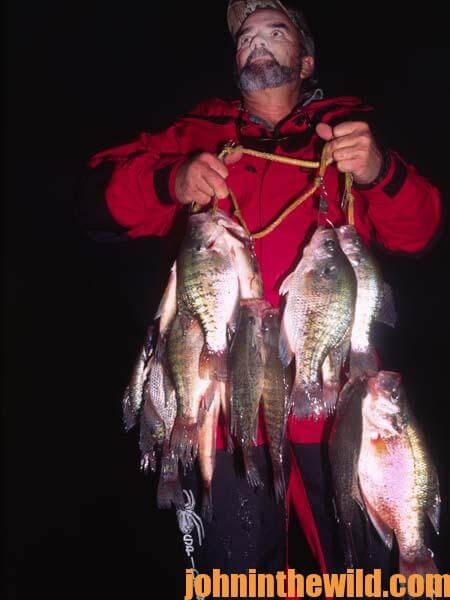 But then I was out of bait. However, as luck would have it, I dug through my tackle box. Sure enough, down deep in the bottom, I uncovered four crappie jigs. I gave one to Joe and kept the other three for myself. Before the sun started to rise, we continued to catch crappie every time we let the jigs down. But like Cinderella who went back to her rags at the stroke of midnight, once the sun came up, the crappie catching vanished. Yet I had caught more crappie than at any time in my life and had more fun than I believed possible. With a big grin, I looked at Joe and stated, "I knew all along we'd catch a bunch of crappie." Then we both sat and laughed loudly and hard at my obvious lie.
To learn much more about crappie fishing, get John E. Phillips' Kindle eBooks and some print books, "Crappie: How to Catch Them Fall & Winter," "Crappie: How to Catch Them Spring and Summer," "Catch Cold Water Crappie Now" and "Catch Crappie All Year: Fishing a Single Pole, Using No Boat and Farming Crappie" by clicking here. To receive for free the "Crappie Catchers' Cookbook," by John and Denise Phillips that offers free recipes, click here.
Next: Learn to Fish the Right Place and Use Lights to Catch Crappie at Night