John's Note: Ronnie "Cuz" Strickland, the senior vice president of Mossy Oak/Haas Outdoors, Inc. www.mossyoak.com in charge of video and television production, has shot tournament archery and is a lifelong bowhunter. This week you'll learn how Strickland has passed on his hunting heritage to his children and grandchildren.
I know everyone has his or her own opinion about the crossbow. This crossbow – the PSE Fang http://pse-archery.com/c/crossbows_fang-crossbow – is designed to have an effective range of 30 yards. That's about the range that I want my grandchildren to learn to shoot when they're big enough and strong enough to pull compound bows. The crossbow allows me to teach them about arrow flight, broadheads, sight picture and hunting safety, at a very young age. I think the Fang crossbow is an excellent starting bow for a youngster who's not big enough and strong enough to pull a 30-pound or a 50-pound compound bow.
I wanted to start my grandchildren hunting at an early age – preferably at 6-years old – to learn to shoot. I wanted them to have plenty of targets once they learned to shoot. I decided that the first time my 6-year-old grandson Matt and I went hunting, we'd go on a practice run. I'd set-up the crossbow, put an arrow with a broadhead in the crossbow, take the Fieldpod http://www.btibrands.com/product/magnum-deadshot-fieldpod (see Day 1) and let him experience a hunt without firing the crossbow. I believe a practice hunt is the best way for a youngster to learn what will happen when he or she goes deer hunting, what he'll see, and what he'll need to do before he ever takes a shot.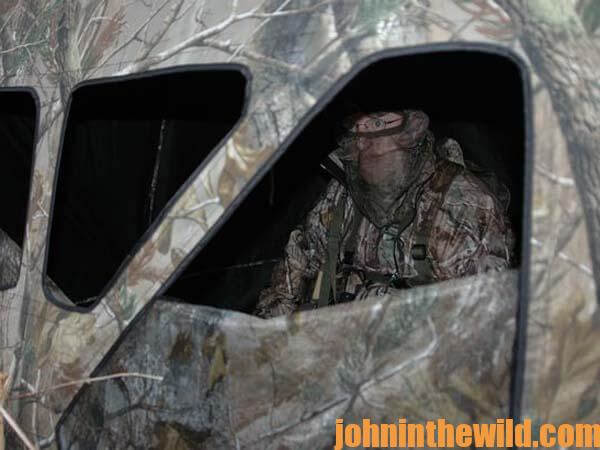 I had set out portable pop-up deer blinds 3 or 4 weeks before Matt's and my hunt. I also had trail cameras on each one of my food plots to learn which food plot was attracting the most deer. Then Matt and I would know which food plot to hunt on his practice hunt. I have small food plots that are from 1/4- to 1/2-acre in circumference, bordered by thick cover to allow the deer to step out of the thick cover and come out on the food plot to feed. I plant all my food plots in Mossy Oak BioLogic Green Patch Plus www.plantbiologic.com. I've seen a lot of does in these food plots but no big bucks. Because we were hunting in early October when the weather in Mississippi was hot, the big bucks didn't have to come out on food plots to feed. Since my property was surrounded by soybean fields, I knew the bigger bucks would stay out in the soybean fields and feed until the crops were cut. I also set-up my green fields, so that the grandchildren shouldn't have more than a 20-yard shot to take a deer.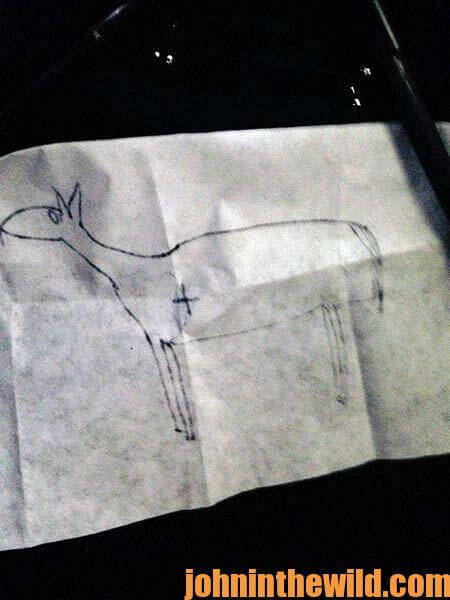 On the last afternoon that Matt came over to the farm to practice with his crossbow, after the sixth shot, he looked up at me with a big smile on his face and announced, "Pop, I'm ready to go hunting." I said, "Okay, let's go." The time was 4:00 pm. I loaded all the stuff we needed, took my little video camera, Matt's Fieldpod and the Fang, and we went to the woods. I also took Matt's drawing of the deer with the X on it to show him where to shoot. Then, as he practiced, he could look at the drawing, look through his scope and put the appropriate lighted dot on the deer he wanted to take. To be honest, I wasn't real sure that Matt and I could pull off a practice hunt. After all, he only was 6-years old.
When we arrived at the blind, I set everything up and took Matt's drawing of the deer and taped it to the blind right in front of him. The first deer to step out on the green field was a yearling doe with no fawns. I whispered, "Matt, before I think about shooting, I like to watch the deer for a while, especially the does, to make sure they don't have fawns with them." As I watched Matt, he'd sight in his crossbow on the doe in the field. Next he'd look back at his picture and study it. Then, he'd look through the scope again. Finally, Matt whispered, "Pop, if that deer will move a little bit to the right, I can shoot it."
To learn more about deer hunting, you can get John E. Phillips' Kindle eBooks, "How to Hunt and Take Big Buck Deer on Small Properties," (John's latest book), "How to Hunt Deer Up Close: With Bows, Rifles, Muzzleloaders and Crossbows," "PhD Whitetails: How to Hunt and Take the Smartest Deer on Any Property," "How to Take Monster Bucks," and "How to Hunt Deer Like a Pro," or to prepare venison, get "Deer & Fixings." Click here to get these books.
Share this page with a friend!
About the Author
John Phillips, winner of the 2012 Homer Circle Fishing Award for outstanding fishing writer by the American Sportfishing Association (ASA) and the Professional Outdoor Media Association (POMA), the 2008 Crossbow Communicator of the year and the 2007 Legendary Communicator chosen for induction into the National Fresh Water Hall of Fame, is a freelance writer (over 6,000 magazine articles for about 100 magazines and several thousand newspaper columns published), magazine editor, photographer for print media as well as industry catalogues (over 25,000 photos published), lecturer, outdoor consultant, marketing consultant, book author and daily internet content provider with an overview of the outdoors. Click here for more information and a list of all the books available from John E. Phillips.