Editor's Note: In 2014, Randy Howell of Guntersville, Alabama, stunned the bass-fishing world by winning the Bassmaster Classic in what many knew to be a community fishing hole on Lake Guntersville. Today 47-year-old Howell has accumulated 45, top-10 finishes and more than $2.3 million in his career, including his Bassmaster, Major League Fishing and FLW winnings. Howell has been a tournament fisherman since 1993, and for the last four years he's lived at Lake Guntersville. Today he fishes the Major League Fishing circuit.
* Electronics:
Your electronics can play a major role in not only your finding suspended bass, but being able to observe them while you're fishing for them. I've been fishing with Lowrance electronics (https://www.lowrance.com/) during my entire bass-fishing career. Lowrance features LiveSight that enables me to rotate the transducer on my trolling motor to see fish and structure all the way around my boat. I not only can watch schools of bass out in front of my boat, but schools to the left, the right and the rear of my boat too. Also, LiveSight allows me to see when bass are moving and feeding or holding and not feeding. So, the LiveSight not only helps me locate schools of fish. It also lets me determine if the bass are actively feeding or not.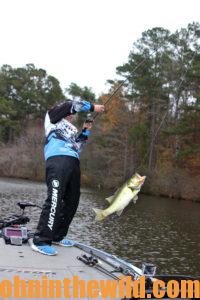 * Lures:
If I can't get the bass to come to the surface and take my Walking Boss lure, I'll use a Yamamoto Shad (https://www.baits.com/) and follow-up with a soft-plastic jerkbait that sinks fast with no weight because it's got a lot of salt in it. Also, because of the weight of the bait, I can cast it a long way. I'll just twitch it along at the depth where I see the bass holding. I like either pearl-white or disco-green colors, which are productive colors for clear water. If the bass are still breaking on the surface, I'll skip that lure along the surface to make the fish chase it and eat it. But if the bass aren't breaking on the surface, I'll let the Yamomoto Shad fall for either a 5 or a 10 count, depending on the depth of water I see the fish holding in on my depth finder. I mainly want the lure to get out of sight. Then I'll start a slow twitch, twitch, twitch, fall type of retrieve, making the lure look like it's a fluttering or dying bait fish. That way I can make the bass bite when they aren't feeding on the surface. With my Lowrance LiveSight, I can see my Yamamoto Shad and its relationship to the bass and how the bass are reacting to it. I enjoy being able to see a bass break off from the school and start tracking my lure. The bass will look like a comet in the sky.
If I see the bass following this lure, but they won't take it, the next lure I'll use is a Livingston jerkbait (https://www.livingstonlures.com/products/), a very-slow-sinking jerkbait. I'll keep it moving, so that it appears to be swimming erratically. I can let that jerkbait sink down to the water depth where those suspended bass are holding. But I like to keep jerking the lure rather than allowing it to sit still or fall as I reach the depth to fire-up the school and make them start feeding more actively. I like the Ayu color, which works well in clear water, and in more-stained water, I prefer the Beauty Shad.
* Rod, Reel, and Line:
I believe having the correct rod, reel, and line for each lure is critically important to catch these suspended bass. For the surface lure, I like to fish with the Daiwa Tatula Elite Signature Series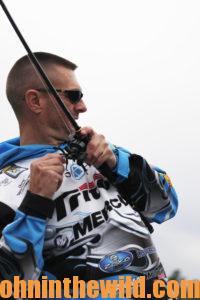 (https://www.daiwa.com/us/contents/rods/tatula_elite/index.html) Randy Howell 7-foot, 4-inch rod and a big, top-water swimbait. I designed this rod to throw big top-water lures and heavy swimbaits a long way. That's why you need a long rod, and this rod has a short handle on it. You can work your lure by holding the rod close to your chest.
I use Daiwa 50 pound test J-Braid line (https://www.daiwa.com/us/contents/line/j_braid/index.html) that enables me to make super-long casts. Because the braid doesn't have any stretch, I can get faster and more-solid hook sets with the J-Braid line than I can with any other type of line. My reel is the Daiwa Tatula Elite 8.1 reel (https://www.daiwa.com/us/contents/reels/tatulaelite1/index.html) for my top-water bait. This reel allows me to keep my top-water lure moving fast and take-up the slack in the line quickly. When I'm fishing a soft-plastic jerkbait, I'll be using the same reel, but my line will be 12-pound-test GAMMA Edge Fluorocarbon (https://gammafishing.com/products/fluorocarbon-edge-bulk-spool) with a Daiwa Tatula Elite Brent Ehrler rod. This rod is a 7-foot, 3-inch medium-heavy rod that's stiffer than my 7-foot, 4-inch rod and has more backbone to help you set the hook better. When I'm fishing the jerkbait, I'm using a 7-foot, 3-inch medium-light Daiwa Tatula Elite Randy Howell shallow crankbait and jerkbait rod and a Tatula Elite reel with a slower 7.1 gear ratio. I prefer a little slower retrieve when I'm fishing the jerkbait than I do when I'm fishing some other techniques.  I'll also be using 10- pound-test GAMMA fluorocarbon line when I'm fishing a jerkbait.
To learn more about catching bass, check out John E. Phillips' book, "How to Win a Bass Tournament: Personal Lessons from 8 Pro Bass Fishermen" at http://amzn.to/Wkbyxk, and available in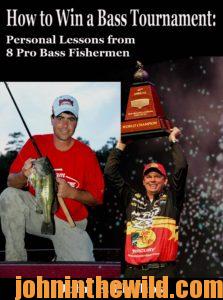 Kindle and print versions. You may have to copy and paste this click in your browser. (When you click on this book, notice on the left where Amazon says you can read 10% of the book for free).
Tomorrow: What Equipment Does Randy Howell Use for Fall Bass in the Backs of Creeks