John's Note: On August 6-8, 2015, Randy Howell of Springville, Alabama, won the Bassmaster Northern Open on Oneida Lake at Syracuse, New York. At this writing Howell has cashed a check in 6 out of 7, 2015 Bassmaster Elite tournaments. He's 13th in the point standing for Bassmaster Angler-of-the-Year title with one Elite series tournament left to fish. Howell was born and raised near Lake Gaston in North Carolina and moved to Alabama in July, 1998. Night Hawk wanted to know why Howell moved to Alabama and how a southern boy could travel to New York and other states where he's never lived and win bass tournaments there.
One of the most-difficult mental changes to make when you have a limited amount of time to fish is to change from fishing fast to fishing slow. Your mind tells you the more casts you make, the more water you can cover, the more bass you can expose to your lure, and the more bass you'll catch. Going from that mindset to, "The slower I fish, and the more deliberately I fish, the more bass I can make bite my lure," is a really difficult mental change to make. But that's what I had to do to catch those bass that didn't want to bite at Oneida in this last tournament.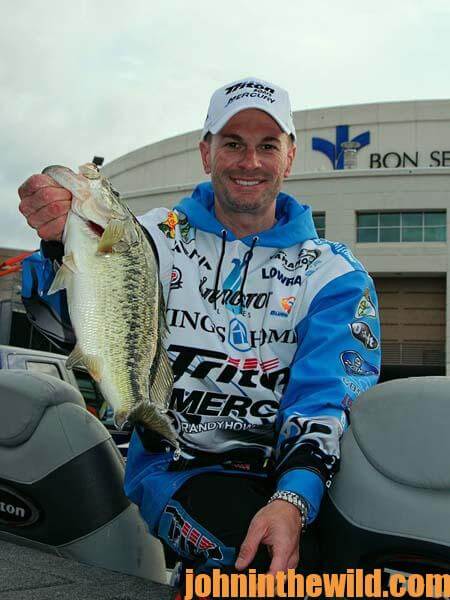 Another factor was the weather. In practice, we had a lot of rain and wind – which was the type of weather when bass like to feed. Bass like to feed when there is a disturbance on top of water. On the day of the Oneida tournament, we had a bluebird day, the wind had died, the lake was slick, and we had a high sky. Under these conditions, smallmouth bass don't bite as well because they can see better than they can when there's a disturbance on the water surface. In those kinds of conditions, I know I don't have to run all over the lake to catch bass. I can stay with the fish using different types of lures, until I find one they'll bite.
If I want to have a chance to win, I've got to be patient and find a way to make the bass bite my lures. Patience is one of the most-difficult tools for a tournament bass fisherman to use. Most of the time we make a living fishing fast, but fast fishing doesn't always win tournaments. Learning when to slow down and when to be patient is, I think, one of the most-difficult lessons for bass anglers to learn. Over the years, I've learned in any situation that slow fishing will pay better dividends than fast fishing will. After 22 years of fishing I've finally realized that I've run away from more fish than I've caught.
On the third day of the tournament at Oneida, an east wind moved onto the lake. An east wind is the worst wind direction for fish on Lake Oneida because it creates a lot of waves. The weather was cloudy, and I only caught one bass that morning. I didn't see any schooling fish or birds diving for bait. These were the same conditions I had when I lost the tournament on Lake Oneida a couple of years earlier by 6 ounces. I had created a backup plan to flip a Senko in grass, so on that day, I flipped and pitched in 8 feet of water. I only caught two bass using that strategy, but of one those bass was a 3-pound 15-ounce largemouth. But then that pattern quit on me, and I started riding the lake, trying to find a place to catch one more bass to have a five fish limit.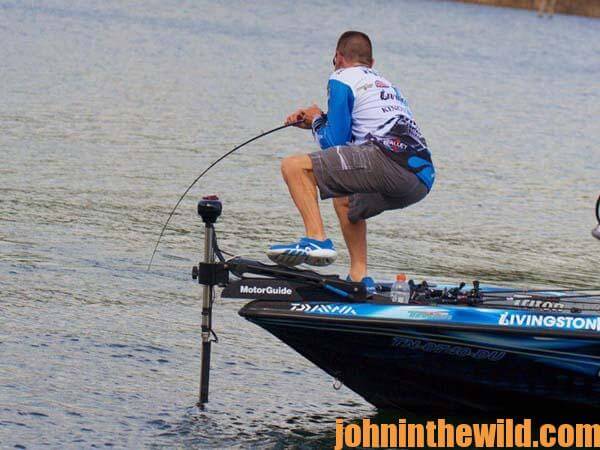 With 15 minutes left before I had to be back at the launch site, I saw birds diving on bait, and I could see the launch site from where I'd found the birds. The birds were diving right out in the middle of the channel. I changed lures three or four times before I finally got the bass in that school to bite. The lure they finally took was a Bass Pro Shops (http://www.basspro.com/Bass-Pro-Shops-Speed-Shad) Speed Shad swimbait that was really small. The first bass I caught out of that school weighed 3 pounds and made me have a limit, but the smallest bass in my livewell was a largemouth that only weighed 1-1/2-pounds. I knew I had to cull that bass if I was going to win. I looked down the lake, spotted two birds diving on bait, looked at my watch and saw I had 3-1/2-minutes left before check-in time.
I decided to gamble, cranked up my big engine, ran to the spot where I saw the two birds diving and started casting. The first cast I made I hooked a 3 pounder, and I reeled it to the boat as fast as I've ever reeled a bass to a boat. I knew I was taking a risk because I was fishing with only 10-pound-test Gamma (www.gammafishing.com) fluorocarbon line. I made another gamble when I decided to jump the bass into the boat on that light line instead of lipping that bass. I swung it into the boat on that light line, put it into the livewell, released the 1-1/2-pound largemouth, cranked up my big engine and throttled down to reach the launch site. On that day we had to be at the launch site at 2:00 pm, but you're not considered late until 2:01. I got to the launch site and shut my engine down at 2:00 15 seconds, with 45 seconds left before I would have been late. That last fish that I caught added an additional 1-1/4-pounds to my limit, and I only won by 8 ounces. Had I not gambled and tried to catch that last fish, I would have lost and finished second. This was the final day of the tournament.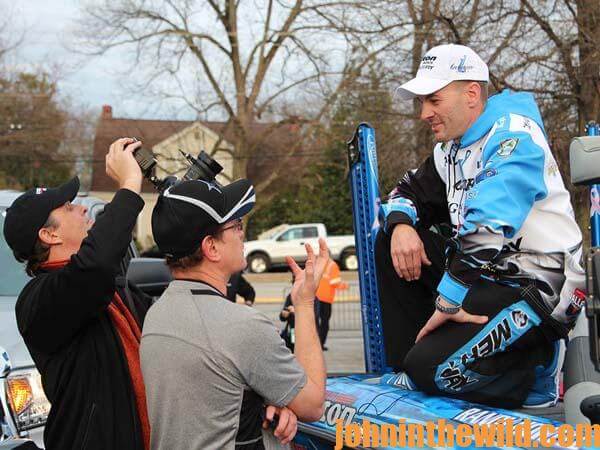 To learn more about bass fishing, get John E. Phillips' Kindle eBooks and some print books, "How to Bass Fish Like a Pro," "How to Win a Bass Tournament," "Catch the Most and Biggest Bass in Any Lake: 18 Pro Fishermen's Best Tactics, "Hot Weather Bass Tactics" and "How to Become A Tournament Bass Fisherman." Click here to get these books.
Next: Randy Howell Says Junk Fishing and Confidence Are Two Keys to His Success
EXPLORE MORE: you'll love these stories from John too