Editor's Note: Dustin Hayes of Orange Beach, Alabama, is a master inshore fisherman. He guides families and individuals surf fishing and night fishing under dock lights in the back bays. During the daytime, he takes them fishing on the grass flats and artificial reefs. Hayes knows how to catch inshore fish near and on beaches, and his tactics will work for you.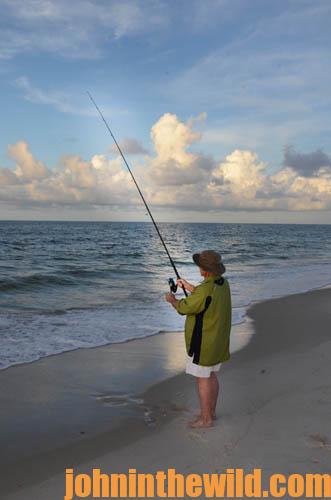 The good news about surf fishing on Alabama's beaches and those of other states is that you don't have to use a surf rod. You don't need expensive tackle, and you really don't have to know that much about those fish you're trying to catch. All you need is a pompano rig also known as a standard surf rig, 10-20 pound-test line, a spinning rod and sand spikes – plastic PVC pipe that you force into the sand.
Simply tie a swivel onto the tag end of your line. Then tie on a pompano rig that you can buy at any tackle shop or bait shop near salt water. Once you've tied the pompano rig to your swivel, there will be about 18 inches of line that comes down to a drop line off the main line. On that drop line, you'll have a small float that helps hold the bait barely up off the bottom. Right below the float is the hook, generally a size 4 or a size 2 Kahle (https://www.eagleclaw.com/eagle-claw/products/), depending on the time of year and the fish you're trying to catch. Then bait with fresh dead shrimp and/or Fishbites (http://fishbites.com/). About 18 inches below the first drop line, a second drop line will come off the main line that's rigged exactly like the first drop line. On the end of the line, tie a pyramid sinker, which is easy to cast. Also, when it goes to the bottom, it will sit flat on the bottom and not roll like a round sinker will. Because the pyramid sinker has a point on its bottom and sits up in the shape of a pyramid, it cuts through the air and casts farther than other types of sinkers do.
The only other piece of equipment that you need that you may not have is a sand spike, but you can make or buy these very inexpensively. Sand Spikes are PVC pipes that you can force down into the sand and use as rod holders. One of the main reasons for the sand spike is that you can put your rod in the sand spike, and it allows your rod to be up out of the sand. Then, you don't get sand in your reel, while baiting your hook. You also can put your rod in the sand spike when you're taking fish off your hook, and once again, not get sand in your reel. Sand in the gears of your reel can damage it.
Another reason for using the sand spike is once you cast your bait out, the sand spike holds your rod higher than you normally will hold it, since usually you'll be holding the rod at your waist. A sand spike keeps the rod tip up too and keeps the angle of your line going into the water above the waves, preventing the waves from pushing your line closer to shore.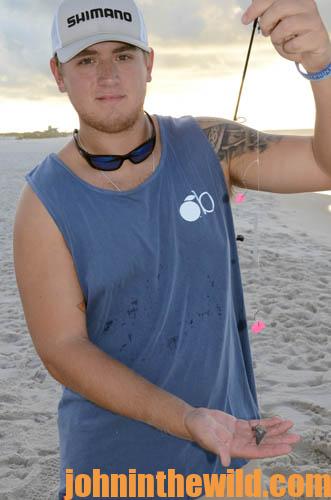 The sand spike also helps to hook your fish automatically. When a fish takes the bait in the surf, the fish is swimming, not sitting still, and is on the move. So, when the fish picks up the bait and starts swimming off, the fish hooks itself. Because the sand spike holds the rod rigid and straight up, you can watch the tip of your rod. When you see it move, you can go to it, pick the rod up out of the sand spike and reel in the fish.
When you're surf fishing with young children, using sand spikes is really efficient, because they can watch their rods, simply take the rods out of the sand spikes and reel in the fish. Then they can set their rods back in the sand spikes while you unhook fish. Sands spikes also allow an angler to fish more than one rod at a time. You can have five or six rods out fishing for you all at the same time to give you more chances of catching more fish.
To see how, where and with what Dustin Hayes fishes, check out his video, "Surf Fishing Family Fun:" https://www.youtube.com/watch?v=8dscmgZzRjA. If you'd like to go on a surf-fishing trip with him, call at 251-981-3811 or his mobile at 678-897-0167. You can check out his Facebook page and see what his clients are catching at https://www.facebook.com/Shorethingfishing.
Pan-Fried Pompano Fillets
Here's one of our favorite pompano recipes.
Ingredients:
4 fillets (about 3/4-pound total weight)
1/4-cup flour
1/4-teaspoon salt
1/4-teaspoon white pepper
1 large egg slightly beaten
1 tablespoon 1% milk
1/4-cup Italian-seasoned bread crumbs
3 tablespoons butter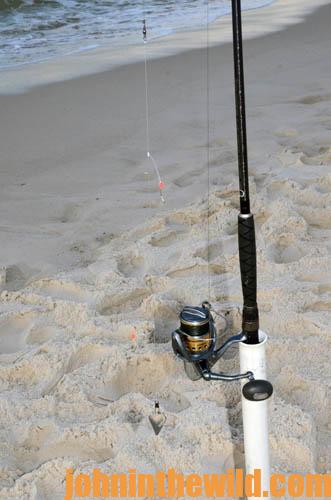 Preparation:
Combine flour, salt and white pepper. Dredge fillets in mixture. Combine egg and milk, dip fillets in milk mixture, and dredge in bread crumbs. Melt butter in non-stick skillet.  Add fillets, cooking 5 minutes on each side, until golden brown or until fish flakes easily with fork.
To get John and Denise Phillips' "The Best Wild Game & Seafood Cookbook Ever: 350 Southern Recipes for Deer, Turkey, Fish, Seafood, Small Game and Birds," go to http://amzn.to/WkbLRg and for "13 Freshwater Fish Recipes You Can't Live Without," go to http://amzn.to/18OiC9v. You also can download a Kindle App for your iPad, SmartPhone or computer.
To learn more about saltwater fishing, check out John E. Phillips' Kindle eBooks and some print books at http://johninthewild.com/books/#gulf.
Tomorrow: Where to Fish on the Beach and Get Free Bait with Dustin Hayes