Editor's Note: Ryan Solomon, who lives outside of Aguilar, Colorado, is a guide for Fulldraw Outfitters (https://www.colorado.com/hunting/fulldraw-outfitters). Solomon hunts private and public lands and guides for antelope, mule deer, whitetail, elk, mountain lions, bears and turkeys. Solomon is 33-years old and has been guiding for 16 years. In southeast Georgia, Solomon's family owns the 9,500-acre hunting planation, Gopher Plantation (http://www.gopherplantation.com/), where he guides there for deer, whitetails, hogs and quail.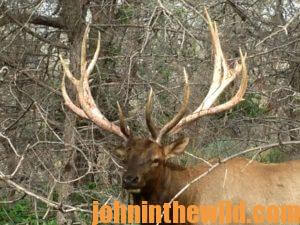 I took this bull elk in 2018. This Gila Wilderness hunt was on my bucket list. I was one of the first out-of-state elk hunters to draw a first season Gila tag. I have a friend, Mike Brazil, who guides for Intense Trophy Hunting in New Mexico (http://www.intensetrophyhunting.com), and he also has helped us guide in Colorado at Fulldraw Outfitters. I got a call from Mike who said, "Ryan, you've won the lottery. You've been drawn to hunt the first season in the best unit of the Gila. Only eight or 9 nonresident hunters are drawn for this tag each season."
This is considered a trophy-elk unit because there are so few tags given out each year. A friend of mine from Georgia had drawn this unit the year before I hunted, and Mike had guided him. He took a very-nice bull that scored in the 340-inch class. The first day I hunted with Mike, we saw a 5×5 that I would've shot in a heartbeat anywhere else I hunt elk. This bull had 25-26 inch eye guards that came all the way out past his nose and then turned upward. But I wanted to take a bull that would score 350 or more, so I passed on that bull. We saw bulls every day, but we didn't find one of those giants that I was hoping to take.
Finally, on the last day of our hunt, we went to a secluded water hole, and we didn't spot boot tracks anywhere near that water hole that would've indicated that other hunters had hunted there.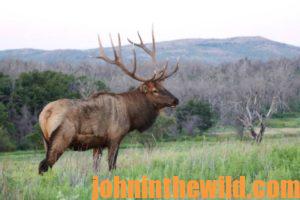 When we reached the site, multiple bulls bugled up the hill from us. Apparently, the herd had just left the water hole before we had arrived. However, we opted not to call the herd back to the water hole, since we knew that the weather was supposed to be extremely hot that day, and eventually the herd would return to the water hole on their own.
The elk were going up the mountain to bed-down for the day, about 500 yards from the water hole. So, we set-up a brush blind 25 yards away from the left side of the water and 25 yards from the right side of the water in the middle and waited. During the middle of the day, the wind changed and started blowing in the direction we thought the herd would come down from their bed to water. So, we moved to the south side of the water hole and set-up 25 yards from the water. The opposite end of this dirt tank water hole was about 65-yards away.
I'd been practice shooting my bow all year long and felt very confident that I could make a 125-yard shot. However, I knew I wouldn't take a shot that far: if the wind was blowing; if I couldn't read the bull's body language; or, if I could read the bull's body language, and had to determine if he was really relaxed before I took a shot out to 125 yards. We hadn't been waiting long before a bull got up out of his bed and came down to drink at the water hole. We timed the bull, and the bull drank steadily for one minute and 45 seconds. We know this for certain because we were recording the bull and could read the minutes on the tape. Next he picked his head up, looked around and drank for another 45 seconds. When he turned to leave the water hole, I cow called to him, and he stopped, quartering away. I knew the distance was 68 yards, I hit him high in the lungs, and I cow called to him to stop him at 90 yards, ranged him, nocked a second arrow and saw the arrow take out his other lung. We watched the 326-inch bull run about 30 – 40 yards before he went down. Today he's the best bull elk I've ever taken with my bow.
To learn more about hunting elk, check out John E. Phillips' book, "How to Find Your Elk and Get Him in Close," available in Kindle, print and Audible versions at http://amzn.to/17ENNqK.
Tomorrow: Ryan Solomon Hunts Elk Like He Does Turkeys