John's Note: Jeff Lindsey of southern Iowa has been a bowhunter for 20 years and shots PSE bows (http://pse-archery.com/). Jeff and his dad, David Lindsey, hunt and film for Drury Outdoors (https://www.druryoutdoors.com/). You can use Jeff's tactics no matter what your weapon is.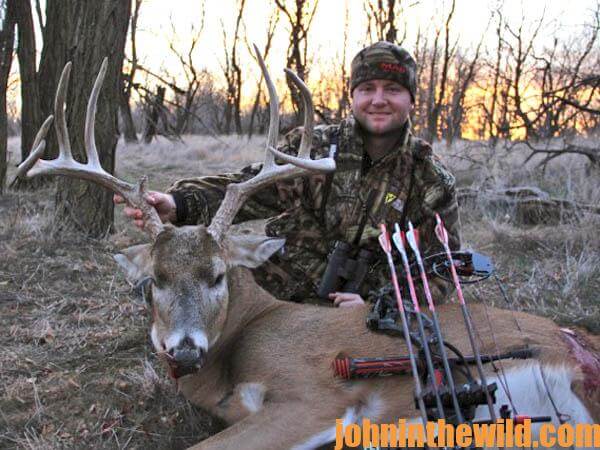 At this time of the year, most of the natural food is gone all across the U.S. In my area, the best places to hunt are where you've planted green fields with turnips, brassica or winter wheat, on crop fields that have beans or corn still standing, or where the beans or corn have been picked, and there's some spillage. During the late season, conserving energy and getting plenty of food are the deer's number-one priority. For this reason, anytime you can find a thick-cover bedding place close to some type of food, you'll have a deer-magnet area.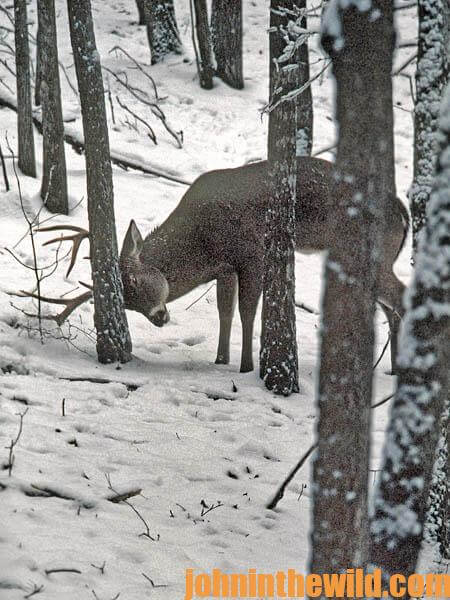 My second priority to bowhunt is where there's a lot of waste grain in an agricultural field plus thick cover. If most of the corn has been harvested for silage, that practice will result in more waste grain left in the fields. Even, when there's snow, the deer will paw through the snow to get to that waste grain. I like to set-up on a field edge. Often there will be changing wind directions. During the late season, I prefer to hunt in a box blind or a portable ground blind to have protection from the wind. Cold weather really brings the mature bucks out to these grain fields.
One year, I was hunting in Kansas, during the late season, over a winter wheat field. I spotted a 145-inch 8 pointer out in the field. I was in the second story of a concrete barn on the edge of the wheat field. We'd been hunting in a tree stand earlier that morning. But the wind was blowing so hard, and the weather was so cold, we decided to come out of the tree early and go to the barn for the afternoon hunt. The advantage of the barn was that it had several windows to look out of, and when I saw this buck come out of the corner of the wheat field, I watched him browse. He was checking out the does that might be in estrus during the second rut. The first rut already had ended. For some reason, the buck walked down the edge of the field straight toward the barn. When he was at 45 yards, I drew my EVO and released the arrow. I double-lunged the buck, and he fell within camera range. Since my dad, David Lindsey, and I film for Drury Outdoors, this hunt made some great footage for our team.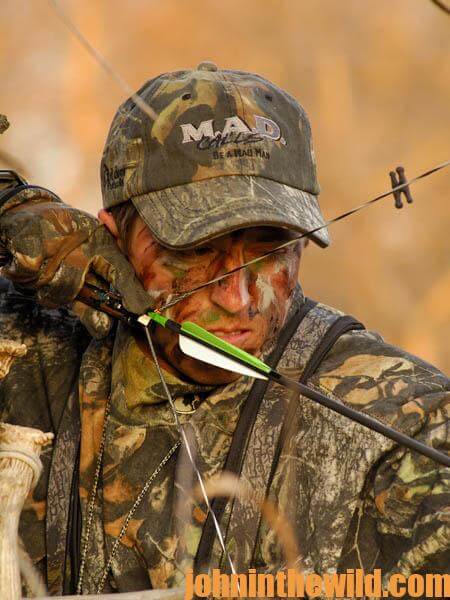 You'll learn more-intensive deer-hunting information and tips from hunters in John E. Phillips' Kindle, CreateSpace and Audible books. Go to http://johninthewild.com/books/#deer to purchase and download to your Kindle, and/or download a Kindle app for your iPad, SmartPhone or computer. You also can go to Nook Books at www.barnesandnoble.com to buy.
Also you can download free books by going to http://johninthewild.com/free-books.
Next: Secret #2 – Bet on the Weather for Late Season Buck Deer