Editor's Note: Woo Daves of Spring Grove, Virginia, started tournament bass fishing in 1973 and has been active in that for more than four decades. "I've been fishing, since I was old enough to walk," Daves explains. He's qualified for two FLW Championships (https://www.flwfishing.com), and won the World Bass Fishing Championship and the Bassmaster Classic (https://www.bassmaster.com/tournaments/) in 2000. He's qualified for 20 different world championships and says, "My success in bass fishing isn't too bad for an ole country boy." Let's look at how Daves catches bass on a bad day.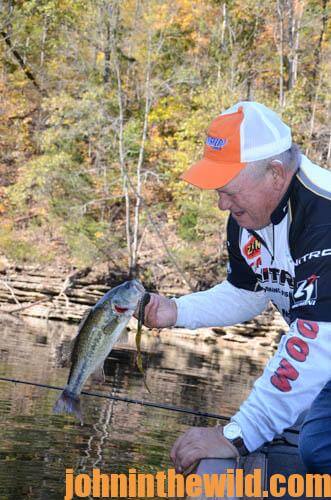 I was fishing a tournament on Thousand Islands in New York. The wind was blowing, and the waves were so big that when the front end of my boat went down in the trough of the wave, I couldn't see the shore. I was moving from spot to spot. I slowed my boat down, so I could go over a big wave. When I'd come back up on top of a really big wave, I'd often see three or four other boats. When I'd go down in the trough again, I only could see water on either side of me.
I've always believed, and I still believe today that the wind is a bass fisherman's friend. I always try to fish the windy side of whatever body of water I'm fishing on, if at all possible. The wind breaks up the glare of the sun, stirs the bottom up and causes minnows to move and feed. I know that the bass will feed in windy conditions.
In the tournament on Thousand Islands, I was fishing a spinner bait on rocky points. I'd positioned my boat, so, the wind would allow me to drift down the sides of the about 5-foot deep points. I realized if I got in the bottom of a wave and was as low as 3 feet from the bottom, my boat would bottom out (get stuck on the bottom where a wave could break over me). So, I stayed out away from the point to keep my boat from bottoming out. I cast my spinner bait as far as I could up on the point with a 7'6" flipping rod. Then I'd reel it back to the deeper water where I was holding my boat. Using this technique, I caught a limit of 18 pounds of smallmouths. I was bouncing on the front end of my boat like a bull rider bounces on a bull when the animal comes out of the chute, but I caught bass and had a high finish.

Another time on Lake St. Clair near Detroit, Michigan, the wind started blowing hard, and the 5-6 foot waves were building up. I knew Lake St. Clair was a great bass fishing lake. Sometimes, when other boats were in the waves, all we could see of the fishermen in those boats were the hats on the tops of their heads. In that rough weather on Lake St. Clair, I fished a drop shot rig with a Zoom Z-Drop (https://zoombait.com/z-drop/), drop shot worm. On the end of my line, I had a 1/2-ounce weight, a heavy weight for me to fish – and I was using 6-pound-test line. I turned the boat sideways and put out two wind socks on the sides of the boat to slow the boat down, as I drifted in the wind. I wasn't even using my trolling motor.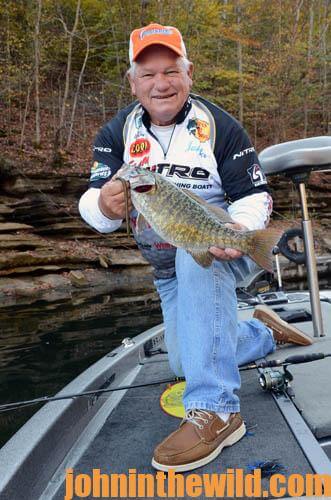 I would cast as far as I could downwind of the direction my boat was drifting. That way, my weight could get to the bottom, and I'd have enough time to work that drop shot rig back to the boat before the boat blew past my drop shot. When the boat went up on top of a wave, I wouldn't jerk the bait. When the boat was down on the wave, I'd ease the rod up to see if a bass had taken my bait. If I didn't feel a fish, I'd quickly drop my rod tip and get my drop shot rig back on the bottom. I caught 17 pounds of bass, and finished 14th in that tournament.
To learn more about Woo Daves, visit http://woodaves.com/.
DROPSHOT Guide – The Most Effective Rig in Bass Fishing: https://www.youtube.com/watch?v=7D8fAxJHMiE
DROPSHOT FOR BIG BASS Action Underwater Episode 1: https://www.youtube.com/watch?v=3hkuMjJNJ4w
To learn more about bass fishing and get John E. Phillips' Kindle eBooks, print books and audiobook on bass fishing, go to http://johninthewild.com/books/#bass, or for Nook books, visit www.barnesandnoble.com.
Tomorrow: How Fishing for Bass in Terrible Weather Can Mean Great Bass Fishing