Editor's Note: Fifty-year-old Pat Reeve from Minnesota has been hunting elk since he was 5-years old, even when he couldn't carry a gun. He now hunts with his wife Nicole as they host their TV show, "Driven with Pat & Nicole" (https://www.drivenhunter.com/) on the Outdoor Channel (https://www.outdoorchannel.com/hosts/pat-nicole-reeve/30969). For more information, visit his Facebook page at https://www.facebook.com/DrivenTV/.
On the first Kentucky hunt that Nicole and I went on, she took a really-fine big bull named Tank. We eventually began filming a nice elk and decided to hunt the elk like we would whitetails. We hunted them over food sources in the evenings when they came out of their bedding places and walked through big timber to reach the places where they were going to feed. We set-up stands on the edges of feeding areas and didn't do a lot of elk calling, but instead used the spot- and-stalk technique of taking elk.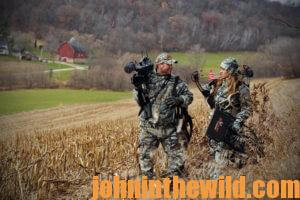 That was the tactic we used in 2018 when Nicole took her bull with a rifle. In 2019, we were invited back, and I was lucky enough to have an archery tag to hunt elk. We traveled to Kentucky earlier in the season of 2019, than we had in 2018. The landowners we hunted with were very savvy in learning where the elk bedded, fed and went to water. They used trail cameras on the food-plot areas and had done some preliminary scouting for us before we arrived. They knew the bulls that lived on the property they owned had extremely-long beams and had trail-camera pictures of a huge 8×8 bull known as Hook. His name came from the shape of his brow tine, which had a point that came out and made a hook on the end. Hook appeared to be the herd bull because of the cows that were constantly around him. I decided to make this bull elk number one on my hit list.
When we arrived in Kentucky in September to start our hunt, the weather was extremely hot, with temperatures ranging from 90 to 100 degrees in the heat of the day. So, instead of hunting feeding areas, I changed-up our strategy and planned to hunt water holes. With those kinds of temperatures, I knew that the elk were probably going to water holes more frequently and perhaps even more often than they would be moving to bedding areas.
For the first couple of days of our Kentucky hunt, we had a full moon and didn't hear any bugling or see many elk. We felt certain that elk movement probably would be limited to the last 15 minutes of daylight hours. The high temperatures and light from the full moon allowed the elk to feed and water easily after dark.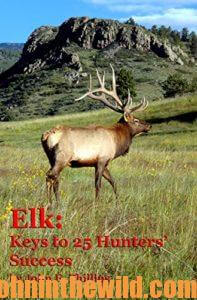 To learn more about hunting elk, check out John E. Phillips' book, "Elk: Keys to 25 Hunters' Success," available in Kindle, print and Audible at https://amzn.to/2IDszQk, or copy and paste this click into your browser.
Tomorrow: The Kentucky Elk Bowhunt for Hook with Pat Reeve