During the rut, the older-age-class bucks don't lose their minds. 
The bigger bucks have learned to survive in thick cover, and nature has blessed much of the South with numbers of clear-cuts. Although many sportsmen prefer to see and bag their bucks in the open woods, many of the hunters who take trophy bucks during January have learned the best ways to hunt clear-cuts. In January, the trophy bucks that survive more than two seasons will spend most of their time in these thick-cover areas.
Here's some effective ways to hunt clear-cuts. 
Climb high in a tree with a climbing tree stand. Use either binoculars or a spotting scope to look down into the clear-cut for a trophy buck. Although bucks will bed-down in clear-cuts during daylight hours, they also will stand-up, stretch, feed and walk there. Often you can spot the buck of your dreams in the thick foliage.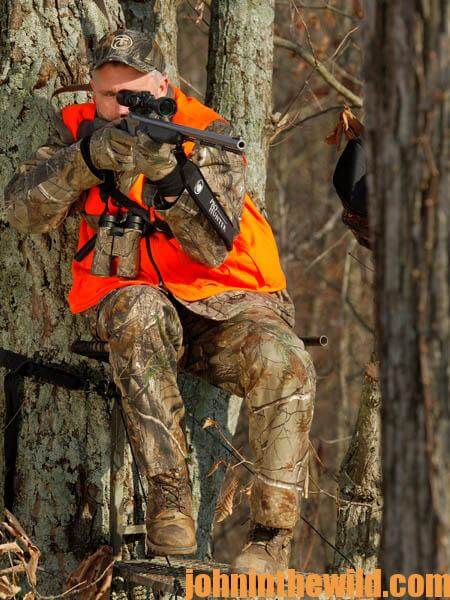 Travel access points like creeks, drainage ditches or paths into a clear-cut to hunt bucks. You won't find solid foliage from one side a clear-cut to the other. Walk only a little, move slowly and quietly, and look carefully. Shoot your bow or a shotgun with open sights rather than a rifle with a scope in these thick-cover regions.
Make your own access into a thick-cover region or a clear-cut 2- to 3-weeks before you plan to hunt there. From a ground blind you've set up, cut shooting lanes with a small handsaw 30- to 40-yards long and 2- to 3-yards wide, spoking-out in three directions. Then the bucks will have opportunities to return to this region, after the odor you've left from cutting your shooting lanes dissipates.
During the month of January, many deer hunters already have bagged their bucks and have given-up the cold and dampness of the woods for the comfort of home and hearth. To bag a late-season trophy, brave the bad weather, and tailor your hunt with these new-year tactics.
"How to Hunt Deer Up Close: With Bows, Rifles, Muzzleloaders and Crossbows," "Deer and Fixings," "PhD Whitetails," and "Bowhunting Deer: The Secrets of the PSE Pros," by John E. Phillips.  "Click here to get these books."
About the Author
John Phillips, winner of the 2012 Homer Circle Fishing Award for outstanding fishing writer by the American Sportfishing Association (AMA) and the Professional Outdoor Media Association (POMA), the 2008 Crossbow Communicator of the year and the 2007 Legendary Communicator chosen for induction into the National Fresh Water Hall of Fame, is a freelance writer (over 6,000 magazine articles for about 100 magazines and several thousand newspaper columns published), magazine editor, photographer for print media as well as industry catalogues (over 25,000 photos published), lecturer, outdoor consultant, marketing consultant, book author and daily internet content provider with an overview of the outdoors. Click here for more information and a list of all the books available from John E. Phillips.